Scott Kelly, one of three astronauts who ate space salad on board the International Space Station on Monday, said it "tastes good, kinda like arugula". It's not clear whether he knew that arugula, grown in contained root "pillows" of moisture and nutrients, is also known as rocket.
Either way, Nasa's giant leaf for mankind – fresh red romaine lettuce grown in orbit – was more than a gift to fun-starved headline writers, revealing the ingenuity of growers at all altitudes who have a startling new vision for farming. If we are going to make the really giant leap to Mars or beyond, spacecraft will have to overcome the logistical barrier of galactic food deliveries. "Having the ability for us to grow our own food is a big step in that direction," Dr Kelly added.
But Nasa bods earlier explained less obvious applications for their domestic science. Growing stuff in zero gravity, as the space agency has attempted to do since 1999 (this was only the first tasting), has already challenged perceived wisdom about the behaviour of plants.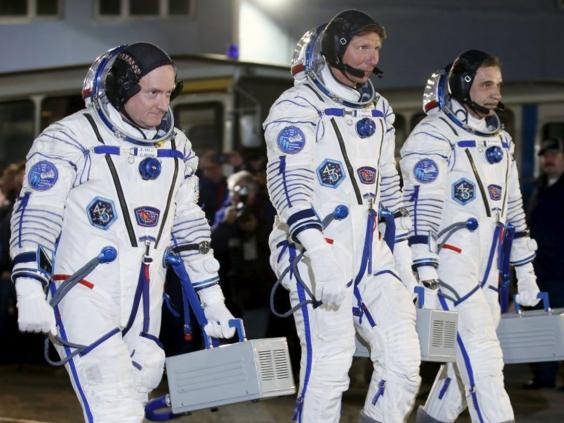 More than 130 years ago, Charles Darwin concluded that plants use gravity to draw roots downwards. But in 2010, Nasa found that plants do the same in space. "It was quite a surprise," Anna-Lisa Paul, a research professor in plant molecular and cellular biology at the University of Florida, wrote on The Conversation website last week. She found that gradations in light are more important cues, while also observing shifting cell structures triggered by other differences in zero gravity.
"The more we can learn about how plants respond to novel and extreme environments, the more prepared we are for understanding how plants will deal with the changing environments they're up against here on Earth," Paul added.
As population growth and threats to security pose new challenges to global food supplies, scientists and entrepreneurs are already working on earthbound solutions. While Kelly and his crew chomp on lettuce 300km up, another team is cultivating unlikely salad 33m down.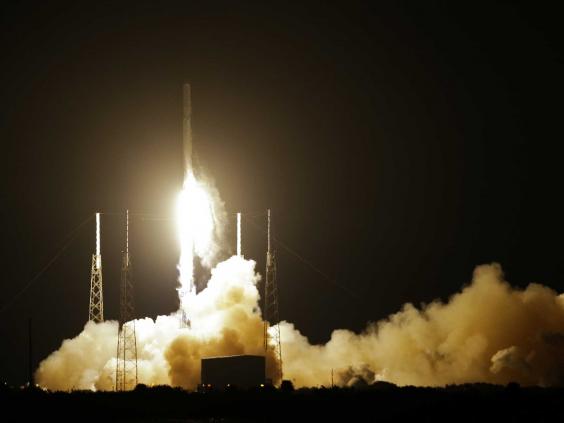 Growing Underground (main picture) occupies tunnels that were excavated as 1940s bomb shelters, under the streets of Clapham in South London. Inside, giant drawers of little leaves, including radish and mustard, never see the light of day but hi-tech LED lighting and a hydroponic irrigation system means salad can be harvested continually in laboratory conditions, without pesticides and using 70 per cent less water than normal.
"We can grow pea shoots in six to eight days because we have a totally controlled environment," says Steven Dring, one of the entrepreneurs behind the project. "We can give them 24 hours a day of perfect light, perfect temperature and the perfect feed regime." He plans to start selling leaves in more than 20 varieties, also including rocket, as early as next month.
Farmers in scuba gear are growing strawberries and beans, among other flora, at a similar depth under water. The Nemo's Garden project, launched last month off the coast of Italy, near Genoa, uses transparent pods anchored to the sea bed – essentially balloon-shaped, sub-aquatic greenhouses.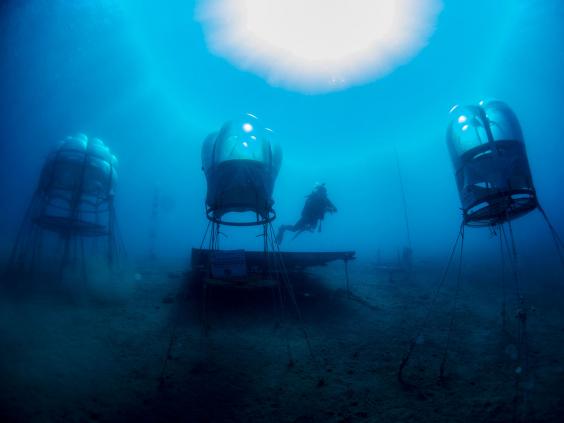 Scientists there say that relatively constant temperatures in the sea mean growing efficiency is improved without the need for complex control systems.
Nice projects, but with limited potential for large harvests – for now. But in an abandoned Sony factory on Honshu island in Japan, a company called Mirai is using the same kind of technology as Nasa and Clapham to run the world's largest indoor farm.
The food factory produces 10,000 lettuces every day. And because water is not wasted in soil, and evaporated water is recycled, the company claims it uses less than 1 per cent of the liquid commonly used to grow the same vegetables. The controlled environment also allows for big cuts in waste – crops can't fail inside.
"Using this method, if we can build plant factories all over the world, we can support the food production to feed the entire world's population," Shigeharu Shimamura, a plant physiologist and Mirai chief executive, told National Geographic last month.
"This is what we are really aiming for."
Reuse content