A study purporting to show how easy it is to persuade conservative-minded people to support gay marriage has been retracted by a scientific journal after serious doubts have been raised over its authenticity.
The social scientist who was the lead author of the study published last December in the journal Science has also become embroiled in separate allegations that he manipulated scientific data in another study he carried out on the political attitudes of television viewers.
Michael LaCour, a 27-year-old postgraduate student at the University of California Los Angeles (UCLA), produced "eye popping" findings last year showing how easy it was to change peoples' views on anything ranging from waste recycling to gay marriage – results with important ramifications for political canvassing.
However, the journal Science has now retracted the study it published last December by Mr LaCour and his co-author Professor Donald Green, an experienced political scientist at Columbia University in New York, who has since distanced himself completely from LaCour by pushing for the retraction to be published.
Irish gay marriage vote results: In pictures
Irish gay marriage vote results: In pictures
1/11 Drag queen Panti Bless and crowd celebrate a Yes victory

Drag artist and Yes activist Panti Bliss joins supporters to celebrate in front of Dublin Castle

Getty Images

2/11 The celebrations started last night in Dublin and continued all day

A couple celebrating in Dublin

EPA

3/11 A woman heading to the polling station yesterday

Woman walks past a mural of two rainbow coloured hearts on polling day. Polling stations in the 43 constituencies across country opened their doors yesterday to vote on legalising same sex marriage

EPA

4/11 A 'Yes to Equality' badge

A pro-gay marriage badge on a voter's lapel in gaelic meaning "Yes to Equality" seen in Dublin on polling day.

EPA

5/11 A cafe in Dublin lending its support to the cause

Many businesses in Ireland have got involved in the campaign, declaring their support for both the Yes and No campaigns

EPA

6/11 Two campaign posters side by side posters on a Dublin street

Both sides have campaigned fiercely saying they are fighting for social freedom

EPA

7/11 Newly married couple share their support for a Yes vote

Newly married Anna and Vincent Fox share a kiss as they mark their support for a Yes vote in Dublin on polling day

Getty Images

8/11 50 foot mural on the wall of Caherkinmonwee Castle in Galway to celebrate gay marriage

A 50 foot referendum mural created by artist Joe Caslin to promote a Yes vote

Getty Images

9/11 Supporters celebrate an expected Yes vote

Supporters in favour of same-sex marriage pose for a photograph as thousands gather in Dublin Castle

Getty

10/11 Couple waiting for the result in Dublin Castle

Erin Reddy (left) and Dee Campell awaiting the result at Central Count Centre in Dublin Castle

PA

11/11 A gay marriage activist kisses her rosary beads in celebration

A gay marriage supporter kisses her rosary beads at the Central Count Centre at Dublin Castle

PA
In a statement released by Science, three reasons were given for the retraction: the claims that participants in the survey were given cash incentives to participate were false, the authors' statement on sponsorship of the study was false, and, most damningly, there were "statistical irregularities" in the findings that could not be resolved.
"LaCour has not produced the original survey data from which someone else could independently confirm the validity of the reported findings. Michael J. LaCour does not agree to this retraction," said Marcia McNutt, the editor-in-chief of Science.
"No peer review process is perfect, and in fact it is very difficult for peer reviewers to detect artful fraud. Fortunately, science is a self-correcting process; researchers publish work in the scholarly literature so that it can be further scrutinized, replicated, confirmed, rebutted or corrected. This is the way science advances," Dr McNutt added.
Gregory Martin, professor of political science at Emory University in Atlanta, Georgia, said that he had a similar experience with LaCour over a study published last year into the political attitudes of cable TV viewers. Professor Martin said that he was unable to replicate LaCour's findings, suggesting that they were "very likely fabricated".
Last December, Mr LaCour claimed that a single conversation between a member of the public and an openly-gay person who supports same-sex marriage can go a long way to changing attitudes and keeping them changed for many months after the initial conversation took place.
"You forget the message, but you remember the messenger," Mr LaCour said in publicity material released at the time by UCLA, where he is a PhD candidate in political science investigating "hot button" issues such as abortion rights and illegal immigration.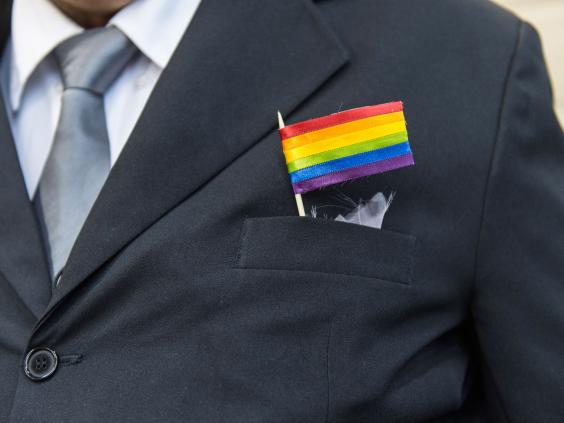 His co-author Professor Green said that he did not participate directly in the surveys that LaCour was said to have undertaken, but helped him to write up the study after asking him to replicate them a second time to make sure they were valid.
"I thought they were so astonishing that the findings would only be credible if the study were replicated," Professor Green told the investigative website Retraction Watch.
"Convinced that the results were robust, I helped Michael LaCour write up the findings, especially the parts that had to do with the statistical interpretation of the experimental design," he said.
The study received widespread publicity. However, other researchers tried to replicate it but were unable to show any significant changes in attitude to gay marriage after people had been interviewed by an openly gay person.
"The study's findings had huge implications for people who were trying to advance the cause of equality and have changed how advocates do their work. Every minute we knew the truth and did not disclose it really was a lie by omission to the advocates out there," said Professor David Brockman of Stanford University, who was one of the researchers who first questioned LaCour's findings.
Mr LaCour was not available at the time we went to press. However, a statement on his website said that he would supply a "definitive response" to the allegations by 29 May.
Reuse content