The first venomous frogs which use their heads as weapons to inject poison into potential predators have been discovered in Brazil, scientists said.
The head-butting frogs have tiny spines protruding from the front of their skulls which can inject poison that is more toxic than that of a pit viper snake, the researchers said.
Although some tropical frogs are known to be poisonous when eaten, none has until now had a "delivery mechanism" and so were not considered venomous, unlike snakes, they said.
However, two species of frog living in Brazil have been found to be capable of injecting poison into their adversaries using their head-butting spines as toxic weapons, said Edmund Brodie of Utah State University in Logan, Utah.
"Discovering a truly venomous frog is nothing any of us expected, and finding frogs with skin secretions more venomous than those of the deadly pit vipers of the genus Bothrops was astounding," Dr Brodie said.
The venomous traits of the two species, Corythomantis greeningi and Aparasphenodon brunoi, may have gone unnoticed had not one of the researchers been stung while handling the less toxic of the two – C. greeningi.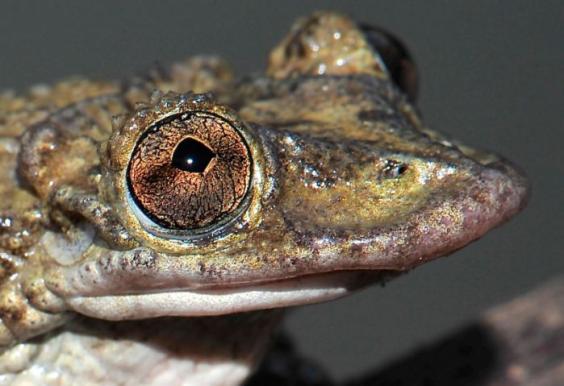 When Brazilian Carlos Jared of the Instituto Butantan in Sao Paulo was collecting frogs for research he damaged his hand when handling one of the frogs, which caused intense, radiating pain for a period of about 5 hours.
"This action should be even more effective on the mouth lining of an attacking predator," Dr Jared said.
Tests on the other frog, A. brunoi, which also has a set of spines coming off the front of the skull, showded that it produces a toxin which is even more toxic, with one gram capable of killing more than 300,000 mice or about 80 people.
"It is unlikely that a frog of this species produces this much toxin, and only very small amounts would be transferred by the spines into a wound. Regardless, we have been unwilling to test this by allowing a frog to jab us with its spines," Dr Brodie said.
The researchers point out in their study, published in the journal Current Biology, that although many amphibians have gland in their skin capable of producing toxins, the lack of delivery mechanisms meant they were not considered to be venomous.
"These frogs have well-developed delivery mechanisms, utilizing bony spines on the skull that pierce the skin in areas with concentrations of skin glands," the study says.
10 Deadliest Animals In The World
10 Deadliest Animals In The World
1/10 10: Poison Dart Frog

They might look cute, but the backs of the Amazonian poison dart frog ooze a slimy neurotoxin to keep predators away. Each frog produces enough of the toxin to kill 10 humans.

2/10 9: Polar Bear

The strength of a polar bear is enough to decapitate a human being with a single swipe of the paw.

3/10 8: African Elephant

The brute force of an elephant is unrivalled by any land mammal. Weighing in around 16,000lb on average, they are responsible for around 500 human deaths each year.

4/10 7: Cape Buffalo

Cape Buffalos charge head-on with their razor-sharp horns when confronted with a predator - all 1,500lb of them. And the problem is, they tend to do so as a herd.

5/10 6: Crocodile

The stealth and combined strength of a crocodile allows it to lie in the water undetected, before it strikes, drags its pray underwater, barrel rolls and dismembers it.

6/10 5: African Lion

These big cats are ruthlessly agile, armed with razor-sharp teeth and talons and near-perfect hunters.

7/10 4: Great White Shark

These kings of the sea have 3,000 teeth with which to tear their pray to shreds. On average, are 15ft long and 5,000lb, and can detect a drop of blood in 25 gallons of water.

8/10 3: Australian Box Jellyfish

Each tentacle has 5,000 stinging cells and enough toxin to kill 60 humans. Each jellyfish has 60 tentacles each at 15 ft long. That's a lot of killing power for an animal the size of a salad bowl.

9/10 2: Asian Cobra

It might not be the most poisonous snake, but thanks to its unique spit and strike attack technique, the Asian Cobra is responsible for more human deaths than any other snake on the planet.

10/10 1: Mosquito

Tiny but deadly, mosquitoes carry and transfer malaria causing parasites to humans. As a result, they cause on average 2million human deaths a year, making the insect one of the world's deadliest creatures. Aside from human beings, of course.
"Because even tiny amounts of these secretions introduced into a wound caused by the head spines could be dangerous, these frogs are capable of using their skin toxins as venoms against would-be predators," it says.
Both species of frog have been known to scientits for decades but no-one until now had realised that they were capable of using their heads as venomous weapons. Strikingly, neither species is known to have any natural predators in the wild, which now makes senses, the scientists said.
Reuse content