A small Nasa-funded rocket launched in Alaska earlier this month, gliding through the emerald 'auroral curls' of the northern lights.
The rocket formed part of the space agency's Ground-to-Rocket Electrodynamics-Electrons Correlative Experiment (GREECE), which will study the transfer of energy from the Sun to Earth, in this case, the aurora.
"Auroral curls are visible from the ground with high-resolution imaging," said Marilia Samara, a lead investigator and a space scientist at Texas' Southwest Research Institute. "And we can infer from those observations what's happening farther out. But to truly understand the physics we need to take measurements in the aurora itself."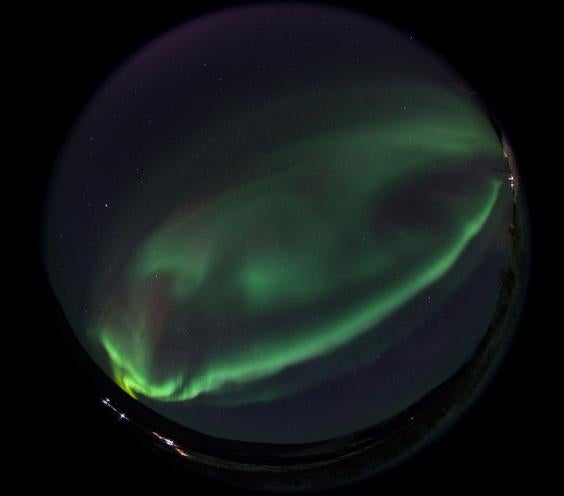 The rocket took measurements of particles and electric fields during its 10-minute flight, with scientists hoping to better understand how the curls form out of the plasma (superheated gas) inside the aurora, and learn more about how the Sun interacts with Earth's magnetosphere.
Beautiful Science: Picturing Data, Inspiring Insight
Beautiful Science: Picturing Data, Inspiring Insight
1/6

Ernst Haeckel was inspired by the ideas of Charles Darwin and sought to devise trees organising all life on Earth

British Library

2/6

In her seminal 'rose diagram', Florence Nightingale demonstrated that far more soldiers died from preventable epidemic diseases (blue) than from wounds inflicted on the battlefield (red) or other causes (black) during the Crimean War (1853-56)

British Library

3/6

This unusual map of 1685 illustrates ocean currents as understood at the time based on the observations of explorers and mariners. Though necessarily conjectural in many ways, it highlights the remarkable effort made by early cartographers to make sense of an accumulation of data from such reports without the visualisation tools we have today

British Library

4/6

Epidemic Planet is based upon the Global Epidemic and Mobility model, which researchers used to accurately forecast the 2009 pandemic influenza outbreak

British Library

5/6

In these diagrams, epidemiologist and statistician William Farr plotted cycles of temperature and cholera deaths for 1840-50. He notes that the circular form and colours make 'the diagram represent the facts in a striking manner to the eye'. At the time, Farr believed that cholera, now known to be caused by water-borne bacteria, was spread by miasma or 'bad air,' sourced from evaporation of the Thames. Although this hypothesis was incorrect, Farr left an important legacy. He set up the first national system for collecting statistics, advocated a data-driven approach to public health, and utilised innovative graphic methods to communicate that data.

British Library

6/6

This striking animation by NASA visualises the flow of ocean surface currents from June 2005 to December 2007

British Library
"The conditions were optimal," Samara added. "We can't wait to dig into the data."