Following the latest episode of The Walking Dead season 7, fans have been despairing over the way Rick (Andrew Lincoln) has willingly assumed the role of Negan's subordinate leaving Daryl (Norman Reedus) at the mercy of the malevolent antagonist played by Jeffrey Dean Morgan.
Even other characters in the series - namely Spencer (Austin Nichols) and Rosita (Christian Serratos) - are making a silent stand in the absence of their once-proficient leader.
A new theory has presented itself, however, and it suggests Rick may have things under some kind of control with a little help from his loyal compadre, Daryl.
The clues are said to have surfaced in the opening of episode four, 'Service,' which saw Negan and a crew of his people arrive at Alexandria to ransack the residents' belongings (leading to some memorable but rather disturbing lines of dialogue).
Negan brought a bruised and bedraggled Daryl along with him in a bid to get into the heads of Rick and co; when we first see Daryl, he and Rick stare at each other and the former can be seen blinking an odd amount of times. At first glance, it seems he could just be adjusting to the sunlight having been locked up in a cell for days being forced to hear that damn song over and over again (not that its writer cares).
However, a Reddit user has theorised this could be Daryl revealing the location of the Saviours' Sanctuary to Rick in morse code (he says "I EAST," apparently).
Backing this up is a previous scene showing Michonne (Danai Gurira) retrieving a rifle from under the fireplace in the living room of the house she shares with Rick and Carl - look closely at the below still.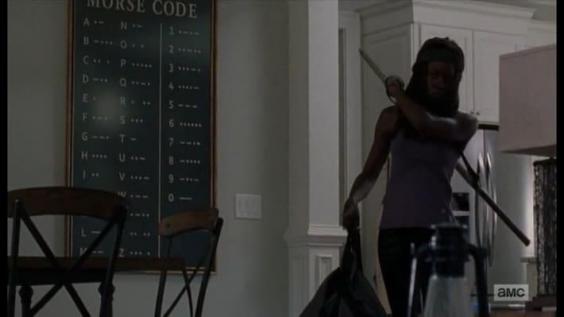 On the wall in the background, a morse code board can be seen. While it seems Rick has been uselessly sitting back since the death of his friends, perhaps he could have been brushing up on the mode of communication.
Now, there are some holes in this theory; for example, how would Rick and Daryl have concocted this plan? Also, it's a sure bet Negan may have blindfolded Daryl so the Sanctuary's location could be kept secret.
If this theory does turn out to be true, it'll reestablish Rick as the leader we all so desperately want to return.
The Walking Dead continues in the US on Sundays with the episode airing in the UK the following evening at 9pm on FOX.
Reuse content