Ukip was the most talked about political topic amongst British people on Twitter in the past year, information from the microblogging site has shown.
As a political subject, the anti-EU party prompted more Twitter conversations than Syria, despite the use of chemical weapons in the conflict-ravaged nation forcing a Commons vote on military action. However Syria did top the list of international topics talked about on Twitter, with Turkey and North Korea coming 2nd and third respectively. According to the Syrian Observatory for Human Rights. the death toll in Syria's civil war has now risen to 125,835. This is more than a third of all civilians. The number is likely to be much higher in reality.
The party conferences also garnered political debate on the site, no doubt fuelled by the large number of journalists tweeting from the events. Hashtags #lab13 and #CPC13 came in at third and fourth place. Notably there was no mention of the Lib Dems.  Both the EDL and Tommy Robinson were on the top ten list of political subjects that trended most highly. After releasing the lists, Twitter highlighted: "Remember that trends don't give any indication of sentiment — when something trends, that simply means it has captured the UK's attention, not that it was necessarily a hit."
Margaret Thatcher also made the top ten list of UK news topics, political subjects, and people. Even in death the 'Iron Lady' proved as divisive as her policies, with celebratory 'death parties' attracting criticism on the social network as well as the media's 'fawning coverage.' This may explain her appearance on so many of the trending lists.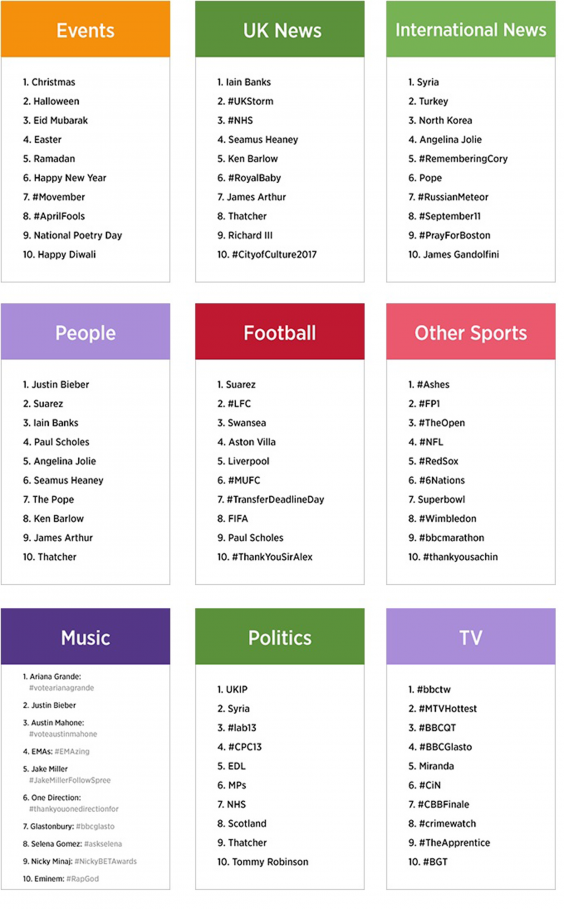 Iain Banks' untimely death, two months after announcing he had cancer, also prompted an outpouring of tweets mourning his loss. The author, most well-known for his novels The Wasp Factory, The Crow Road and Complicity, died aged 59 in June. He came first in UK news trending topics.
A peculiarly British institution that trended on both news and political lists was the NHS. It's been a tough year for our beloved national health service, with fears over privatisation and warnings of a cuts crisis. It's also got us all talking, or rather tweeting. After all, almost all of us have used it, payed for it, moaned about it, and appreciated it greatly.
As well as the news-related issues that saw us splurging our opinions online, Twitter released lists of the most talked about events, musical figures and TV moments. They devoted a whole list to football too, with a large sporting community tweeting during matches.