A chief of British air traffic control receiving an annual wage of more than £1 million has had his bonus questioned after a computer meltdown severely disrupted flights over the weekend.
Richard Deakin, chief executive of National Air Traffic Services (Nats) had his pay increase this year from £720,000 to £1.4 million, partly due to a £597,000 performance-related bonus which boosted his wages by 45 per cent.
Travel havoc started shortly before 3.30pm on Friday afternoon after an air traffic controller logged into a work station at the £623 million Nats centre in Swanwick, Hampshire, and the switch from standby to viewing planes flying across Britain caused a malfunction that led to the cancellation, diversion or delay of around 300 flights travelling that day and on Saturday.
Heathrow Airport had 85 flights cancelled on Friday and an additional 38 yesterday morning. Gatwick had 20 flights cancelled, 55 departures delayed and seven inbound flights diverted to other airports.
There were also dozens of delays and diversions at Stansted, London City and Luton. Delays were also reported from Manchester, Birmingham, Bristol and Aberdeen.
Best and worst airports for customer satisfaction
Best and worst airports for customer satisfaction
1/12 Six best

London Southend (85%)

Rex

2/12 Six best

Robin Hood Doncaster/Sheffield (85 %)

Wikipedia, Creative Commons

3/12 Six best

Blackpool (80%)

Wikipedia, Creative Commons

4/12 Six best

London City (80%)

Rex

5/12 Six best

Inverness (78%)

Wikipedia, Creative Commons

6/12 Six best

Southampton (78%)

Getty

7/12 Six worst

London Gatwick North Terminal (49%)

Rex

8/12 Six worst

London Heathrow Terminal 3 (46%)

Rex

9/12 Six worst

London Heathrow Terminal 4 (48%)

Rex

10/12 Six worst

London Heathrow Terminal 1 (43%)

Rex

11/12 Six worst

London Stansted (43%)

Rex

12/12 Six worst

London Luton (37%)

Getty
The travel chaos comes four months after Nats - which is 49 per cent owned by the state - was warned that its plans to avoid and troubleshoot technical problems "lacked detail and clarity".
Nats is spending £575 million on upgrading the IT system over the next five years as it has been in use since before the widespread use of internet.
Tens of thousands of angry passengers joined in with senior MPs in the House of Commons transport select committee to demand an investigation into how the incident happened.
Labour MP Paul Flynn, of the public administration committee, is calling for Mr Deakin's bonus to be stripped.
He told The Sunday Times: "I hope after the chaos, which was dreadful, though a rare event, he will have his bonuses stripped from him."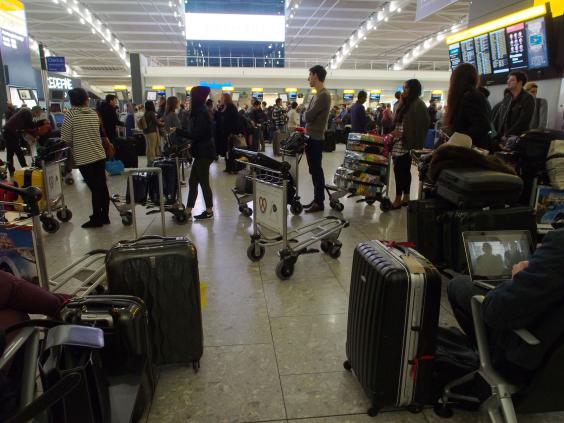 Mr Deakin apologised for the flight problems saying: "We are extremely sorry for the disruption that has been caused."
He defended his pay package, which included a £85,426 pension contribution this year.
He added: "The reason why the pay went up was because the first of the long-term incentive plans started maturing. It wasn't a pay rise. I had the same pay rise as every other employee in the company."
The performance-related bonus is also measured on the amount of delays per flight, he claimed.
Mr Deakin was one of the executives who had a 12 per cent decrease in bonuses, worth approximately £400,000 between them, after a similar glitch last year.
That single day's problem meant flights were delayed by an average of 5.4 seconds and, with Friday's malfunction, the average delay through the year should still be under five seconds, which would mean a smaller hit on their pay packets.
Airlines plan to recoup losses in compensation to travellers by reducing payments to Nats over the coming years.