Alice Gross' family have said they find it 'impossible to understand her appalling death' following the murdered schoolgirl's funeral. 
They spoke of their struggle to come to terms with having to say goodbye to the 14-year-old, whose body was found in the River Brent in west London last month.
In a statement released after a humanist funeral service celebrating Alice's life today, her family said: "Alice was so spirited, so present, so vital and so full of promise. We find it almost impossible to understand what has happened and that we have to say goodbye to her."
They said they wanted the funeral to "focus on the joy of Alice's life and the joy of having known her".
The service was private but a summary released through police revealed it was designed to commemorate the teenager's love of music, with videos shown of her playing and singing her own songs.
Tributes were made by her teachers, parents Rosalind Hodgkiss and Jose Gross, and sister Nina Gross.
Mourners sang "You Are My Sunshine", and further tributes by her music teachers included "Home" by Gabrielle Aplin, "The Call" by Regina Spektor, "Touch The Sky" from the film Brave, and the violin piece "Ashokan Farewell" by Jay Ungar.
Alice's grandfather read the poem Surprised By Joy by William Wordsworth, a sonnet written following the death of his young daughter.
Her colourful coffin was painted by Nina, Alice's grandmother Anne Hodgkiss and family friend Carole McCourt.
It depicted a meadow scene and Alice's three cats, Lottie, Louis and Pattie, and her dog, Peggy.
Alice's family thanked those who have supported them.
They said: "We would like to thank everyone for being so kind and supportive.
"We have been moved by the depth of sympathy and compassion around us, not only from close family and friends but also from the local community."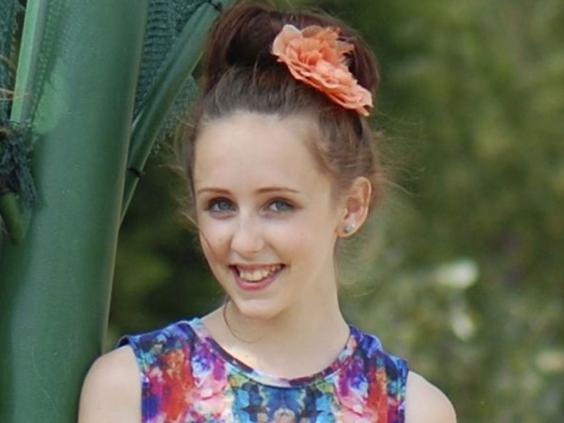 Earlier, Hanwell fell silent as the hearse travelled through the town in west London.
Yellow ribbons - once a symbol of hope that Alice would be found alive - festooned trees, railings and traffic signs along the route.
Dozens of bunches of mainly yellow flowers, candles and messages of tribute have been left around a clock tower in the centre of Hanwell, which has become a focus of the community's grief.
Locals lit small candles arranged to spell out "We love you Alice" and watered flowers ahead of the funeral.
A tribute and donation page has been set up in Alice's memory with the charity Youth Music.
Her family said: "We feel this is a fitting tribute to our daughter Alice.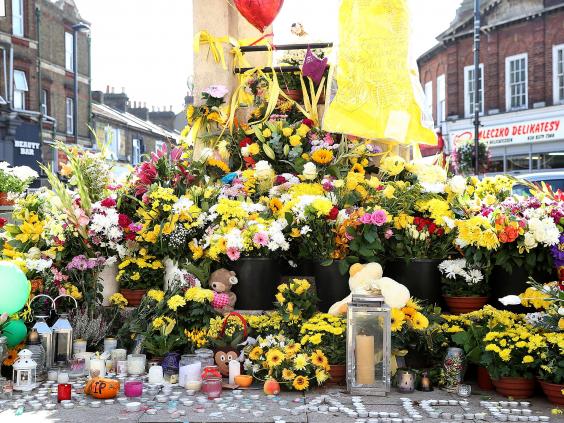 "She loved music and loved making music and would have wanted other children to experience this joy."
The charity said it was "honoured and grateful" to be chosen for the tribute.
A public memorial ceremony for Alice will be held on November 2 at Greenford Town Hall.
::The Youth Music website is at http://www.youthmusic.org.uk. Donations in memory of Alice can be made at http://alice.poppymadeleine.gross.muchloved.com/
Flags were flown at half-most over Ealing Town Hall.
Ealing Council leader Julian Bell said: "Our heartfelt sympathy and thoughts are with Alice's family today.
"Throughout these terrible weeks, the Gross family has shown tremendous dignity under the most tragic circumstances imaginable.
"Even on this most difficult of days, it is testament to the family's generosity of spirit that they would rather people remembered Alice by making a donation to the charity the National Foundation for Youth Music.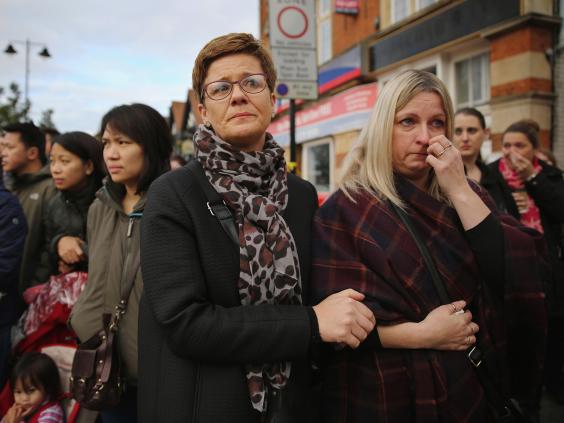 "I hope that as many people as possible can support the family's wishes by making a donation which will make a positive difference to the lives of young people in Alice's name.
"The impact of Alice's disappearance and death has been felt by the whole community but of course most greatly by her parents and sister."
Alice went missing on August 28, triggering Scotland Yard's largest search operation since the aftermath of the July 7 terror attacks.
Specialist search teams discovered her remains hidden under logs on the bed of the River Brent in west London more than a month later on September 30.
The prime suspect in her murder, convicted killer Arnis Zalkalns, was found hanged in nearby Boston Manor Park on October 4, four weeks after he was reported missing.
Alice was last seen on CCTV walking along the towpath beside the Grand Union Canal near her home on the afternoon of August 28.
It emerged three weeks later that Zalkalns, who served seven years in prison in his native Latvia for bludgeoning and stabbing his wife Rudite to death, had been cycling behind her.
Police have come under fire for delays in identifying Zalkalns as a suspect. He vanished on September 3 and was reported missing by his family two days later.
The general labourer, who worked at a building site in Isleworth, west London, is believed to have come to the UK in 2007, but authorities here are thought to have had no record of his murder conviction.
A review of the handling of the case is being carried out by Scotland Yard.
Inquests into both their deaths have been opened and adjourned while further tests are being conducted to establish the cause of Alice's death.
Additional reporting by PA
Reuse content