Alton Towers will remain closed today after a horrific accident on The Smiler left four people in hospital with serious injuries.
Shocked onlookers described "blood everywhere" after a carriage carrying 16 riders crashed into an empty cart that was sitting stationary on the track after a test run.
A spokesperson for Alton Towers said she could not confirm reports that one of the riders had lost a leg as a result of the accident.
Footage of the aftermath showed the carriages swinging to a standstill after the impact, with passengers screaming in pain and shouting "help us".
"Is it meant to do that?" a man behind the camera could be heard asking. "Oh my God…that (carriage) came round at full f***ing speed into the back of that one."
The rollercoaster reaches top speeds of almost 53mph and twists through 14 loops up to 30 metres high.
Danny Simm, who was at the Staffordshire theme park when the accident happened just after 2pm on Tuesday, tweeted: "People unconscious, knocked out. Blood everywhere. It really was shocking. Air ambulances landing now, people still stuck."
Another witness compared the scenes to horror film Final Destination and said she felt sick.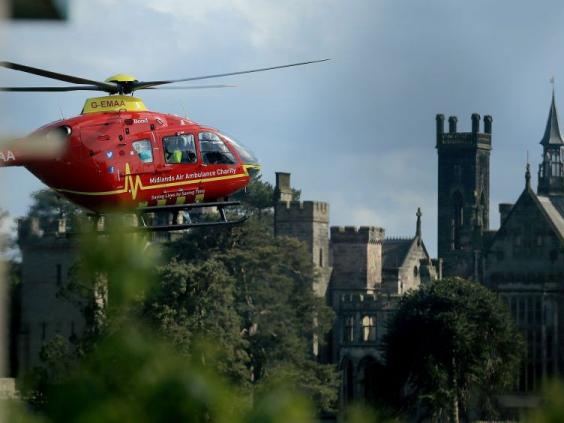 Two men aged 27 and 18 and two women aged 19 and 17 suffered serious leg injuries in the crash, which left some people trapped for four-and-half hours.
They were airlifted to major trauma centres after being rescued from 25 feet up in the air at an angle of about 45 degrees.
The other 12 riders - six men and six women – were treated for less serious injuries, including a man in his 20s who suffered neck and abdominal injuries.
The theme park was facing questions about its safety measures last night as people asked how an empty carriage came to be left on the track.
Described as the "world's first 14 loop rollercoaster", the Alton Towers website says The Smiler features "twisted psychological effects including optical illusions, blinding lights and near misses designed to mess with your mind".
The £18 million rollercoaster has been closed on two occasions because of safety concerns since opening two years ago, including in July last year, when debris fell from the track, and in November 2013 when four people were struck by falling wheels.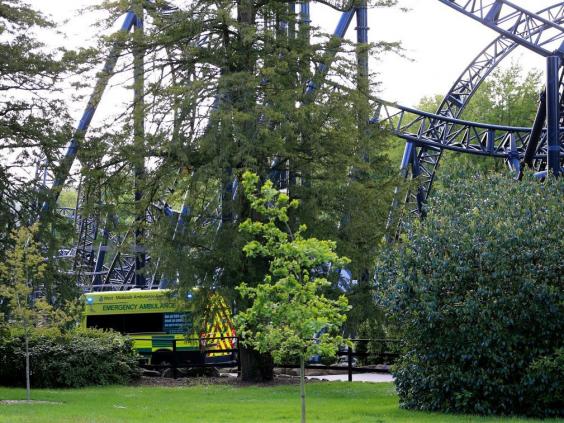 Ben Richardson, who had been on the ride before the accident yesterday, said the first carriage was "completely static" by the time the second cart was at the start of the ride.
"At that point they could have unloaded the carriage and got people away safely," he added.
"Whether that was computer error or human error, I don't know, but common sense would say, get the passengers off while you can."
A spokesperson for the theme park said it would not open on Wednesday following the "dreadful incident" and anyone with pre-booked tickets or arriving at the park will be able to get them transferred or refunded.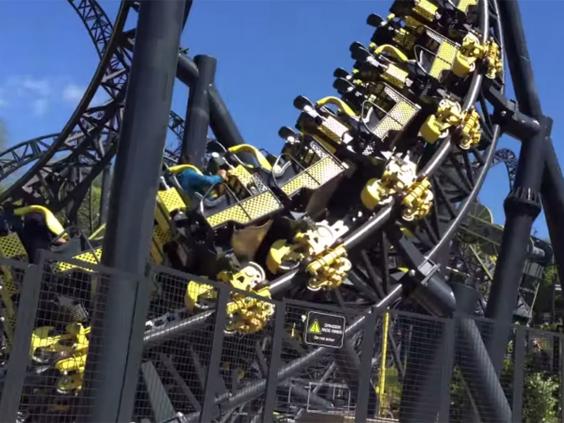 Nick Varney, chief executive of Merlin Entertainments, which runs the park, said: "This has been a terrible incident and a devastating day for everyone here.
"I would like to express my sincerest regret and apology to everyone who suffered injury and distress and to their families.
The best roller coasters in the world
The best roller coasters in the world
1/9 Millennium Force, USA

Breaking six world records when it was built in 2000, Millennium Force at Cedar Point in Ontario, United States, was briefly the tallest and fastest coaster in the world before Steel Dragon 2000. Millennium Force was also the world's first Giga Coaster, exceeding 300 feet in height.  Website: https://www.cedarpoint.com/ Ticket cost: £29.24

2/9 Formula Rossa, Abu Dhabi

Formula One fans looking to experience the thrill of high-speed manoeuvres need look no further than Formula Rossa, currently the world's fastest roller coaster, located at Ferrari Word in Abu Dhabi, United Arab Emirates. Once strapped in to the Ferrari "Rosso Scuderia" F1 inspired cockpit, riders experience an incredible top speed of 150mph, accompanied by acceleration G-Force of 1.7Gs. In order to accelerate to top speed in under five seconds, the ride uses a hydraulic launch system similar to those used to launch jets from aircraft carriers. The ride is so fast riders are required to wear safety goggles. Website: http://www.ferrariworldabudhabi.com/en-gb.aspx Entry cost: £38.18

3/9 Kingda Ka, USA

Currently the world's tallest roller coaster, Kingda Ka reaches an impressive height of 456 feet. The roller coaster, found at Six Flags Great Adventure in Jackson, New Jersey, in the United States, used to be the world's fastest roller coaster, reaching 128 miles per hour in 3.5 seconds, before it lost that record to Formula Rossa in 2010. After a 90° rise to the top, riders then plummet down a 270 ° spiral drop. Website: https://www.sixflags.com/greatadventure Entry cost: £24.54

4/9 Colossos, Germany

The world's tallest wooden roller coaster, Colossos in Heide Park, Germany, stretches 196 feet into the air. It is constructed using laser cut wood, which means the entire structure snaps together like pieces of Lego. Due to this, the wooden track gives a very smooth ride. Website: http://www.heide-park.de/en/heide-park/ Entry cost: £25.45

5/9 Steel Dragon 2000, Japan

Named after the Chinese New Year in 2000, Steel Dragon 2000 at Nagashima Spa Lad amusement park in Mie Prefecture, Japan, holds the record for the longest roller coaster in the world. Boasting a track length of 8,133 feet, it's also the sixth fastest coaster in the world. Built in Japan, the coaster needed extra earthquake protection, pushing construction costs over $50 million. Website: http://www.nagashima-onsen.co.jp/index.html/ Ticket cost: £5.74

6/9 Takabisha, Japan

Famous for having a drop angle of 121°, Takabisha, located at the Fuji-Q Highland theme park in Fujiyoshida, Yamanashi, Japan, is the steepest roller coaster in the world. The drop angle is known as a "beyond vertical" drop as riders travel back on themselves as they fly over the vertical lift and down the drop. Website: http://www.fujiq.jp/en/ Ticket cost: 5.74

7/9 Top Thrill Dragster, USA

Before being surpassed by Kingda Ka, Top Thrill Dragster at Cedar Point in Sandusky, Ohio, United States, was the world's tallest roller coaster. Along with Kingda Ka, Top Thrill Dragster is one of two Strata Coaster types of roller coaster, featuring a drop of 400 feet and a full circuit. Reaching speeds of 120 mph in less than four seconds, Top Thrill Dragster may last only 17 seconds, but it's sure to thrill. Website: https://www.cedarpoint.com/ Entry cost: £29.18

8/9 Space Mountain, USA

A clear fan favourite, Space Mountain, at Disney World, California, takes visitors on a rocket ride through stars, galaxies and asteroids. The ride is replicated across all five Magic Kingdom-style Disney Parks, so there's no excuse to miss it. Website: https://disneyland.disney.go.com/ Entry cost: £56.15

9/9 Skyscraper...

This one's a bit of a cheat because the ride isn't actually completed yet, but Skyscraper at Orlando's International Drive is planned to be the world's tallest roller coaster in the world with a 570 foot tower. Riders will catch an elevator to the top of the structure before following the winding track down at 65 miles per hour. Unfortunately, the ride won't be completed until 2016, but there's still plenty of time to get excited.
"The safety of our visitors is our primary concern. The park will remain closed until we understand better the cause of this dreadful incident.
"I would like to thank the emergency services for their swift and effective response - they were outstanding."
A full investigation involving the Health and Safety Executive is underway.
Reuse content