Hundreds of thousands of people have marched through London protesting against the Conservative government's austerity measures.
Charlotte Church branded austerity "unethical, unfair and unnecessary" as she joined the quarter of a million demonstrators.
Comedian Russell Brand and singer Church both received loud cheers as they spoke at a rally at the end of the protest - the biggest in Britain for several years.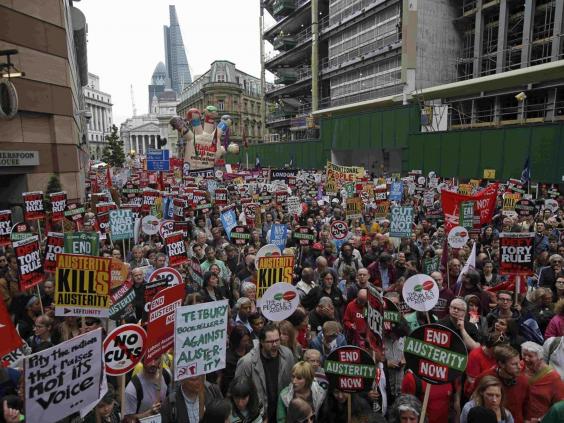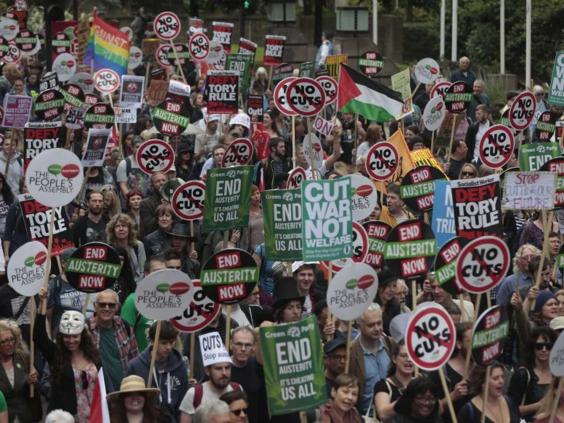 The Welsh singer, 29, described the idea that Britain needs austerity as "the big lie" and said: "What this country needs is economic stimulation - most economists around the world would say the same. We need to get the blood pumping."
She called for the country to rally and "save ourselves from decades of yuppie rule".
She attacked the "scandalous" sell-off of the bailed-out Royal Bank of Scotland and warned the Government will "sell off our schools and our hospitals, and once it is done, it will be very difficult to reverse".
She told the crowd: "One aspect of this that really gets under my skin is that it's all wrapped up in a proud-to-be-British package. I'm proud to be British because of our National Health Service, the welfare system and David Bowie. Not because of the Union Jack."
Earlier, she said: "I'm here today in a show of solidarity with everyone here - it is a massive turnout - everybody who thinks that austerity isn't the only way and thinks it is essentially unethical, unfair and unnecessary."
Social media had been buzzing with images and messages of support as people from all over the country travelled to march from Victoria Street to Parliament Square from 1pm.
Warrington's anti-austerity squad... We're coming London! #EndAusterityNow pic.twitter.com/mu7wcQXsFJ

— Josh Booth (@MrJoshBooth) June 20, 2015
On our way to that London from the NorthEast for the @PplsAssembly #EndAusterityNow demonstration. #J20 #JuneDemo pic.twitter.com/oZFdn9EnZu

— Teesside PA (@TeessidePA) June 20, 2015
Our stewards @GreenPoolie and @MilitantBarb on the #EndAusterityNow coach in #Hartlepool. Next stop: #Middlesbrough pic.twitter.com/xoKdGIebqM

— Steve Cooke (@Steve_Cooke) June 20, 2015
Off to London for #EndAusterityNow @pplsassembly March... Because we need to look after each other and the planet, otherwise we are screwed

— Clare Wilde (@_clarewilde) June 20, 2015
More and more coaches arriving near bank! pic.twitter.com/pacG43jlTT

— People's Assembly (@pplsassembly) June 20, 2015
"It will be the start of a campaign of protest, strikes, direct action and civil disobedience up and down the country," said Sam Fairbairn of the People's Assembly.
He added: "We will not rest until austerity is history, our services are back in public hands and the needs of the majority are put first."
The march is intended to highlight how homelessness, inequality and child poverty have increased in the past five years. The New Policy Institute (NPI) estimates as much as 29 per cent of children have fallen into poverty after housing costs.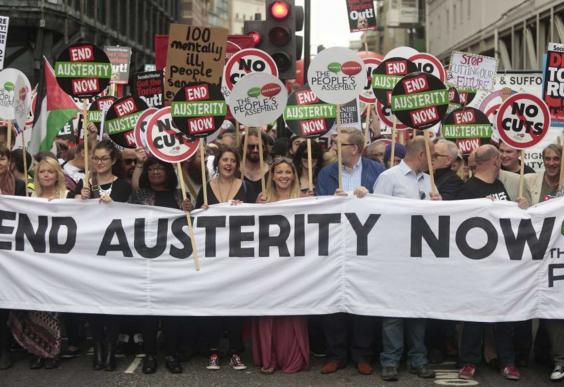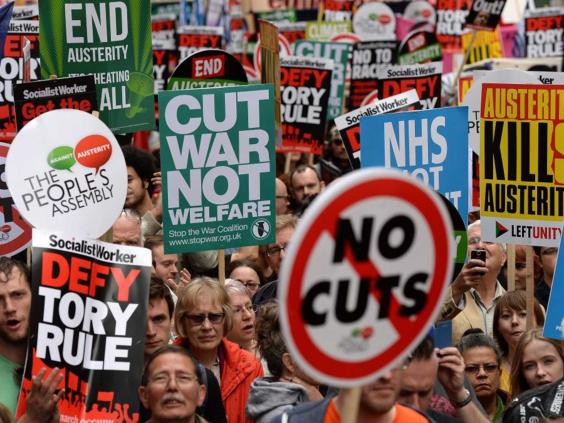 Alongside Brand and Church, Guardian journalist Owen Jones, Unite general secretary Len McCluskey, Green MP Caroline Lucas, and Labour leadership contender Jeremy Corbyn were among the big names attending.
Looking forward to upbeat, positive #EndAusterityNow demo for social justice. Let's treat it as a launchpad to organising in our communities

— Owen Jones (@OwenJones84) June 20, 2015
With Cathy from PCS "no to austerity" let's have a beautiful day of community action @pcs_union pic.twitter.com/S6loPcyeFp

— Russell Brand (@rustyrockets) June 20, 2015
On way to #EndAusterityNow demo to protest Govt ideological attack on poor - if need £, then #RobinHoodTax, scrap Trident, stop tax dodging

— Caroline Lucas (@CarolineLucas) June 20, 2015
Green MP Ms Lucas, who held onto her Brighton seat at the last general election, spoke to packed crowds in Parliament Sqaure: "This Government is continuing to punish the poor for an economic crisis they didn't cause."
She added: "It's time for all of us who oppose the Government's self-defeating austerity programme to work together. That means more protests."
Her comments were supported by the General Secretary of Unite. "If they think that they won the war of austerity on May the 7th, they better think again," he told the crowd.
Mr McCluskey added that the "battle ahead" would "define the generations yet to come."
Also present on stage was deputy first minister of Ireland Martin McGuinness. He told the crowd that despite being a government minister it was "David Cameron's cabinet of millionaires" that "are the real spongers."
Anti-nuclear campaigners also joined the protest. Lindsey German, from the Stop The War Coalition, told the Evening Standard earlier today: "I will be marching because I am fed up with all the main parties saying they are going to promote austerity.
"They have made the rich richer and the poor poorer and they're going to continue."
Protest organisers have described the march's mood as like a "festival" and despite the huge turnout, the mood appears peaceful if determined. Humour has been provided throughout the day by some protesters' banners.
#EndAusterityNow pic.twitter.com/43510Dr1DU

— Gavin Brightman (@GavinBrightman) June 20, 2015
A statement from the Metropolitan police, who worked with the City of London Police, British Transport Police and Transport for London to facilitate the march, earleir said an "appropriate and proportionate policing plan is in place."
Reuse content