Fed-up cruise passengers staged a protest on a ship scheduled to sail to Amsterdam after it had circled the Channel for four days before returning to the port in Southampton last night.
Some of the 2,100 people travelling on the Queen Elizabeth vessel shouted in the plush reception "we want the captain" after he had made the decision to turn back due to bad weather.
Cruise operator Cunard offered passengers £48 in vouchers to spend in compensation for paying up to £400 for their tickets.
They also promised "upgraded entertainment" however many claimed that the only activity "worth doing" was the over-subscribed pub quiz that had people having to sit on the floor, according to the Telegraph.
Unhappy customers complained of the service and the way the situation was handled on social media. More than 10 people also complained of a "pungent and constant" smell of diesel onboard the ship.
Mutiny on the #cunard Queen Elizabeth after no show in Amsterdam and "that" smell pic.twitter.com/CHMfPijEGE

; Nicholas Smith (@SmiddyPence) December 22, 2014
@cunardline what a shambles on the QE! Lack of customer care, disgusting treatment by Cunard. Catalogue of events making it a terrible trip.

; Steven James Kitchen (@sjkitchens) December 22, 2014
"Visit the amsterdam christmas markets" nope instead visit the english channel for 4 days Thanks cunard

; inactive bc holiday (@Smesmeh) December 23, 2014
Mums 60th Birthday Christmas @cunardline cruise ruined by strong diesel smell which has made her ill. Plus well as no trip to Amsterdam !!

; Paul Rolfe (@psrolfe) December 22, 2014
A Cunard spokesman said: "It is a great pity that due to terrible weather conditions the ship was not able to dock in Amsterdam. The captain looked at two alternative ports of call which were both unsuitable due to similar weather conditions.
"Whilst we are so sorry not to have called in Amsterdam the safety of our passengers and ship will not be compromised under any circumstances.
"Guests have been given a gesture of goodwill for this and we put on additional entertainment onboard as well as all the usual activities and fine dining as you would expect from Cunard."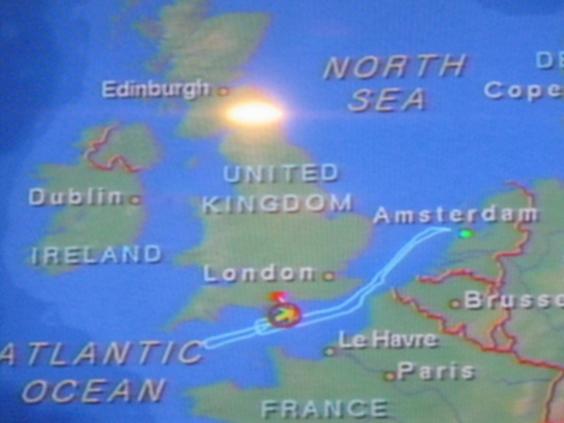 Regarding the claims of a strong diesel smell, a spokeswoman added: "We apologise if any passengers experienced discomfort."
The company was praised by some passengers for putting the safety of holiday-makers first, even though they have yet to hear about any possible refunds.
Grace Sankey said on the company's Facebook page: "Safety comes first pleased to hear that! will be on board myself soon !!!"
Will Berghoff said: "We enjoyed the cruise and appreciated the efforts of the crew to make a pleasant trip despite of weather issues everyone has to be aware of when travelling in December."
A two-day cruise from Southampton to Hamburg in Germany in exactly two weeks has already sold out with only "Queens Grill Staterooms" costing £1,736 per person currently still available, according to the ship operator's website.
Reuse content