Shocking CCTV footage has been released showing the moment a tuxedo-clad great-grandfather was forced to successfully defend his home from three armed thieves.
In the video, Andrew Adamson, 59, returns home from a party with his wife Liz, 58, to see three men breaking into his house in Kettering, Northamptonshire. 
After entering his front door Mr Adamson is attacked by the three men, one of whom attempts to beat him over the head with a 2ft long crowbar, before they are seen off by the well-dressed businessman in a scuffle outside his front door.
The CCTV footage has been released for the first time after two of the three gang members were jailed for the aggravated burglary, which took place on 18 December 2010.
Mr Adamson, who has lived in the house with his wife for 30 years, was left with a bleeding head wound - requiring seven stitches - and lost his briefcase containing £400 of possessions in the attack.
"We came back home and they were already in there," Mr Adamson said.
"The next thing we know the chap comes out with the iron bar and sparks were flying off it when he hit it off the wall so he was really trying to whack me."
The father-of-three and grandfather-of-four, speaking to the Mail Online, said: "I was not just going to let them stand by and ransack my house - I did what any good husband would do. I wanted to protect my home and protect my wife."
"There was no way I was going to let them go without a fight. They say an Englishman's home is his castle - but I think I just acted on instinct.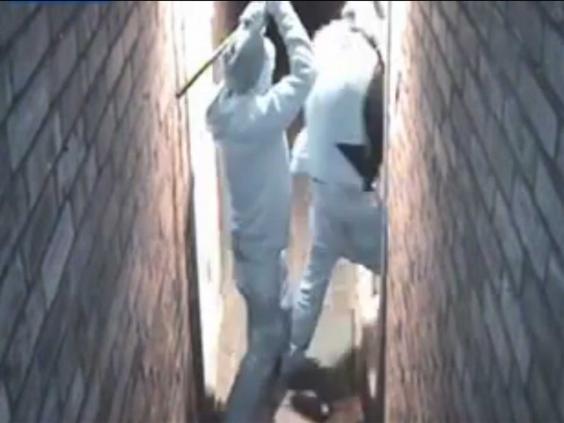 "I was not going to let them get away with it - and somehow I managed to turf them all out of the house one by one."
Talking about the attack, Mr Adamson, whose wife ran for help when she realised what was happening, said: "I was bleeding like a stock pig.
"If my wife had been here on her own that night I dread to think what would have happened."
One of the attackers, identified as Duncan Berry, 23, was jailed for four-and-half years in 2011 after pleading guilty to the aggravated burglary.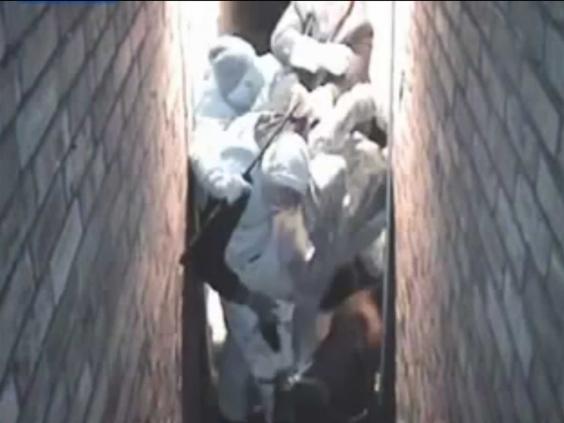 In the video Mr Adamson can also been seen grabbing the mask of another attacker, which was used as DNA evidence to connect David Jarvie, 53, to the crime after he was arrested for affray.
Jarvie admitted aggravated burglary and actual bodily harm and was jailed for five-and-half years last week. In court he even praised Mr Adamson.
His defence barrister William Falshaw said: "He says himself that the victim was a very brave man to stand up to a whole group of men, some of whom were armed."
Reuse content