Long lines formed outside shops across London on Friday as people waited to get their hands on the latest edition of the French satirical magazine Charlie Hebdo, with some queuing from 6:30am.
It is the first edition of the magazine since eight of its journalists were murdered by Islamist militants last Wednesday in terrorist attacks that saw 17 people killed over the course of three days in Paris. The two Charlie Hebdo attackers, the brothers Cherif and Said Kouachi, were killed last Friday by French police.
Police were in attendance at the queue outside The French Bookshop in South Kensington, and a police officer confirmed that the owner had requested a police presence, adding, "There's been no trouble at all, we're more worried about someone getting run over because of the queue".
The edition sold out of most French shops within minutes of kiosks and shops opening on Wednesday, driving publishers to increase its print run from three million to five million to cope with the overwhelming demand. Its usual circulation is 40,000.
Hebdo has again not shied away from controversy, featuring cartoons of a crying Prophet Mohamed, masturbating nun and the Pope dressed as a mafia boss.
In London, people explained why they were queuing in the early hours of Friday morning to purchase the magazine. Ian Puddick, a communications consultant, was waiting outside The French Bookshop. He said "I speak at Speakers' corner about free speech. The whole point about terror is to instill fear - I'm here to show it's not working really."
Arnauld, another individual who bought a copy said, "I came out today because there are a lot of occasions where we can stand up for free speech in Western countries. I am French but I couldn't be at the demonstrations on the weekend and I wanted to be part of it."
Another purchaser of Hebdo told The Independent that he had been queuing for several hours at the request of his father: "My dad wanted me to get one for him. I got up at 6:30am, an hour before I was meant to."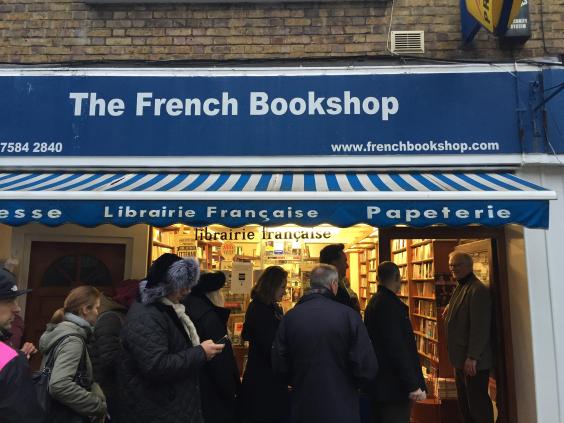 Some had gone the extra mile and reserved a copy, like Emmanuel de Wouters. "I will keep this as a souvenir," he said. "There's been a hell of a lot about this, even the Pope has got involved. I am Belgian and I'm pleased that yesterday we stopped an attack before it happened - it goes to show it could happen anywhere".
Belgium is currently on high alert after an anti-terror raid on Thursday in which two suspected Islamist militants were killed and one was arrested. The suspects were shot dead in the town of Verviers after they opened fire on police with automatic weapons. Officials say they had returned from Syria and planned imminent attacks on police targets.
Reuse content