It's only the second day of 2015 and already Prime Minister David Cameron has fired the warning shots ahead of May's General Election.
Putting the economy front and centre of its election campaign, Cameron and George Osborne unveiled the Conservative Party's first poster today, depicting a road in the English countryside with the words, "Let's stay on the road to a stronger economy".
It then claims that under five years of Conservative-Lib Dem rule, the government has helped 1.75 million find work, created 760,000 news businesses and - controversially - "halved the deficit".
Some have criticised that claim as the deficit has only been halved as a proportion of GDP, not in real cash terms. Yet the deficit is where the Tories hope to outmanoeuvre Labour.
Ed Miliband said Labour would clear the deficit on day-to-day spending on public services "as soon as possible" before 2020 while the Conservatives have pledged to do so by the 2017-18 financial year. Furthermore, Miliband famously forgot to mention the "d" word when delivering his conference speech last year.
Criticism of the advert has already started, with some on Twitter saying the Conservative path to economic prosperity is actually a deceptive "road to hell".
Vote Tory and Stay on the #RoadToHell #GE2015.... Corporatism,Privatisation,Cuts in Public Services,Austerity... pic.twitter.com/mY4536UqnD

— Jakey (@Shyman33) January 2, 2015
Another user performed a very quick photoshop of the poster to emphasise their disagreement with the Tory claims:
Some clever person has doctored the new Tory Election poster already !! pic.twitter.com/02Wk7OD4gQ

— SUSAN SIMPSON (@smartysue) January 2, 2015
Others have noticed that the poster bears a striking resemblance to a Labour Party advert from 2010 called "The Road Ahead", which featured a mean traipsing along a road in the English countryside. He says at one point, "Let's continue using our experience with the global community to support our economy, getting British families and businesses back on their feet again. Only Labour will keep us on this road to recovery."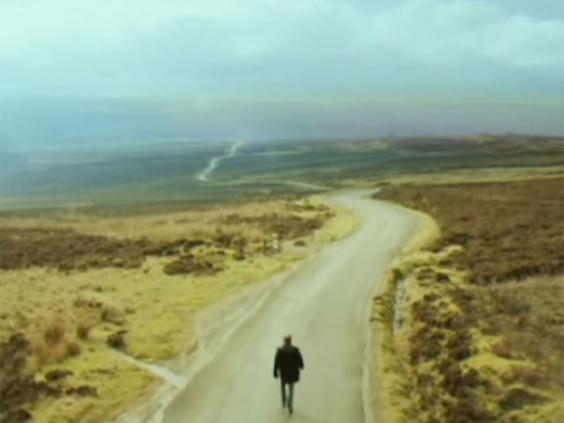 Of course, while Labour's road ahead mentioned using the "global community" to help Britain's future, the Conservative poster features the Union Jack quite prominently, an evident nod to voters concerned about the UK's relationship with the EU and those thinking of voting Ukip in May. Cameron has pledged to hold an "in or out" referendum on the UK's EU membership if he wins a majority.
However, the Tory image of England's green and pleasant land was criticised by one commentator, who told The Daily Mail the scene looked a "bit French".
Reuse content