Thirteen people have been arrested over a trafficking ring in Manchester that saw a pregnant woman tricked into visiting the UK before she was sold into a sham marriage.
Ten men and three women, aged between 24 and 57, were arrested after police and officers from the Home Office went to properties in Greater Manchester on Wednesday.
They were arrested for offences of trafficking people for exploitation, conspiracy to facilitate breach of immigration law, conspiracy to assist unlawful immigration into a member state, and three were arrested for being over-stayers in the UK.
The arrests followed the trafficking of a young pregnant woman who raised the alarm after she was taken to hospital for an abortion.
The woman, who was 25 weeks pregnant when she arrived in the UK in May, had been tricked into travelling to the country and led to believe she would be visiting her sister in Luton.
A man met the woman at the airport purporting to be her sister's friend and took her to Manchester. He had been paid between £10,000 and £15,000 by the trafficking gang to arrange a sham marriage, police said, and she was married to a man in Rochdale in July.  
Detective Inspector James Faulkner of Great Manchester Police said the arrests were a "superb result" following a long and complex investigation by police and their partner organisations.
"This woman was brought to Manchester with the sole purpose of being married to a man who hoped to boost his immigration status. She was completely unaware of this group's nefarious motives and by the time she realised what was going on, it was too late.
Detective Inspector Faulkner said there were up to 400 cases of women bring trafficked for sham marriages in the Manchester area, which represent just one form of modern slavery.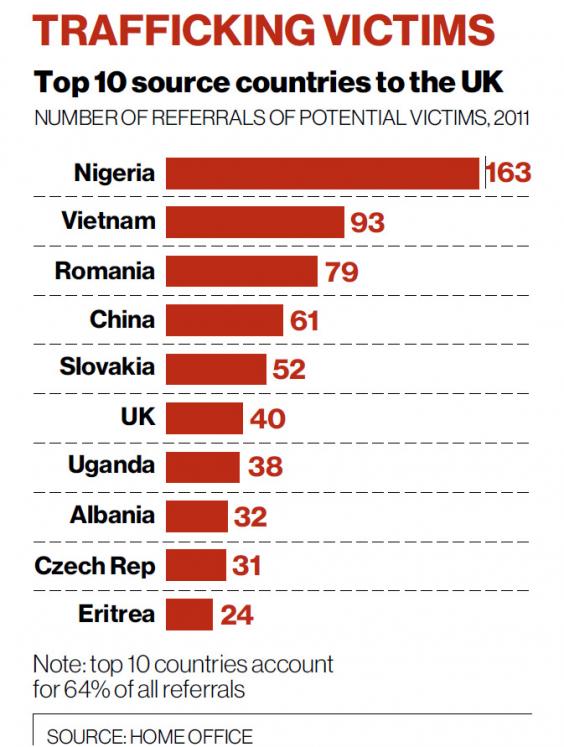 "That is 400 women who were brought to this country on a false premise and trapped in relationships with men they do not know, 400 women enslaved by gangs only out to make money from their predicament.
"On top of that, Home Office statistics place a cost of £40,000 on the UK economy for each sham marriage. That is a potential cost of £16m to the city of Manchester in benefits, police and council resources and other costs – a gigantic sum especially when you consider the budget cuts affecting every single household in Greater Manchester at the moment.
"Modern slavery comes in many forms and this case is just one example of the reasons why vulnerable men and women are trafficked into this country.
"This investigation and subsequent arrests show that Greater Manchester Police and our key partners are committed to destroying modern slavery in Greater Manchester, by way of supporting victims, detecting and bringing offenders to justice or providing training to those who may be exposed to the crime as a third party."
Additional reporting by PA
Reuse content