A woman who was left with horrific scars after being attacked with acid, has accused police of incompetence and has claimed they initially alleged she had poured the toxic substance over herself.
Naomi Oni, 22, was attacked with sulphuric acid by her friend Mary Konye, who had disguised herself in a Muslim veil, in Dagenham, east London in 2012. She suffered serious burns to her face and chest and was left scarred for life.
Speaking on BBC Radio 4's Today programme, Ms Oni said it almost felt like she had "been accused of lying" after her then-friend, who has since been jailed for 12 years, attacked her.
Ms Oni, a former Victoria's Secret worker, said officers were incompetent "to kind of accuse me of doing it to myself, when I've said somebody has followed me from my workplace to my home".
"I even got told that they watched the CCTV footage and they saw no-one following me," she said.
"We've all seen the CCTV footage. There was a person in a veil following me.
"Why was this not found in the beginning? Nobody has answers to tell me."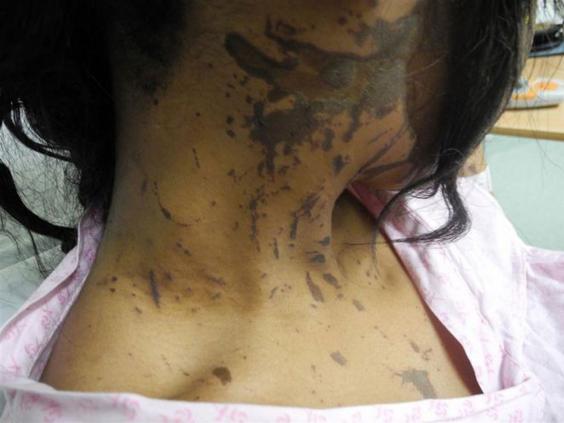 In court it was argued that Ms Oni carried out the attack herself in a bid to find fame and fortune after becoming interested in a similar case where model and TV presenter Katie Piper was partially blinded.
Speaking to the BBC Ms Oni said she had researched the case after seeing a documentary and that she had found it "a moving and touching story".
A spokesman for the Metropolitan Police said: "All lines of inquiry were considered in the early stages of the investigation. The investigation was detailed and complex and officers had a duty to explore every avenue of inquiry and retain an open mind about the circumstances.
"They carried out numerous actions including door-to-door inquiries, leaflet drops, searches, interviews and forensic analyses.
"The CCTV evidence took some time to collate and analyse but then clearly showed a veiled suspect trailing the victim before the attack.
"Konye was arrested as the investigation progressed."
Ms Oni, who now has to wear a silicone face mask, described her situation in an impact statement read to the court last week.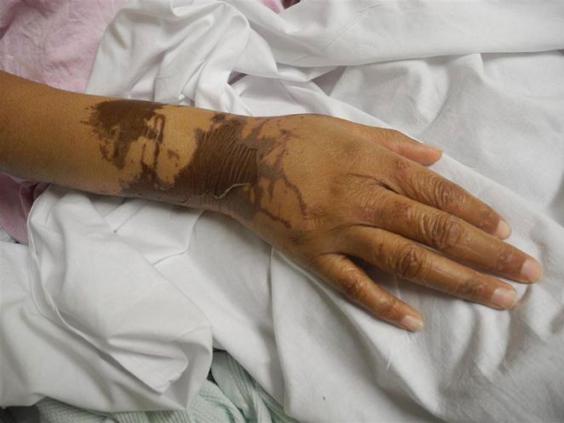 The statement said it was now a "battle to get by each day" after she was permanently disfigured. She has suffered permanent scars to her leg, chest, stomach and arms and was almost blinded in one eye, the court heard.
Speaking to the BBC today, Ms Oni said her family was "in pieces" and she "almost didn't believe it" when the police told her Konye was a suspect.
She told Today: "I don't understand why this has happened. I'm just as lost and as confused, obviously more confused, than everybody, than my family, than the police themselves."
Ms Oni said Konye was "fascinated" with her image and was "jealous and obsessed".
She added: "I remember when I had my first surgery and they removed my dressings and when I saw my face after the surgery I was just in bits, I was crying, I was devastated and I remember her phoning me that night and speaking to her on the phone and just crying to her 'Who could do this to me?'
"I would never even wish this on my enemy. I was like 'This is just beyond any type of understanding'. I was just crying and crying and crying and she was just listening and like 'Don't cry, it's going to be OK'."
Breaking down in tears, she added: "I just think she is a very evil, evil, evil person and people like her should not exist and they should not be allowed to have a voice for any reason.
"I do not think that in turn of her, of what she did... no-one should have to come out and say the reason why she did it is because we had an argument. No-one in this world throws acid on someone because of an argument.
"She's a big bully that has no remorse and all she's ever done throughout my friendship is continuously bully me. It's an abuse. I just want people to understand that I've been in an abusive friendship so stop abusing me even further. It's not fair on me."
She added: "I just feel isolated, being in a room, just having to think every day about what's happened to me. Not being able to understand why and just feeling alone in my situation and still having to, aside from everything, still having to care for my mum.
"It's an impossible task for one person. I'm only human and I didn't ask for any of this. I didn't ask for it, I didn't see it coming."