Police have confirmed that the body found in the River Brent last night is that of missing teenager Alice Gross.
The Metropolitan Police, whose investigation into the disappearance of Ms Gross was its largest since the London bombings, confirmed the formal identification of the 14-year-old's remains in a statement on Wednesday evening.
Police officers are still looking to question Arnis Zalkalns, 41, the convicted murderer who was seen cycling past the tow path 15 minutes after Alice was seen on CCTV.
Ms Gross's parents, Rosalind Hodgkiss and Jose Gross, said in a statement they were "completely devastated".
"We have been left completely devastated by the recent developments and it is difficult to comprehend that our sweet and beautiful daughter was the victim of a terrible crime.
"Why anyone would want to hurt her is something that we are struggling to come to terms with.
"Alice was a loving and much loved daughter and sister, a quirky live spark of a girl, beautiful inside and out.
"She was a funny companion, a loyal friend, both passionate and compassionate, and so talented with a bright future ahead of her. She brought so much joy to our family and those who knew her."
The family added that they do not know who was responsible for the crime, and went on to appeal for people to continue giving the police information "that could help bring the perpetrator to justice".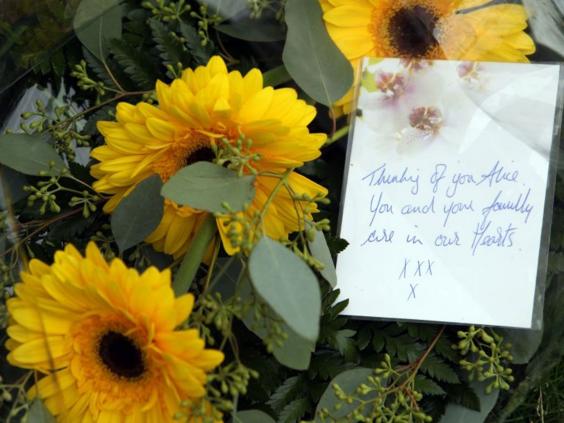 They went on to thank everyone who had supported them in their efforts to find their daughter, especially the local community.
"It is comforting to know that so many people care," they said.
"This is a personal and private tragedy and one which we want to be allowed to deal with in that manner, rather than fearing any individual or group will use it to further any political agenda. This is a time for grieving and not a time for anger or recriminations.
"We now ask for our privacy to be respected to allow us time to grieve as a family."
The announcement is the result of a post-mortem carried out on Wednesday. The procedure will continue on Thursday, due to the "complex nature" of the investigation, the force said.
On Wednesday morning, detectives said "significant efforts" had been made to conceal Ms Gross' body, but did not specified where in the river the body was found.
The River Brent runs a short distance from Hanwell, West London, and the towpath next to the Grand Union canal.
The schoolgirl was last seen on 28 August on CCTV, walking down the towpath as it passes under Trumpers Way at 4.26pm, heading towards her home in Hanwell.
Zalkalns, a Latvian builder, was reported missing by his family six days after Alice was last seen. He has not been seen since 3 September.
Police have come under fire for delays in identifying Zalkalns as a risk, and so far have not been able to apply for a European Arrest Warrant due to lack of evidence.
Speaking at Scotland Yard earlier today, Metropolitan Police Commander Graham McNulty said: "This is now a murder investigation and I need the public's help to find whoever is responsible.
"Even if you have not yet spoken out it is not too late to tell us what you know."
Additional reporting by PA
Reuse content