On balance, the hacking verdicts will have been greeted by Rupert Murdoch and his senior lieutenants with a degree of relief.
For the old media baron, there will have been personal delight at the acquittal of a woman he regards almost as another daughter. But spin doctors at News Corp were well aware that Rebekah Brooks was the figure in the dock most associated with its corporate culture and governance. Her being cleared limits the likelihood of further repercussions against the company in the US.
That has to be weighed against the embarrassment of the conviction of Andy Coulson, the former editor of what was once News Corp's biggest-selling British paper, and the guilty pleas of some of his senior colleagues.
In a statement, News UK, the London-based subsidiary, was careful to sound contrite. "We said long ago, and repeat today, that wrongdoing occurred, and we apologised for it. We have been paying compensation to those affected and have co-operated with investigations," it said.
Video: The long legal saga

Mr Murdoch has been officially informed that detectives want to interview him as a suspect as part of their inquiry into allegations of crime at his British newspaper, The Guardian reported.
It is all of marked contrast to the late summer of 2006, as officers from Scotland Yard prepared to make their first hacking arrests. Then the great media potentate was toying with British politicians, hinting at his future support for David Cameron and pointedly warning the Prime Minister-in-waiting, Gordon Brown, against calling a snap election. When the hacking scandal re-emerged in 2009, News International dismissed the affair as the work of a "rogue reporter".
It was only in February 2011, when it set up its management and standards commission – and began co-operating with the Yard's newly formed Operation Weeting team, that the company seemed to be facing up to the scandal, even if its priority was to minimise civil payments to hacking victims.
Hacking trial: The verdicts in full
Hacking trial: The verdicts in full
1/7 Rebekah Brooks

The former News of the World editor and News International chief executive has been cleared of conspiracy to hack phones; misconduct in public office for allegedly signing off payments to a Sun journalist's 'number one military contact' between 2004 and 2012; conspiracy to pervert the course of justice after seven boxes were allegedly removed from the NI archive just days before 2011 arrests

2/7 Andy Coulson

Former News of the World editor and Downing Street spin doctor guilty of conspiracy to hack phones from 2000 to 2006. The jury failed to reach a majority verdict on charges of conspiracy to commit misconduct in a public office by allegedly paying police officers for two royal directories. He could face a retrial.

3/7 Stuart Kuttner

Retired managing editor cleared of involvement in phone-hacking conspiracy spanning six years

Reuters

4/7 Cheryl Carter

Brooks' former personal assistant, cleared of conspiracy to pervert the course of justice by removing seven boxes from the News International company archive just days before she was arrested in 2011

5/7 Charlie Brooks

Racehorse trainer and Rebekah Brooks' husband, cleared of perverting the course of justice around the time of police searches in July 2011

6/7 Mark Hanna

Former News International director of security, cleared of perverting the course of justice

7/7 Clive Goodman

The former News of the World royal editor, could face a retrial after the jury failed to reach a verdict on charges of committing misconduct in public office for allegedly paying police officers for two royal directories
The Milly Dowler revelations, which emerged that July, changed everything. Since that moment, the UK company has been seeking to cut ties with its past and re-establish itself as a business of the future. There has also been a concerted attempt to change the corporate culture – or at least convince the outside world of such a transformation.
The entrance "Gatehouse" became television's stock shot of NI's Wapping plant during the early years of the scandal. The Gatehouse no longer functions after NI moved to discreet modern offices nearby in 2011. Last year, the company rebranded as News UK, dropping its portcullis-style badge for an open logo inspired by the handwriting of Mr Murdoch and his late father, Keith. Later this year, News Corp hopes to complete this cleansing process by abandoning Wapping after 30 years and crossing the Thames to new premises at The Place, alongside the Shard skyscraper, where journalists will work alongside other News Corp businesses, including the publisher HarperCollins, giving a softer corporate focus.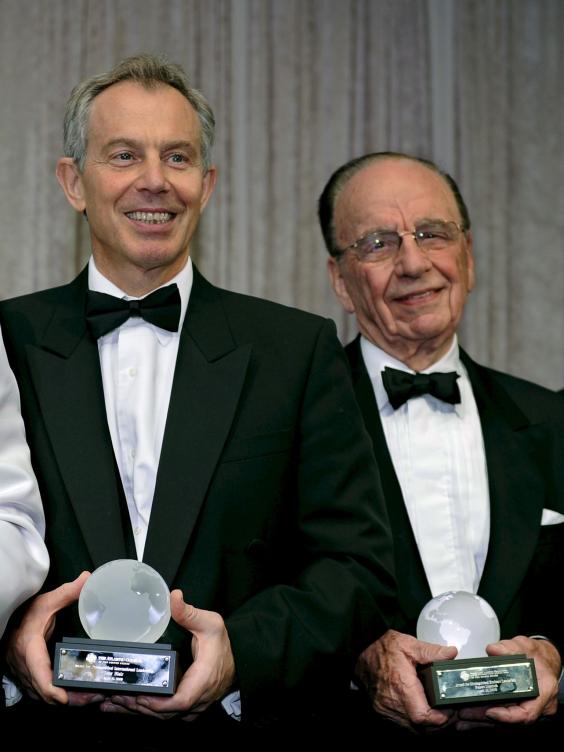 Has Mr Murdoch got away with it? Many analysts in the US think so. The influential Business Week ran a cover story on him last year under the headline "The Escape Artist". No Murdochs were arrested during this protracted scandal. The global empire has kept its US broadcasting licence and its 39 per cent stake in BSkyB, which is set to become a pan-European broadcaster. Rupert retains control of the seven-day Sun, The Times and The Sunday Times. Planet Murdoch is richer than ever and its founder remains in charge.
Video: Cameron's apology for employing Coulson
Hacking, for all the humiliation it caused Mr Murdoch in Britain, and for all its potential implications for his US business, never really crossed the Atlantic.
Reuse content