Police in Indonesia have arrested a 32-year-old construction worker after a British teacher was found murdered on the holiday island of Bali.
Anne-Marie Drozdz, 49, taught English and drama and had reportedly travelled to the popular tourist destination in order to set up a social enterprise to improve the lives of local children.
She was staying in a villa in the remote, hilly town of Ubud when she was apparently strangled to death. A local police chief said her body was found by the American husband of the villa's owner who went to change towels on Thursday afternoon.
On Saturday morning Inspector General Albertus Mokalu said a man who had been working on a building site near the villa at the time was arrested on suspicion of murder in northern Jakarta, local media reported.
The foreign office has confirmed the death of a British national in Bali, and last night Ms Drozdz's brother Gregory Drozdz told The Telegraph it had been his sister's vocation to "travel the world teaching kids English".
He said Ms Drozdz, from Leicestershire, had studied drama at Bristol University and taught for a time in Britain. She was unmarried and had no children.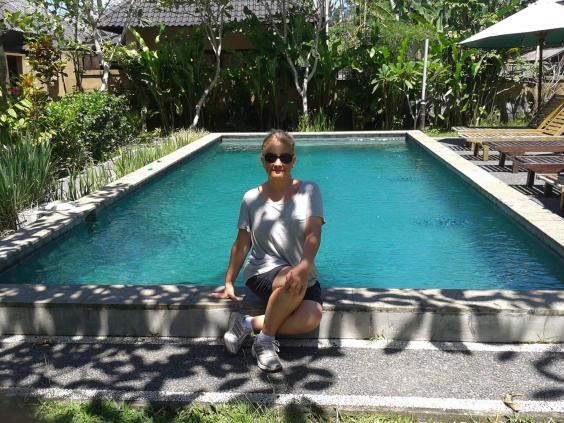 Mr Drozdz said his sister had been "extremely excited with the prospect of this new chapter in her life [in Bali]. "Sadly she will never get to follow through with her plans."
Ubud police chief Komang Arsana told reporters that he could not say "with any certainty" that Ms Drozdz was murdered, but added "it is definitely looking that way".
He told the Jakarta Post she was found lying on the floor of the villa with a black cloth covering her face, rope marks around her neck and bruises around her mouth. Forensics teams were reported to be waiting for permission from family-members before carrying out a full autopsy.
Inspector General Mokalu said that the 32-year-old who has been arrested, identified only as Hambali, would be brought back to Bali for questioning.
Police said they found a mobile phone, cash and a motorcycle rented by the victim were missing from the villa. Speaking from the crime scene, Inspector General Mokalu said: "We will establish the motive behind the murder."