A 17-year-old boy has been arrested on suspicion of hitting boxer Anthony Crolla over the head with a concrete slab after allegedly attempting to burgle his neighbour.
The boxer, 28, was left with a fractured skull and broken ankle after the confrontation on Tuesday.
Two men had broken into his neighbour's house and left empty handed, police said, but as they tried to slip out the back garden they were spotted by Crolla.
He shouted for them to stop and chased them, managing to grab one as he tried to climb a wall.
During the struggle, Crolla was hit over the head with what was believed to be a concrete slab and fell to the floor, according to police, before the suspects fled.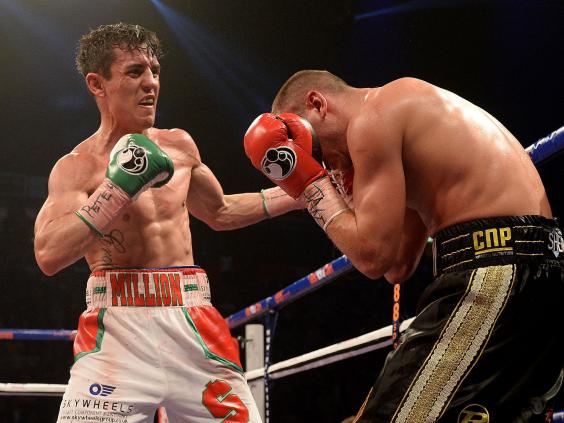 A spokesperson for Greater Manchester Police said: "Police have now arrested a 17-year-old boy on suspicion of burglary, assault and possession with intent to supply drugs.  He remains in police custody for questioning.
"A 46-year-old woman was also arrested on suspicion of possession with intent to supply drugs. The victim is recovering well in hospital."
Crolla is known as "Million Dollar" and has fought in the super featherweight and lightweight divisions. He is the current holder of the WBO inter-continental lightweight title after beating Gavin Rees.
He was due to face Richar Abril from Cuba for the WBA world lightweight title in Manchester in January but his promoter Eddie Hearn tweeted that the fight was off.
"You ask anyone in boxing doubt you could find a nicer kid than Crolla, absolutely gutted for him," he added.
Crolla's trainer, Joe Gallagher, said the attack had ruined his shot at the world title and he may never be able to fight again.
"He's the nicest kid you could meet and where most people would see something like that happening and close their curtains, the warrior in him kicked in," the trainer added. "He's an amazing, special human being."
Anyone with information should phone police on 0161 856 9035 or Crimestoppers anonymously on 0800 555 111.
Reuse content