The oddly obsessional culture of the collector was celebrated at an east London exhibition earlier this year, featuring people who had devoted themselves to hoarding items as varied as tin soldiers, Beatles memorabilia and stuffed birds in vast quantities.
There was no place in this show for the contribution of the late James Arnold. But after the parish council chairman was discovered to own 463 firearms – Britain's largest ever illegal armoury, all stored in his Suffolk home – a rigorous police investigation concluded that his motivation was probably the same as that of a common philatelist.
"The best explanation to date is that he was a collector and a hoarder, who collected these weapons in the way some people collect stamps," said Chief Superintendent David Skevington.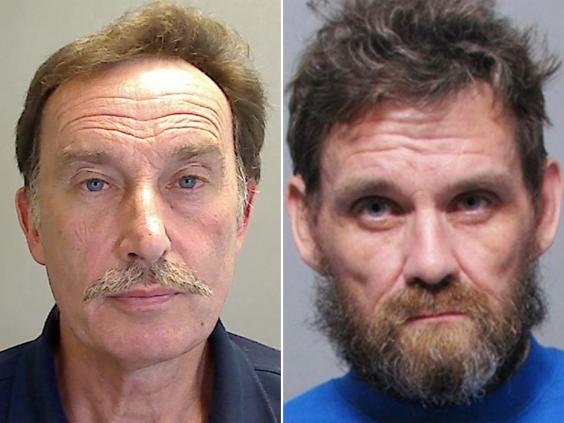 Yet the mystery of the Arnold collection – big enough to arm nine coachloads of terrorists – and where it all came from remains unclear, even after the firearms dealer who supplied some of the weapons was jailed for six years.
Although Mr Arnold, 49, was a member of shooting clubs and had a life-long interest in weaponry, police could not find any evidence of connections with criminals and terrorists.
If anything, he considered his obsessive hoarding to be a positive social contribution by keeping them out of the wrong hands, according to the scant details he gave to the police. Neighbours had described him as an "eccentric collector" with various bits and bobs strewn outside his home.
Police discovered his life's work in April 2014 when they turned up at Mr Arnold's terraced house in Wyverstone, Suffolk, which he shared with his wife and daughter, to investigate a domestic abuse allegation.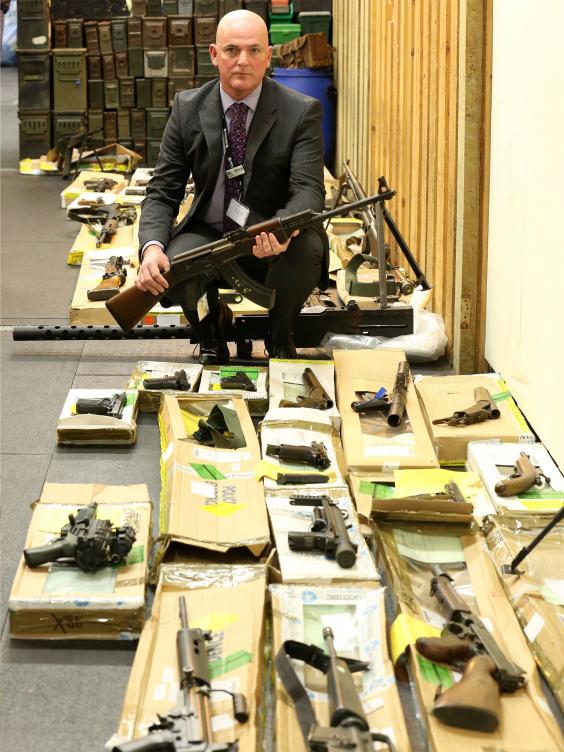 They planned to revoke his licence for 17 firearms that Mr Arnold, a crane operator, held legally. But they found other weapons strewn across the living room floor, and further investigations revealed that the outside walls of the house did not appear to match its internal dimensions. A search led to a false wall being found in his pantry, covering a narrow tunnel to a hidden room.
Helped by bomb disposal experts, police spent 27 days searching the house. The haul they uncovered included machine guns and anti-tank missiles, as well as historical pieces from the First and Second World Wars – and 200,000 rounds of  ammunition.
His house backed on to an eight-acre field, around which he built a huge wall from railway sleepers which police believe may have served as a home-made firing range. He was known to shoot deer and vermin.
Mr Arnold, who said little to police about why he had collected the guns, never had to answer for his illegal hoard as he died of cancer three months after his arrest.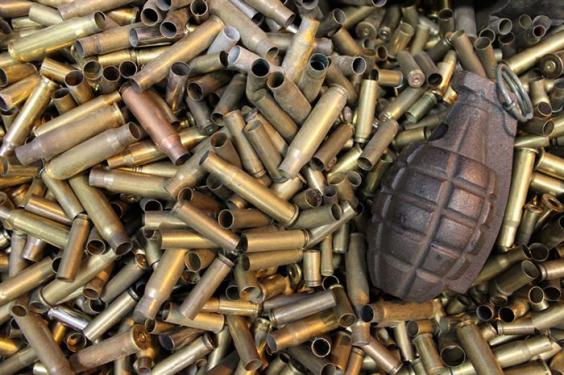 Police said that his declining health, and the upheaval caused by his eventual death, raised a very real risk of the guns being used for criminal acts, even if Mr Arnold's original intentions were relatively benign.
"He simply said he had come by the weapons years ago and kept them safe to stop them causing any harm," said Chief Supt Skevington. "We have asked every question and followed every line of inquiry and have found no evidence of a criminal or terrorist motive."
The scale of the haul is all the more remarkable given how relatively difficult it remains for criminals to get hold of weapons.
The body that monitors the criminal use of guns – the National Ballistics Intelligence Service – reported that some guns used by criminals had lain dormant for up to ten years, suggesting that new ones were hard to come by.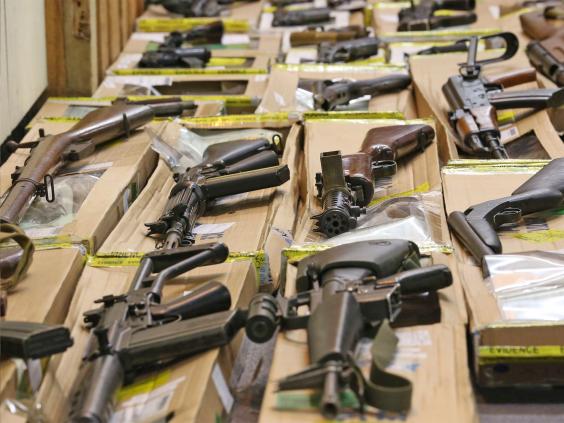 The scarcity of guns has led to criminals using reactivated weapons – non-firing guns retooled to shoot bullets – and antique weapons.
There was little in Mr Arnold's background to suggest what had fuelled his obsession. He had no criminal record and was a willing volunteer, running the bar at the local hall, even if villagers found it hard to get to know him well.
"He was involved in lots of things and lots of people knew who he was," said one villager.  "But at the same time, you never felt like you really knew him – he never revealed very much about himself.
"He seemed like a nice enough man but he was a collector of almost everything, he also had odd bits around his property."
Darryll Jones, a photographer and collector of Stormtrooper toys whose collection featured in The Collection exhibition in London's Dalston area, said he could understand the nature of Mr Arnold's obsession.
"I used to have a friend in South Africa who collected knives," he said. 
"They were multicultural weapons. There was a bigger value if they had actually been used.
 "He absolutely loved this stuff, but he was the most harmless person on the planet."
Organisers of the exhibition where he displayed his toys suggested that nearly three quarters of Britons collected something, so "there's going to be a lot weirder things than guns", he suggested.
"It's not obsessive compulsive as that's treated as a condition. But it is very obsessive. It starts as a simple 'that's nice', then you have ten and you want more and more."
The firearms dealer, Anthony Buckland, supplied only a small number of the guns but was last year found guilty of supplying a prohibited weapon and fraud.
He was jailed for six years at Norwich Crown Court. His legal team described him as a broken man who could not be held responsible for Mr Arnold's collection.
Reuse content