A desperate search for a gravely ill five-year-old boy taken from hospital by his parents was focused on France and Spain last night after the batteries ran out on the feeding system that was keeping him live.
Health authorities faced scrutiny over their security arrangements after it emerged that staff at Southampton General Hospital raised the alarm more than six hours after the disappearance of Ashya King. By that time his family had already travelled by ferry with him to France.
Brett King, 51, and his wife Naghemeh 45, Ashya and six other siblings were believed to be driving through France in a grey people-carrier amid speculation that they could be heading for Spain where the five-year-old was born and the family is thought to have friends, family and property.
The family, from Southsea, Hampshire, are Jehovah's Witnesses and 1,000 Kingdom Halls across France had been alerted to look out for them, Sky News reported, as Ashya's health was expected to worsen. The five-year-old had his last operation a week ago and previous bulletins on social media by his 20-year-old brother suggested that the cancer was aggressive and he had a low chance of recovery.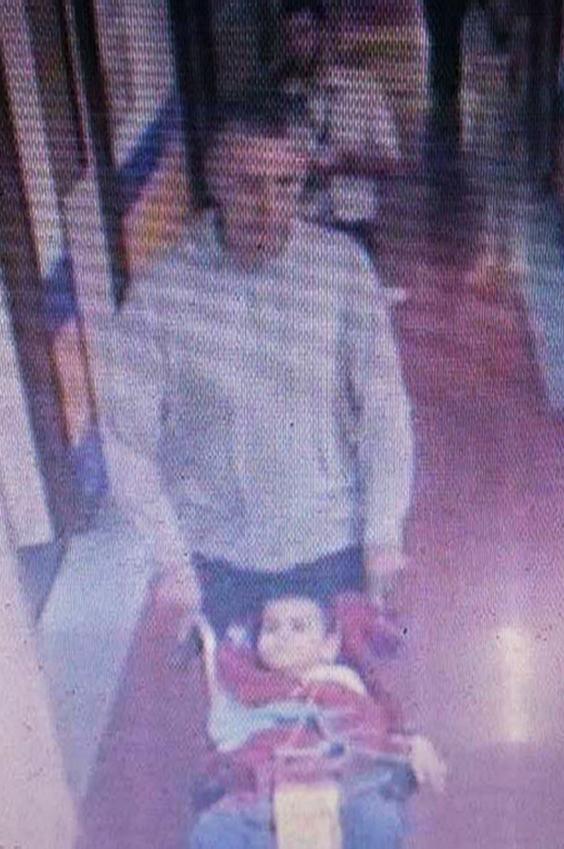 Ashya is in a wheelchair and the system that feeds him is operated by battery which was due to run out yesterday, said Hampshire Assistant Chief Constable Chris Shead.
"Time is running out for this little boy. We need to find him and we need to find him urgently," he said. "The information we have received from his medical team at Southampton General Hospital is that he must continue to be fed via a tube by someone with the relevant medical training.
"If he doesn't receive urgent medical care, or the wrong treatment is given, his condition will become life-threatening."
The decline of Ashya's health was charted by his older brother Naveed in a series of YouTube and Facebook postings.  He told friends on 23 July that his brother had been diagnosed with a brain tumour and needed an emergency operation.
In a YouTube video he recounted his brother's request for a toy car which he gave to the little boy in hospital. During the visit his parents sat by his bedside, stroking the boy's hand and helping nurses with his care.
On 31 July, Naveed told friends on Facebook that his brother had the most serious form of aggressive tumour. "Even though he may not have a long life expectancy we can just pray that he will recover fast and enjoy his precious life," he says. "Please keep praying so that he recovers and that he can have the strength to endure his tests and that the treatment they try and use on him can elongate his life expectancy."
A further bulletin more than two weeks later recounts how he is able to swallow but cannot chew and struggles to move his gaze to other people.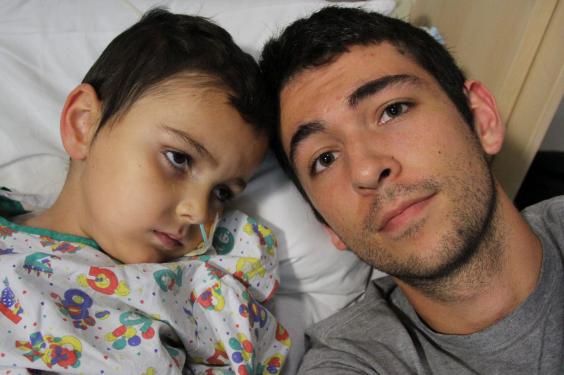 It was unclear last night why the family decided to take the child away from hospital. While Jehovah's Witnesses do not accept blood transfusions, the organisation in Britain said there was no indication that their faith was behind the decision to move him from hospital.
In a statement, the group said: "We can confirm that the parents of Ashya King are Jehovah's Witnesses. However, we are not aware of the facts of the case, nor the reasons for the family's medical choices which are personal decisions.
"There is absolutely no indication, as far as we are aware, that their decision is in any way motivated by any religious convictions. Jehovah's Witnesses are encouraged to seek the best medical treatment for themselves and their children."
University Hospital Southampton NHS Foundation Trust said Ashya was allowed to leave the ward under his parents' supervision at around 2pm and hospital staff only raised the alarm when the length of his absence "became a cause of concern". Police were alerted at about 8.35pm on Thursday – more than 90 minutes after the family had arrived by ferry in Cherbourg from Portsmouth.
In pictures: Ashya King's case
In pictures: Ashya King's case
1/22 Ashya King

Brett King, back left, and Naghemeh King, right, accompany their son Ashya King (5) center, as he arrives for pre-cancer treatment examinations at the Motol hospital in Prague, Czech Republic

2/22 Ashya King

Ashya King (5) arrives for pre-cancer treatment examinations at the Motol hospital in Prague, Czech Republic

3/22 Ashya King

Brett King, father of five year old Ashya King, talks to members of the press after holding a press conference at his lawyer's office in Seville, Spain

4/22 Ashya King

Brett and Naghemeh King, parents of Ashya King, attend a press conference in Sevilla, Spain. The British parents are heading to see him at a hospital in southern Spain following release their from custody after United Kingdom authorities dropped accusations of child cruelty against them

5/22 Ashya King

British couple Brett (L) and Naghemeh (2L) King leave Soto del Real Prision in Soto del Real, near Madrid, Spain

6/22 Ashya King

Brett King leaving Soto del Real prison near Madrid, Spain after British authorities dropped the case against him and his wife for taking their son Ashya from Southampton General Hospital without the consent of doctors

7/22 Ashya King

Naghemeh King leaves Soto del Real Prision in Soto del Real, near Madrid, Spain

8/22 Ashya King

Ashya King in hospital with his mother

9/22 Ashya King

Journalist work outside the Materno Infantil Hospital where Ashya King is hospitalized in Malaga, Spain

10/22 Ashya King

Ethan Dallas and Sanjay Ganatra, friends of the family, deliver a petition of over 100,000 names calling for his parents' release from a Spanish jail

PA

11/22 Ashya King

Spanish judge Ismael Moreno arrives to the National Courts to take statement to the parents of Britain's five-year-old boy Ashya King, in Madrid, Spain

12/22 Ashya King

Ashya King parents's lawyer, Juan Isidro Fernandez Diaz, arrives at the National court in Madrid

AP Photo/Andres Kudacki

13/22 Ashya King

Spanish policemen stand guard as a police van carrying the parents of Ashya King arrives at the courthouse in Madrid

JAVIER SORIANO/AFP/Getty Images

14/22 Ashya King

Ashya King's parents after their court appearance

BBC

15/22 Ashya King

Ashya King's father explained why he took his son to Spain in a video uploaded to YouTube

16/22 Ashya King

This photo of Ashya King being examined by doctors in hospital was posted on Facebook by his brother, Naveed

Facebook/Naveed King

17/22 Ashya King

Ashya King and his brother Naveed

Facebook/Naveed King

18/22 Ashya King

Ashya King on a hospital bed

Facebook/Naveed King

19/22 Ashya King

A CCTV still issued by Hampshire Police of Ashya King with his father Brett King at around 4pm yesterday

PA/Hampshire Police

20/22 Ashya King

The exterior of Southampton General Hospital where Ashya King, who has a brain tumour was taken by his parents from the hospital without the blessing of doctors

21/22 Ashya King

Hampshire Constabulary said there are 'serious concerns' for the life of Ashya King as he needs constant medical care. Officers said his parents - Brett, 51, and Naghemeh, 45, - boarded a cross-Channel ferry from Portsmouth to Cherbourg at 4pm yesterday with Ashya's six siblings

PA/Hampshire Police

22/22 Ashya King

Ashya King, who has a brain tumour and was taken by his parents from hospital without the blessing of doctors
Naveed King's Facebook contacts revealed that a number of them were in Marbella where his ill brother was born. Interpol yesterday issued a pan-national missing person's alert and police asked for information from countries neighbouring France, suggesting that police believed that they may be heading for Spain. The family had a holiday there earlier this year.
Brett King's mother, Patricia, told The Times that her grandson had been showing signs of improvement and she had no idea that the family had planned to travel abroad.
"All I would say to Brett is please, bring him back. I thought they were at the hospital. I had no idea they had gone anywhere until this afternoon," she said.
Reuse content