The family of missing teenager Becky Watts were left "devastated" today after body parts believed to belong to the 16-year-old were found at a property two miles from her home.
Police had been searching other households in the same area when they received a tip-off more than 10 days after her disappearance telling them Becky's body had been "cut up", and where to find the remains. Forensic officers were seen taking away wheelie bins and food recycling containers from the house in the Barton Hill area of Bristol following the grim discovery.
Although the human remains have yet to be identified, a 28-year-old man and a 21-year-old woman, who had been arrested at the weekend for kidnapping Becky, were re-arrested on suspicion of her murder. Police were today given an extra 24 hours to question the pair as motive for the killing remains unknown.
Becky's mother Tania, grandmother Pat and brother Daniel said in a statement: "We are devastated to be told of this latest development. We are at an utter loss to understand why anyone would want to hurt our beautiful Becky in such a brutal way."
Becky's father, Darren Galsworthy, 51, and stepmother Anjie, 49, called the news "too much to bear".
They said: "We have the support of a good family network to help us in these challenging times. We would ask that you treat Becky with the due reverence and allow us to come to terms with our grief in private."
Four men – two aged 29 and two aged 23 – and a 23-year-old woman were also arrested on suspicion of assisting an offender following the gruesome find on Monday night. A child's Wendy House and other kids' toys could be seen in the garden of the Barton Court property where the remains were found while officers were also combing the undergrowth in and around Netham Park, directly opposite the cul-de-sac of modern homes, for clues about Becky's disappearance.
In pictures: Becky Watts tributes
In pictures: Becky Watts tributes
1/5

A candle burns besides a photograph of Becky Watts at St Ambrose Church in Bristol

2/5

Flowers left outside Becky Watts family home are rearranged in Bristol

3/5

A teddy bear and floral tributes have been left near Barton Court in Bristol, as seven people remain in custody in connection with the investigation into the disappearance of teenager Becky Watts following the discovery of body parts

4/5

Flowers are left outside Becky Watts' family home

Getty

5/5

Messages are seen left beside a police cordon at Barton Court in Bristol
Police had previously been searching a house opposite the home of Becky's boyfriend, Luke Oberhansli, 17, on nearby Cotton Mill Lane. Neighbours said they knew little or nothing about the family who "kept themselves to themselves".
Other residents described the area as quiet and spoke of their shock at the latest developments. A 63-year grandmother living on Cotton Mill Lane who gave her name as Jen said: "I just can't eat and I want to throw up - I am just devastated. It's quiet around here and I keep myself to myself. All the kids go out and play around here.
"I'm scared to imagine that I might have missed her. I am totally devastated and I can't stop shaking and I feel so, so sorry for the parents - my heart goes out to them. That poor baby."
Becky was last seen on 19 February when she left home in the St George's area of the city with her phone, laptop and tablet computer but did not tell friends or family where she was going or take extra clothing. She was reported missing the next day at 4pm.
The teenager's uncle, Sam Galsworthy, said no-one on her father's side had any connection to her disappearance. Police were giving little detail about the identity of any of the people in custody, though stressed none of them are connected to the Watts family.
Detective Superintendent Mike Courtiour said: "As a result of new information received late last night, we attended a house at Barton Court in the Barton Hill area of Bristol. The information suggested that Becky's body had been cut up and a search at the new location resulted in the discovery of body parts.
"Although formal identification procedures have not yet been completed, we have made Becky's family aware of this discovery. As a result of this latest development, a further four men and a woman have been arrested on suspicion of assisting an offender."
Det Supt Courtiour refused to say if Becky knew the arrested pair or whether they were linked to the properties being searched.
He said: "I'm not in a position to discuss in any detail the investigative actions we are taking. This is a very sensitive investigation and I'm not in a position to talk about the identity of those in custody.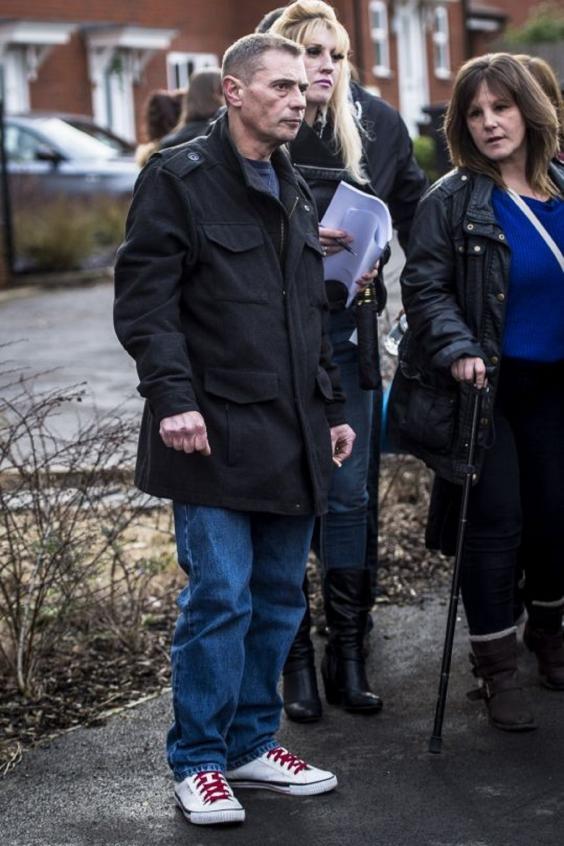 "I would appeal once again for anyone who may have any information on this case to come forward immediately. We have also been impressed by the level of engagement we have had with our online drive to find Becky. The #FindBecky campaign has reached thousands of people and the total reach for our social media campaign has now reached more than four million people worldwide."
Around nine areas and properties, including Becky's home, have now been searched in the Avon and Somerset police investigation aided by specialists from Devon and Cornwall, South Wales, and four other forces. National Crime Agency experts also joined the hunt.
As well as the houses in Barton Hill police spent hours searching a property in the Southmead area of Bristol. A black Vauxhall Zafira with the registration plate HY06 HYA was removed from outside one Southmead house at the weekend and police appealed to anyone who may have seen the car in the days surrounding Becky's disappearance to come forward. Neighbours said the vehicle, which had been parked on the street for more than a week, did not belong to anyone at the house.
Reuse content