Going to court isn't everyone's idea of a belated birthday present – but then Bernie Ecclestone isn't like most people. The billionaire Formula 1 boss, who turned 83 this Monday, says he is "delighted" that a trial involving him gets under way in the High Court in London today, even though it could cost him up to £106m if he loses.
The case has been hanging over his head since 2011 and has more twists and turns than an F1 race.
At its heart is the claim that the F1 organisation was undervalued when it was sold in 2006, even though it was bought by the highest bidder. Adding further confusion is the fact that it is a civil case but concerns a criminal allegation for which there has been no conviction.
"I can't see it could go any other way than in my favour," Mr Ecclestone told The Independent. "It took five years [for my critics] to think the shares were sold cheap. Why wait five years and then decide?"
The criminal allegation is that Mr Ecclestone and his Bambino family trust paid a £27m bribe to Gerhard Gribkowsky, the former chief risk officer of the state-owned German bank BayernLB. It is claimed that in return Mr Gribkowsky steered the sale of the bank's controlling stake in F1 to its current owner, the private equity firm CVC, which was allegedly Mr Ecclestone's preferred buyer as it had agreed to retain him as chairman and chief executive.
Mr Ecclestone has been charged in Germany with paying the alleged bribe but he has not been convicted of this and authorities have not yet decided whether to bring him to trial. But in June last year Mr Gribkowsky was sentenced to eight and a half years in prison for receiving a bribe, and the case against him was the catalyst for the civil trial which begins today.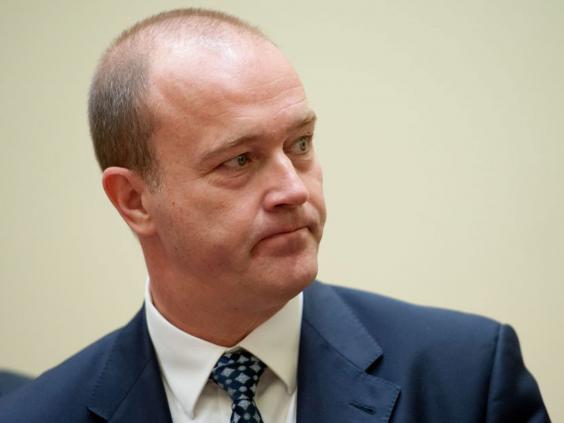 The German media firm Constantin Medien claims that F1 was undervalued as a result of Mr Gribkowsky being induced to sell to CVC because another buyer would have otherwise paid more. CVC paid £503m for BayernLB's 47.2 per cent stake in F1 and Constantin believes it lost out as a result. Constantin is itself a former shareholder in F1 and in 2003 it sold its 16.7 per cent stake in the operating company to BayernLB for just £7.3m. A condition of the sale was that Constantin would receive 10 per cent of any proceeds if the bank sold its stake for more than £680m. As CVC paid less than this, Constantin did not share in the proceeds. It claims that in fact the stake was worth £1.7bn and is suing Mr Ecclestone, Mr Gribkowsky, Bambino and the trust's former legal adviser for £106m in damages.
In order to rule on whether the defendants owe the money to Constantin,  the judge needs to consider whether they were involved in paying a bribe. If he rules that, on the balance of probabilities, a bribe was not paid to induce CVC to buy F1, that could reduce the likelihood that the German authorities will bring criminal proceedings against Mr Ecclestone.
"I will be delighted when this goes ahead. If they show I didn't bribe the guy it is better for me," he said. The case is expected to last six weeks and Mr Ecclestone is due to testify next month. Despite his vast wealth, the famously frugal businessman said the mounting legal costs concerned him as "there's an awful lot of money being spent".
Mr Ecclestone admits paying Mr Gribkowsky but denies that it was a bribe. He says Mr Gribkowsky threatened to tell HM Revenue & Customs that he controlled Bambino if the money was not paid.
Bambino is based offshore but Mr Ecclestone is a UK resident, meaning  he would be liable to pay tax on the estimated £2.5bn in the trust if he was found to be in control of it – which he strongly denies. He says he paid Mr Gribkowsky because his false allegations would have triggered a lengthy and costly investigation.
"All he needed to have done was send a letter or a phone call to the Revenue indicating that he believed I was in control and they would have had to follow it up. In doing so it would have caused wall-to-wall aggravation, more for the trust than me to be honest with you, because the trustees are super-recognised people."
The indictment against Mr Ecclestone in Germany reveals that "CVC's offer was higher than previous offers from other third parties". Kurt Faltlhauser, who headed the bank's administrative board from July 2002 to  July 2005, testified that "the price we were offered by CVC was surprisingly high and it came as a great relief". A former BayernLB management board member, Dieter Burgmer, added that "BayernLB's management board regarded the net proceeds from the sale of the Formula 1 stake to CVC as very attractive".
Jonathan Walters, a sports and media specialist at the City law firm Charles Russell, said: "It remains simple power politics that those with the biggest stake can, and often will, force through a deal that favours them. It also appears Constantin contributed to its own problems by negotiating a bad deal. Accepting a very small payment in the original sale to the banks in expectation of a bigger return on the next sale backfired and demonstrates the risk of [deferred payments]."
Bernie Ecclestone: Race to the top
1930 Born in St Peter South Elmham, a Suffolk hamlet
1945 Co-founds Compton & Ecclestone motorcycle dealership
1946 Leaves school at 16 to work at the local gasworks
1949 Has first racing experience as a driver in the Formula 3 Series. Retires following series of accidents.
1957 After a spell working in property, returns as manager of driver Stuart Lewis-Evans and buys two chassis from Connaught F1 team. 
1958 Lewis-Evans dies at the Monaco Grand Prix. Ecclestone abandons F1 for the best part of a decade.
1972 Buys Brabham team from Ron Tauranac for $120,000 and founds Formula One Constructors' Association (Foca) with Max Mosley.
1978 Secures the right to negotiate television contracts for Grands Prix as chief executive of Foca and sets up Formula One Promotions and Administration (Fopa).
1987 Sells Brabham for more than $5m to a Swiss businessman.
1996 Donates £1m to the Labour Party.
1997 Argues for F1's exemption from ban on tobacco advertising.
1999 Undergoes triple heart bypass.
2004 Sued by Speed Investments over domination of Formula One calendar.
2005 Apologises to F1 driver Danica Patrick for a sexist remark.
2007 Buys QPR football club with Flavio Briatore.
2008 Heavily criticised after loss of Silverstone as a Grand Prix venue.
2009 Makes controversial comments on Hitler in interview with The Times.
2012 Witness in prosecution of BayernLB Chief Risk Officer Gerhard Gribkowsky for tax evasion. Admits paying Gribkowsky £29m, linked to sale of stake in F1.
Reuse content