The Attorney General has ordered an investigation into whether a website set up to support shamed footballer Ched Evans has identified his rape victim.
The woman he raped in a hotel in Rhyl has been forced to move home five times after being hounded by internet trolls and, according to her father, has been driven to live "on the run".
Jeremy Wright, the Attorney General, has ordered the Crown Prosecution Service to investigate whether the website is in contempt of court.
Evans, the former Sheffield United striker, was released halfway through a five-year prison term for raping the woman, who was 19 at the time of the offence in 2012, and still denies he is guilty.
A website was set up to protest his innocence and maintains that "information gathered since his conviction will in time overturn a wrongful conviction".
The Attoney General yesterday ordered the investigation into the website following a complaint last month by the victim's father about some of the content.
The stories that defined 2014
The stories that defined 2014
1/13 Sport

21 November

Sheffield United withdraws its offer to its former player, the convicted rapist Ched Evans, to use its training facilities, following a public backlash against the club

Getty Images

2/13 Tech

9 September

The Apple Watch launches, in the hope that 'wearable technology' will become commonplace

AP

3/13 Politics

22 May

In the European Parliament elections, Ukip comes top with 26.5 per cent, Labour polls 24.5 per cent and the Conservatives 23 per cent. The result presages a year of electoral success for Ukip: the party wins two by-elections, at Clacton in Essex and Rochester in Kent

Getty Images

4/13 Eurovision

10 May

Bearded drag act Conchita Wurst wins the Eurovision Song Contest for Austria with her song 'Rise Like a Phoenix

EPA

5/13 Marriage

28 September

The American actor George Clooney marries the British human-rights lawyer Amal Alamuddin in Venice

AP

6/13 Privacy

31 August

A user posts on an online bulletin board a list of celebrities of whom he or she claims to have explicit photographs and videos. The list comprises mostly female actors, singers and other public figures, including Jennifer Lawrence, Kim Kardashian, Rihanna and Kirsten Dunst. Soon after, images of Lawrence and others begin circulating on file-sharing sites. The hacker claims to have taken the images from Apple's iCloud back-up service

AFP/Getty Images

7/13 Royalty

8 September

The Royal Family announces that Kate Middleton and her husband Prince William, Duke of Cambridge are expecting a second child

Getty Images

8/13 Charity

15 July

Chris Kennedy, a golfer from Florida, uploads a video of himself pouring a bucket of icy water over his head, and nominates three friends to undergo the challenge 'or donate $100 to the ALS Association'. Within weeks, more than $50m is pledged to various motor neurone disease charities, as the craze to emulate Kennedy's feat goes viral. Pictured here, Kylie Minogue gives herself a soaking.

9/13 Hacking

24 June

Rebekah Brooks, the former editor of 'The Sun' and chief executive of News International, is cleared of all charges related to phone hacking. Her former lover, ex-colleague and one-time Conservative Party director of communications, Andy Coulson, however, is found guilty of conspiracy to hack phones

AFP/Getty Images

10/13 Space

12 November

After a 10-year, four billionmile journey, the European Space Agency probe Philae landed on comet 67P. Amid excitement about the apparent success of the mission, attention turns to a British scientist, Dr Matt Taylor, involved in the mission – in particular, his striking shirt depicting scantily clad cartoon women

PA

11/13 Nationhood

18 September

The Scottish referendum returns a conclusive decision in favour of continuing the union with the United Kingdom: the Yes vote, led by Alex Salmond, polls 45 cent, the No vote 55 per cent

EPA

12/13 Television

March, April, October…

First, Jeremy Clarkson uses the term 'slope' on 'Top Gear' in a context that some believe is racist; a few days later, it emerges that Clarkson, in footage not broadcast, has used the word 'nigger' in a nursery rhyme. Finally, in October, he and his 'Top Gear' film crew flee an angry crowd in Argentina who believe a licence plate (H982 FKL) on a car used in filming is a reference to the Falklands

AFP/Getty Images

13/13 Justice

8 January

An inquest jury rules that Mark Duggan, whose death in Tottenham, north London, sparked the August 2011 riots, was lawfully killed by police

Rex Features
Among the content to be assessed for potential contempt of court is the use of CCTV footage showing the woman with just her face concealed through pixilation.
A statement from the Attorney General's office said: "Jeremy Wright has asked the Crown Prosecution Service to consider whether any criminal offences may have been committed in regards to identifying the victim in the Ched Evans case. He has also asked the North Wales police to investigate whether some of the material served during the course of the proceedings has been dealt with properly. If not, this may constitute a contempt of court."
Victims of rape and other sex offences have the right to lifelong anonymity and people who identify them can face criminal charges.
Nine people have already been charged and convicted of publishing material on social media that, contrary to the Sexual Offences (Amendment) Act 1992, identified the rape victim. Some of them had also abused the victim online, referring to her with terms such as "money-grabbing slut".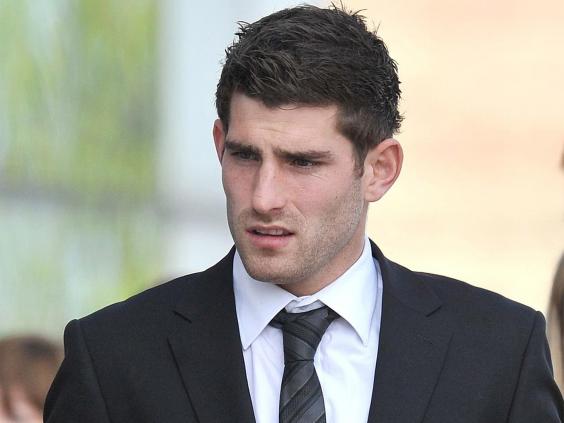 A public outcry has twice prevented Evans from resuming his career as a professional footballer. Sheffield United and more recently Oldham Athletic dropped plans to sign him when executives realised the public disgust at him being able to play again and presumably enjoy the adulation of crowds.
However, there has also been concern that having served his sentence he should be free to work again.
Evans' most recent attempt to appeal his conviction was rejected by the Court of Appeal, but his case is being considered by the Criminal Cases Review Commission.
The footballer issued his first apology to the victim last week, though he maintained he was innocent of rape, and condemned attempts to hound her through social media.
In his statement issued last week, Evans said: "I wish to make it clear that I wholeheartedly apologise for the effects that night in Rhyl has had on many people, not least the woman concerned."
Reuse content