Charles Saatchi has said his ex-wife Nigella Lawson came up with the idea of giving their personal assistants company credit cards.
The millionaire art dealer said he was "very fond" of Italian sisters Francesca and Elisabetta Grillo, who are accused of using the cards to spend more than £685,000 on designer clothes and handbags from Louis Vuitton, Christian Dior and Vivienne Westwood. They have pleaded not guilty.
Asked by prosecutor Jane Carpenter who decided that the defendants should have credit cards, Mr Saatchi said: "My ex-wife, Nigella." The pair divorced earlier this year.
Speaking at Isleworth Crown Court, west London, Mr Saatchi said the credit card bills were paid by his company - Conarco Partnership - before he reimbursed it from his own personal account.
He said the pair were mainly employed for "housekeeping, shopping, doing the laundry, organising everyone in the household."
Asked by Ms Carpenter if the defendants did anything related to his own business interests, the art dealer said: "If I wanted something collected and there was nobody else. I think not a great deal of work in that sense."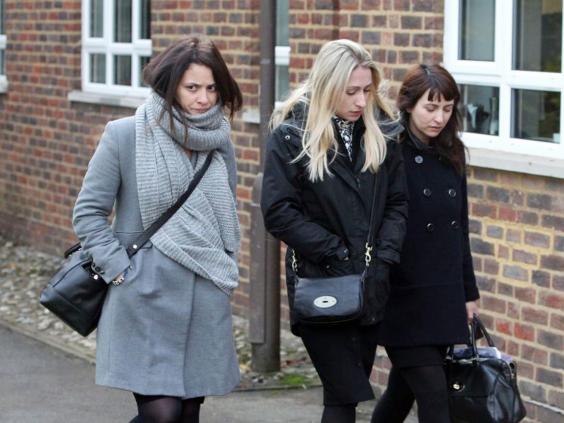 Saatchi had to repeatedly be asked to raise his voice for everyone in the packed court room to hear. "I'm so sorry," he said. "I have a quiet voice. I'll do you a better effort."
He agreed with the prosecution that they accompanied the children on holidays and were permitted to live rent-free, but he did not know if a formal employment contract had ever been signed by the two women.
Saatchi recalled a "peculiar" instance one morning when he received a phonecall from a taxi company asking about a booking to Berkshire, when he was not aware of anyone in his household travelling there.
"I said 'are you sure you've got this right?'
"I said 'what name is it booked under?' And they said 'Grillo'," he told the court.
Saatchi said he asked Lawson if Elisabetta, sometimes referred to in court as Lisa, or Francesca, had been sent to do anything for them.
She said they had not, and he said he thought there was "something very peculiar here".
He said he telephoned one of the women, but could not be sure which.
"She said 'I'm at a polo match'.
"I said 'why did you take a taxi out to the country?'
"And she said 'I didn't' and then she said 'I took a taxi to Liverpool Street Station'."
Saatchi said this was not the sort of journey he would have authorised.
The case continues.
Reuse content