Police in Northumbria are searching for a stolen beach towel, a force has said.
The blue beach towel went missing from a North Tyneside beach, according to a statement posted on Nortumbria Police's website.
The towel disappeared on Sunday 12 July between 4pm and 5pm at Tynemouth Longsands beach.
Police describe the missing item as "a dark blue towel with 'DRYROBE' written on the front in red and white.
"Anyone with information should contact police on 101, extension 69191, quoting reference number 43728L/15 or ring the independent charity Crimestoppers on 0800 555 111," the police said.
The plea inspired a wave of puns on Facebook:







Undeterred, Northumbria police have since posted an update on Facebook, complete with puns of their own - and a second plea for help.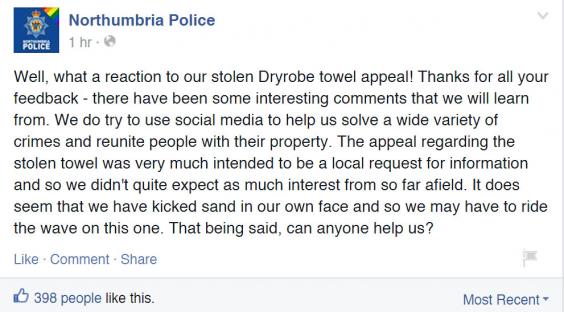 Reuse content