One of the victims of the Zanzibar acid attack earlier this week had her injuries exacerbated by dirty water used in an attempt to wash the acid off.
The two British 18-year-olds were returned home yesterday as five men were being questioned by police on the Indian Ocean island.
Katie Gee and Kirstie Trup were attacked by men on a motorbike as they walked along a road in the island's main city, Stone Town, on Wednesday night. Both suffered burns to their faces, chests and hands.
The two were last night receiving treatment for their burns inflicted in the unprovoked attack while they were on a volunteering holiday.
The girls' families haven't revealed which of the two has the worse burns, but According to The Times Ms Trup's father, Marc said: "They are just being assessed. One is much worse than the other . . . she will be here for quite a while. They are being very well treated."
One of the women was immersed in the sea and saved from further damage by the corrosive liquid, he said, adding: "That completely altered the result,  the salt water and the acid.
"The other girl panicked, ran around, made her way to a public toilet."
He said: "They got to the medical centre there was no shower. They were throwing dirty water at her."
Zanzibar police have offered a reward of 10 million Tanzanian shillings (£3,970) for information leading to the capture of the attackers.
The teenagers were taken to the burns unit where consultant surgeon Andy Williams said: "We're still assessing their injuries. Both girls are well and their families are with them."
Earlier yesterday Katie's mother, Nicky Gee, 45, said: "I am just glad she is home. I want to get inside and see her. We spoke this morning and she said she was OK. It has been a terrible ordeal."
Marc Trup, Kirstie's father, described the girls as being "inconsolable". He said: "We couldn't get anything out of them because they had been burnt. Both girls are very shocked and very frightened. She [Kirstie] can still see and she is not dead. Whatever it is we will cope with it."
The victims, both from London, were two weeks into a three-week trip as volunteer teachers for the charity Art in Tanzania.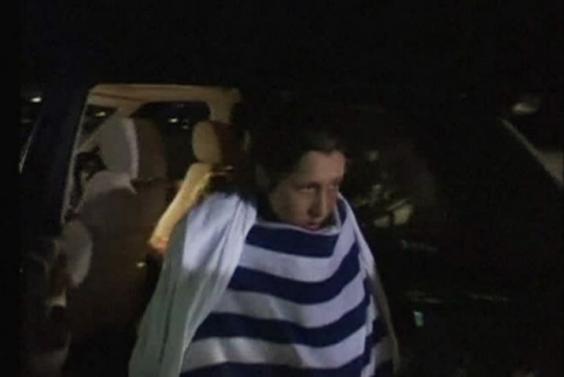 Mkadam Khamis, regional police commissioner in Zanzibar, said five people had been brought in for questioning but they had not yet been arrested. "There are five people we have, all men, who we are interrogating over this matter this morning," he said. "They have not yet been arrested. They are co-operating and answering our questions. Later today maybe there will be a development legally."
Ms Gee had been attacked previously on the island. A friend, Oli Cohen, 21, told The Daily Telegraph: "Katie was attacked two weeks ago by a Muslim woman for singing during Ramadan. She was shocked as it just came from out of the blue – but she wasn't scared enough to come home. She stayed out there to finish her volunteering."
Video: Britons attacked with acid
Reuse content