Five boys aged 13 and 14 were being questioned by police tonight after a construction worker was killed after a minor row outside his home.
The group of boys had been trying to get to a party at a flat in the block when the man, reported to be an Irish construction worker, and his girlfriend turned up at the building in Edmonton, north London.
After a short dispute, the couple went into the building and he was stabbed before he reached his front door. The boys did not know the victim, said police. The man's girlfriend, named locally as council worker Sabrina Finn, was comforted by a neighbour as ambulance staff unsuccessfully tried to save his life.
"She was very upset and scared, then the paramedics came and told her he was dead, she started crying and crying, it's very, very sad," the neighbour, Mackenzie Muzengi, told the Daily Mail.
Police were scouring the area around the flat yesterday to try to find a murder weapon. The area at the entrance of the flats was sealed off while forensic experts examined the entry system which had only just been changed because of concerns about people getting in without permission.
"If it is the guy I think it is, he was a lovely guy," said one of the residents. "He was really hard-working. He was a construction worker. I talk to him all the time. He's a good guy."
Detective Chief Inspector Neale Baldock, heading the murder inquiry, said: "Our initial inquiries have established that there was a supervised party taking place at another address within the block and the group of males were trying to gain access to this.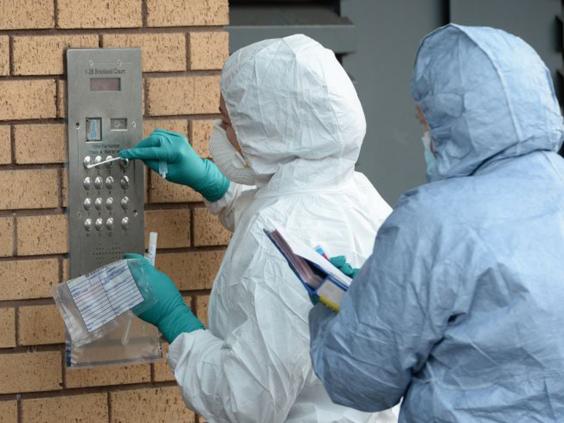 "The victim and this group were not known to each other – what started as a minor verbal altercation has escalated into a shocking act of violence."
Police said they believed they knew the identity of the victim but were waiting to speak to his family before they confirmed his identity. One neighbour, Guy Bouho, told Sky News that he was "very friendly – a lovely guy".
The five boys were being questioned at two police stations last night about the murder in an area that has been the centre of tit-for-tat youth gang violence in recent years.
A long-running dispute between the Edmonton-based Dem Africans gang and postcode rivals, Get Money Gang, based in nearby Enfield has resulted in a series of teenage murders and violent attacks.
This was the third serious incident in Edmonton within the past 16 days. All took place within a mile of each other.
Guy Bouho, who lives on the fifth floor of the block where the murder look place, said that his neighbour was a "hard-working and lovely man".
He told the Enfield Independent: "I am scared for me and my children who live around here, it is very tragic to hear of these events and for it to happen quite early in the evening. It shows no one is safe around here."
Reuse content