A gang of seven paedophiles who raped babies and very young children and broadcast their crimes over the internet have been jailed.
The men, described as "evil" by a judge, targeted families to gain access to the children and travelled hundreds of miles to carry out attacks together.
In one case, a court heard, they groom two parents before the birth of their child.
The men, aged between 31 and 51, were convicted of 29 child sex offences including the rape of an 11-month-old baby.
They were named as John Denham, 50, from Wiltshire, Matthew Stansfield, 35, from Hampshire, Adam Toms, 33, from Somerset, Christopher Knight, 35, from Manchester, Robin Hollyson, 31, from Bedfordshire, David Harsley, 51, from Yorkshire, and Matthew Lisk, 33, from Sussex.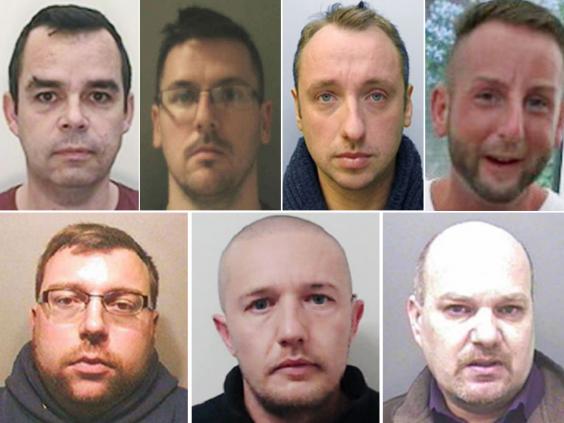 Judge Julian Lambert ordered all but one of the men to register as sex offenders for the rest of their lives and sentenced them to terms ranging from two to 24 years.
"In the worst nightmare, from the very deepest recesses of the mind, at the darkest hour of the night, few can have imagined the terrifying depravity which you men admit," the judge said at Bristol Crown Court.
"What you contemplated and what you did involved the most horrific abuse of a baby and very young children.
"Your thoughts and deeds are beyond human instinct and reason, and are evil beyond rational understanding."
The men are said to have coordinated and distributed videos of their activities over the internet.
Additional reporting by PA
Reuse content