A girl who was just 12-years-old when former glam rock star Gary Glitter plied her with champagne before sexually abusing her believed she was "going out" with the singer, a court has heard.
The woman, now 50, alleges that Glitter, real name Paul Gadd, isolated her after having invited her back to his hotel room and had sex with her, Southwark Crown Court heard.
The alleged victim's brother described how his sister had first met Gadd, which had happened after his father bought tickets for the sister and mother to attend one of the singer's concerts and then be introduced to him backstage.
In a statement to the court, the brother said: "They watched the concert and then they all got home. They were all very excited about the fact that they got to meet him backstage.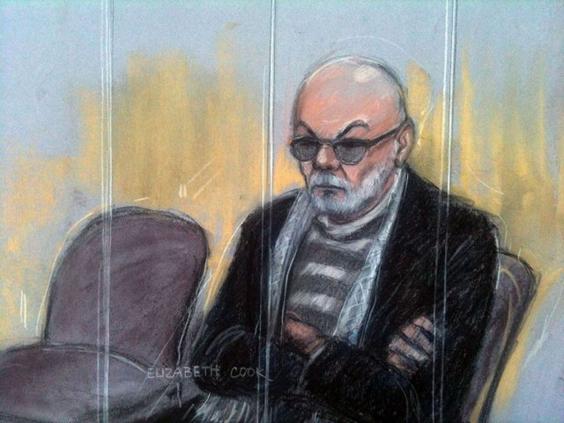 "My dad was very proud of himself that he had arranged for them to meet this rockstar."
He added that his sister had had posters of the singer plastered across her bedroom walls and ceiling and described how "ecstatic" she had been about meeting him.
"It was after this that [she] went on to see Gary Glitter, I never went with her," he told the court. "I remember her spending nights away and I also remember her telling me that she was 'going out' with Gary Glitter."
One of the alleged victim's daughters had a statement read out in court, in which she describes how her mother called Gadd "bigger than Elvis" and how she had described the first time he had sex with her as a girl.
"My mother had told me she was a big glam rock star, bigger than Elvis. He was a superstar," she said.
Speaking of her mother's description of when she was first alone in the hotel suite with Gadd, she said: "Mum didn't go in to detail of what went on, other than to say this was the first time she had sex with Gary."
The alleged victim's brother said his sister had a gold jacket and a postcard from Gadd, both signed, while a family friend said in a statement that at one stage she had been snooping in the girl's bedroom and had found dried "crispy" roses with a note that read: "Love, Gary".
Gadd, now 70, is charged with plying the girl with alcohol with the intention to "stupefy or overpower" her to have sex with him, a further charge of unlawful intercourse with a girl aged under 13, and four counts of indecent assault in 1977.
He is also accused of two counts of indecent assault with regard to another fan he is said to have assaulted after inviting her to his dressing room after a concert.
Jurors have already heard from one woman who claims she was under 10 years old when the glam rock star climbed into her bed and tried to rape her.
Gadd denies all charges. The trial continues.
Additional reporting by PA