Police said they were investigating the attacks, carried out by men driving across the city between 6.30pm on Saturday and around 3am the following morning.
In the worst of the string of attacks, a man was shot in the face while walking along Kingsway, Burnage, at 2am. He was taken to hospital to be treated for severe swelling and bruising to his left eye, and officers said he was lucky not to have been blinded.
The group of attackers, said to have been split between a dark-coloured Vauxhall car and a silver or grey Range Rover, also verbally abused their alleged victims, shouting "I hope that hurt" at one and describing another as "a slag".
Detective Sergeant Iqbal Ahmed said: "This may have been treated like a bit of fun for the men who perpetrated this string of attacks, but we are treating these incidents extremely seriously.
"This was a high-powered weapon used by the men to inflict pain on innocent passers-by and one of the victims was frankly very lucky not to lose an eye after being shot in the face."
The first incident was in Powell Street, Bury, when men in a Vauxhall were seen firing paintballs at a house.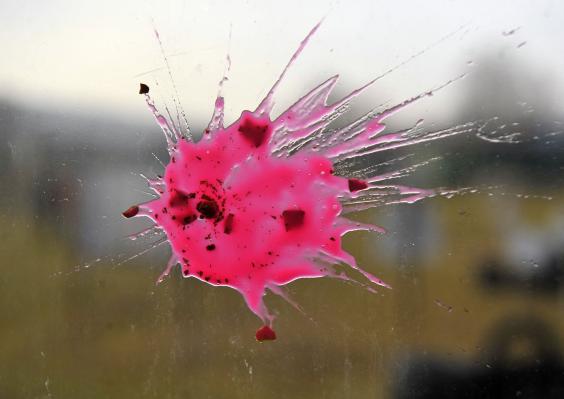 Three pedestrians were then hit with orange paintballs in the Bury New Road area of Prestwich between 11.15pm and 11.45pm as shots were fired from both the cars.
One man was later shot four times, sustaining bruises to his back and chest, in Wilbraham Road, Fallowfield, at 12.20am on Sunday, while another alleged victim was targeted in Mosley Road, Fallowfield, at about 1.45am and then called "a slag".
The final attack took place in Heaton Moor, Stockport, just before 3am, as a man was shot several times by the occupants of a Vauxhall before being told "I hope that hurt" by a man in a Range Rover.
Det Sgt Ahmed said: "The fact that these men then verbally abused some of their victims further demonstrates their callous nature and we are appealing to anyone who might have witnessed the attacks, or might have been a victim themselves and not reported it, to come forward so we can bring the men responsible to justice."
Police said a 20-year-old man has been arrested and bailed until 19 May. Two others, aged 22 and 20, have also been arrested on suspicion of assault and remain in custody for questioning.
Anyone with information should call police on 0161 856 8292 or Crimestoppers anonymously on 0800 555111.
Additional reporting by PA
Reuse content