The former royal editor of the News of the World came under pressure from editorial and legal executives at News International to claim that he was the "lone wolf" at the Murdoch-owned newspaper responsible for phone hacking, a jury has heard.
Clive Goodman, 56, who was jailed in 2007 for illegally accessing royal aides' messages, told the Old Bailey that in return for not implicating or naming those involved in illegal practices at the tabloid, he was promised he could "bounce back" with a job and a similar salary inside the UK arm of Rupert Murdoch's media empire News Corporation. Andy Coulson, the former NOTW editor, who was later David Cameron's media chief, was named by Goodman as one executive who tried to secure his silence.
The court heard that a few days after anti-hacking police raided Goodman's home in 2006, he had a meeting with Mr Coulson. The journalist told jurors that although "Andy Coulson set up the payments to facilitate all this [the special project to hacking the phones of key royal aides]" the then editor advised him to say he was "under stress" and had acted alone.
News International provided Goodman with a solicitor experienced in criminal law, Henri Brandman. After police interviews, Goodman said he was "distraught" at learning how much evidence detectives held on the private investigator Glenn Mulcaire. Mulcaire, the jury has heard, was widely used by the newspaper to access voicemails and was also jailed on hacking-related charges in 2007.
Goodman has told the court he engaged Mulcaire for a special project in 2005-6 to hack the phones of three royal aides to obtain information about Princes William and Harry. He said payment to Mulcaire for the "Alexander project" – a fictitious name used to disguise where cash was going – was authorised by Mr Coulson. Goodman said he told Mr Brandman that although "lots of people at the NOTW" were hacking, "I was just the one that got caught".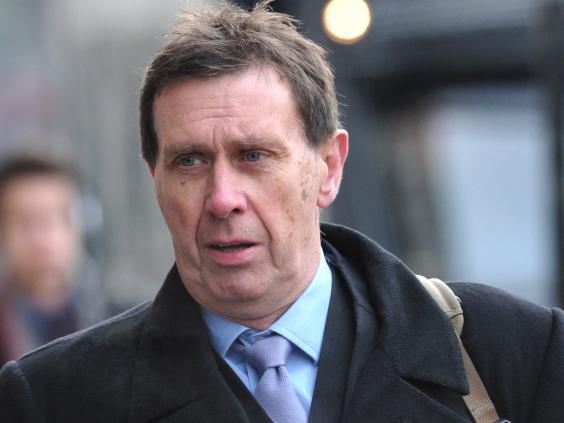 As well as getting his old job back in return for not implicating others, Goodman said Mr Coulson had promised him that his "family" would be "looked after". Goodman was visibly upset at this point in his testimony, saying: "I thought it was pretty low to involve my family."
Goodman told jurors that a series of meetings with Mr Brandman left him feeling that the solicitor was acting not for him, but for Mr Murdoch's company. He said: "I felt that pretty much anything I said would be passed back to News International."
He added that it was Mr Brandman who first used the term "lone wolf" as a possible defence. When Mr Coulson subsequently used exactly the same words at a later meeting in a restaurant in Wimbledon, Goodman said this "put the fear of God into me".
Jurors have previously been told that Mr Murdoch's UK print newspaper division stuck to a "single rogue reporter" line for years after the 2007 hacking trial.
Goodman said that, despite not being used to "under-cover journalism", he tried to secretly record the meeting with Mr Coulson. Attempts were made to record other meetings with NI executives that followed.
According to Goodman, Mr Coulson initially wanted him to plead guilty, make a "clean breast of it" and get the matter out of the way quickly.
At the Wimbledon meeting, Goodman alleged, Mr Coulson told him that a custodial sentence was not being demanded "as long as I pleaded guilty and got it out of the way quickly". In a subsequent conversation, he claimed, Mr Coulson added the caveat that he [Goodman] needed to make it clear "that I acted alone – and had gone off the reservation".
Any deal on offer from News International, Goodman said, was dependent on him keeping silent about the involvement of others inside the company, and one of its lawyers was involved in trying to ensure that the "carrot and stick" deal was enforced. As the in-house lawyer's role became clearer, jurors heard, Goodman found him "more threatening" than the prosecution case against him.
The court was told that Goodman specifically warned Mr Brandman that a lengthy prosecution file that had been handed over should not be given to the NI lawyer, fearing that its contents would leak. But, it was alleged, the file was handed over and the lawyer "gatecrashed" a meeting that involved Goodman's newly appointed barrister, John Kelsey-Fry, QC.
Goodman said the lawyer interrupted the meeting to say that he [Goodman] would be sacked by the newspaper only "if he blamed others" and this meant that he "couldn't expect Andy [Coulson] to take him back".
Goodman said he felt he had "no choice" but to follow the advice offered by Mr Kelsey-Fry, who suggested that he should plead guilty because a judge might take "a positive view of someone standing up and taking responsibility for their actions". He said this was also the line offered by Mr Brandman.
Mr Coulson and Rebekah Brooks, another former NOTW editor,  are accused of conspiracy to hack phones. Goodman and Coulson are also accused over alleged illegal payments to police for telephone directories of the royal household.
They all deny wrongdoing and the trial continues.
Reuse content