David Cameron has issued a "full and frank apology" to the nation after his former director of communications Andy Coulson was found guilty of conspiracy to hack phones at the Old Bailey.
Coulson, the former editor of the News of the World, quit his role as Downing Street spin doctor shortly before he was arrested over the phone-hacking scandal in January 2011.
Today, the Prime Minister said he took "full responsibility" for Coulson's appointment, and that he had received assurances which have now proved to be false.
But the Labour leader Ed Miliband responded to the verdict by saying Mr Cameron had "brought a criminal into the heart of Downing Street" and his government was "tainted" as a result of this.
He said the PM had "very serious questions to answer" as to why he stuck by Coulson after serious allegations about him had become public.
Speaking in the Cabinet Room at 10 Downing Street, Mr Cameron said he had hired Coulson "on the basis of undertakings I was given by him about phone hacking".
"I always said that if they turned out to be wrong, I would make a full and frank apology and I do that today.
"I am extremely sorry that I employed him. It was the wrong decision and I am very clear about that."
Mr Cameron acknowledged that people would be "concerned" at Coulson having worked for him both as leader of the opposition and Prime Minister, but stressed that there had been no complaints about his work over that period.
Video: Cameron's apology for employing Coulson
Coulson now faces the possibility of jail after the jury returned some of its verdicts in the high-profile trial at the Old Bailey today.
Meanwhile, his fellow former News of the World editor Rebekah Brooks was set to be cast as the innocent dupe of the case after she was cleared on all counts against her.
Brooks faced the same charge of conspiracy to hack phones and another of misconduct in public office after signing off payments to a Sun journalist's "number one military contact" between 2004 and 2012.
Along with her husband Charlie, she was further charged with perverting the course of justice around the time of police searches in July 2011.
But unlike Coulson, today the jury of eight women and three men cleared both the Brooks of all charges and they left the Old Bailey together in a black cab.
Eight years ago, when Mr Cameron unveiled Coulson as his new communications chief, he predicted he would have a "formidable" impact on Tory fortunes.
He was absolutely right – unfortunately just not in the way he expected.
But back in 2007 phone hacking was far from the toxic political issue it was to become.
Yes, one of Coulson's former employees Clive Goodman had been jailed from hacking the voicemails of those around Prince William. Yes, Coulson had resigned in the wake of the scandal. But, despite Mr Cameron's later suggestions to the contrary, it would appear the nefarious goings on at the News of the World did not weigh on the mind of the opposition leader when weighing up whether or not to give the job to Coulson.
Even the Guardian which later 'led' the phone hacking campaign against News International only mentioned the Goodman case in passing half way down its story on Coulson's appointment.
Rather the dilemma for Mr Cameron was this: Was the former showbiz reporter's lack of political experience offset by his knowledge of the tabloid press and the fact that he still had the ear of the Murdoch empire.
And at first Mr Cameron's hire appeared to have been inspired. Coulson brought a worldliness to the opposition leader's inner circle that had been sorely lacking.
Video: Brooks' departure from court
He was able to deftly triangulate Mr Cameron's early modernising rhetoric on green issues, social justice and international aid with a message that also appealed to potentially disenfranchised old-school Tory voters.
As a born and bred Essex boy and former editor of a paper with eight million mainly working class readers he hardened the Tory leadership rhetoric – replacing the infamous 'hug-a-hoody' mantra with that of the 'broken society' and toughening messages on tax and immigration.
The Tories went up in the polls while Gordon Brown blinked and called off plans for an early election in 2007 spooked by a strong Conservative party conference.
As the former editor of the Mirror Piers Morgan and friend of Coulson's put it: "Think about it this way. You've got an Eton-educated, rich, posh guy at the head of the party. What better way to counter that impression than to employ an ex-News of the World editor who's still very young, very smart, very cunning, who works incredibly hard, and totally understands the working class?"
But trouble for Coulson and his boss was just around the corner. In July 2009 reports began to emerge that hacking at the News of the World was far more extensive than had previously been suggested – or investigated.
The Guardian reported that Rupert Murdoch's newspaper group had paid out more than £1m to settle legal cases that threatened to reveal evidence of phone hacking.
Among the new victims were Liberal Democrat MP Simon Hughes, celebrity PR Max Clifford, the model Elle MacPherson and football agent Sky Andrew.
Labour politicians were quick to link the scandal back to Coulson.
Former cabinet ministers Charles Clarke and Geoff Hoon demanded that Mr Cameron sack Coulson while the then Liberal Democrat home affairs spokesman, Chris Huhne, said: "At the very least Andy Coulson was responsible for a newspaper that was out of control and at worst he was personally implicated."
But by that stage – with less than a year to go before the last possible date for a General Election Mr Cameron was understandably reluctant to loose Coulson.
A message was sent out that there was "no question" of removing Coulson while he himself put out a statement maintaining again that he knew nothing of the phone hacking but had resigned as editor because he took ultimate, but not personal, responsibility.
Extraordinarily and in hindsight very unwisely the Tory leadership even sanctioned an aggressive attack on The Guardian issuing a point-by-point rebuttal of The Guardian's claims.
"Little is new," a Government 'source' said at the time. "Much of its claims have already been considered by the Metropolitan police, the information commissioner and the high court."
But worse was to come. Just four months after the Coalition came to power and Coulson was ensconced as the Government's new Director of Communications a few paragraphs, tucked away inside a lengthy article by the New York Times blew open Coulson's personal involvement in the phone hacking scandal.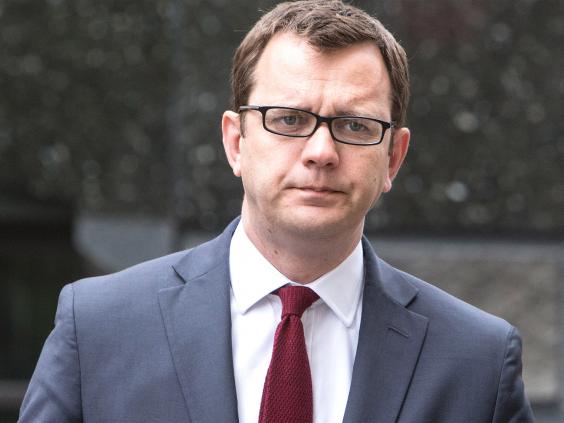 A former reporter on the News of the World told the paper Coulson "actively encouraged" the hacking of phones and knew all about it. When interviewed about the article Sean Hoare said Coulson's denial of any knowledge amounted to a lie.
In a sign of its concern, the government moved into overdrive to trash Hoare. Alan Duncan, the international development minister, seized on the reporters admission that he was sacked as he struggled with a drink and drug problem.
"What they are seizing on today are the words of someone who had an alcohol and drug problem who was sacked by the paper (and) who is supposedly coming forward and saying: 'Oh, I think there is something here which ought to be investigated,'" he said.
But by that stage momentum against Coulson was building. Channel 4's Dispatches programme interviewed an anonymous former News of the World journalist who stated that Coulson personally listened to recordings of voicemails illegally obtained.
Under immense pressure the police felt obliged to interview him under caution - but with News International spectacularly failing to co-operate – the investigation was quickly dropped.
In fact even when Coulson did resign in January 2011 it was very much of his own volition. He memorably put his resignation down to the pressure of media attention – not any admission of guilt.
"When the spokesman needs a spokesman, it's time to move on," he said.
But even if he hadn't gone in January – he would without doubt have been forced to resign later in the year anyway and not at a time of his choosing when the revelations about Milly Dowler become public.
Hacking trial: The verdicts in full
Hacking trial: The verdicts in full
1/7 Rebekah Brooks

The former News of the World editor and News International chief executive has been cleared of conspiracy to hack phones; misconduct in public office for allegedly signing off payments to a Sun journalist's 'number one military contact' between 2004 and 2012; conspiracy to pervert the course of justice after seven boxes were allegedly removed from the NI archive just days before 2011 arrests

2/7 Andy Coulson

Former News of the World editor and Downing Street spin doctor guilty of conspiracy to hack phones from 2000 to 2006. The jury failed to reach a majority verdict on charges of conspiracy to commit misconduct in a public office by allegedly paying police officers for two royal directories. He could face a retrial.

3/7 Stuart Kuttner

Retired managing editor cleared of involvement in phone-hacking conspiracy spanning six years

Reuters

4/7 Cheryl Carter

Brooks' former personal assistant, cleared of conspiracy to pervert the course of justice by removing seven boxes from the News International company archive just days before she was arrested in 2011

5/7 Charlie Brooks

Racehorse trainer and Rebekah Brooks' husband, cleared of perverting the course of justice around the time of police searches in July 2011

6/7 Mark Hanna

Former News International director of security, cleared of perverting the course of justice

7/7 Clive Goodman

The former News of the World royal editor, could face a retrial after the jury failed to reach a verdict on charges of committing misconduct in public office for allegedly paying police officers for two royal directories
And it was at that point Mr Cameron's public defence of his then former spokesman began to be a little less emphatic.
While in the past he had always maintained that he was "satisfied that Andy Coulson was not aware" that journalists at the News of the World were engaged in phone hacking his approach subtlety altered in the wake of the Milly Dowler affair.
Mr Cameron told MPs that Coulson had been appointed on the basis of "assurances he gave me that he did not know about the phone hacking".
But he added: "He gave those self-same assurances to the police, to a select committee and under oath to a court of law. If it turns out he lied, it won't just be that he shouldn't have been in government, it will be that he should be prosecuted."
And so he was.
Friends of Mr Cameron maintain that his defence of Coulson actually reflects well on the Prime Minister. That he was loyal to the man to whom he gave 'a second chance' and did not give in to media pressure to ditch him when things got tough.
How could he have known, they say, that Coulson had lied and lied and lied again about his involvement in hacking and when police, prosecutors and several inquiries had not uncovered the truth?
But that is too charitable. Most people in the media and in Westminster were convinced from the moment that the charges against Goodman were first revealed that phone hacking went much deeper than had been revealed.
Mr Cameron, a former PR man with good links to the press, would have been aware of that too. He was taking a calculated risk for political gain.
That risk paid off with his victory in 2010 – but it has come back to haunt him in the run-up to 2015.