A watchdog is investigating the death of a man who jumped into a Plymouth harbour while being chased by police.
Darren Wakefield, 35, was fleeing from officers who suspected him of stealing a bicycle when he entered the water at Sutton Harbour on 12 October.
Police said officers, the RNLI and Royal Navy divers were unable to reach him after he became trapped between a disused fishing boat and the harbour wall.
A statement released by his relatives said: "The whole family have been devastated following the tragic incident on Sunday 12 October in which Darren lost his life. 
"We request that we are now left alone in order to come to terms with his loss."
At the opening of his inquest on Friday, coroner Ian Arrow said the cause of death was still to be established but Mr Wakefield was "seen to be submerged under rising water".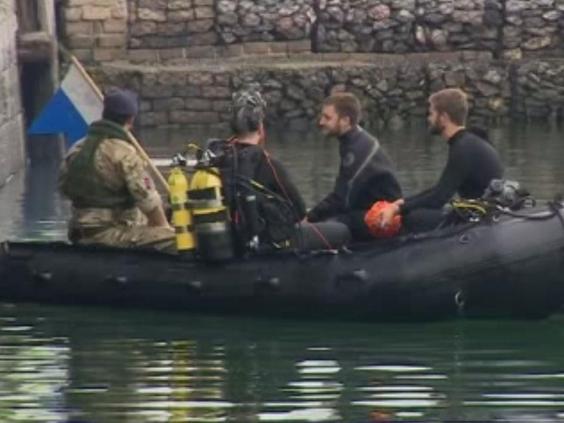 A spokesperson for Devon and Cornwall police said officers had been called to reports of a bike theft from Citadel Road East in Plymouth at 6.10am and chased Mr Wakefield to Sutton Wharf, where he entered the water at about 6.30.
"Two lifeboats and the fire service water rescue team were deployed but were unable to reach the man due to his location," he added.
A Royal Navy dive team recovered his body almost four hours later. He was pronounced dead at the scene.
The Independent Police Complaints Commission (IPCC) said it was investigating Devon and Cornwall Police and the Ministry of Defence (MOD) Police over their handling of the incident.
"The investigations will look at the chain of events that led to the police pursuing Mr Wakefield, how he came to be in the water, decisions made by officers at the scene in attempting to rescue him and whether they followed any applicable water rescue procedures or if such procedures existed," a spokesperson said.
"It will also look at communication between Devon and Cornwall officers and MOD officers on the day."
Investigators will be reviewing CCTV footage and interviewing witnesses.
Tom Milsom, the IPCC Associate Commissioner, said: "We have been in touch with his family, who have my sympathies, and we will be keeping them updated throughout."
Reuse content