The mother of murdered soldier Lee Rigby has said she will never forgive the two Islamist fanatics who killed him.
Fusilier Rigby's murder sparked shock across the country after he was run over with a car and then hacked to death by British Muslim converts Michael Adebolajo and Michael Adebowale in Woolwich, south-east London, on May 22 last year.
Speaking a year after her 25-year-old son's death, Lyn Rigby told ITV's Good Morning Britain: "I will never forgive them for what they did to Lee. Never."
She felt justice was done after Adebolajo was told he will spend the rest of his life behind bars while Adebowale was given a minimum jail term of 45 years for the attack.
"I know that they won't get out now," she said. "They cannot do this to another family."
Mrs Rigby explained how she has found it difficult to cope with Lee's murder.
"It's hard to get up in the mornings, just to put one foot in front of the other," she said.
She recalled how she attended the Old Bailey trial of her son's killers to see what emotions they felt.
"I just really wanted to look in their eyes and see if they showed any remorse. I got nothing.
"There were a couple of times I couldn't go. They talked about Lee's injuries in very raw details and I couldn't sit through that," she said.
Mrs Rigby went on to describe the type of memorial she thinks should be built for her son in Woolwich.
"I don't want him to be forgotten," she said. "I think a plaque or some fitting tribute for where Lee died."
There has been disagreement over whether he should be given a memorial in the town where he was killed.
Thousands of supporters have backed calls for the soldier to be given a permanent remembrance site in Woolwich but the local authority and MP Nick Raynsford have rejected the campaign.
Shadow home secretary Yvette Cooper said: "My thoughts today are with the family and friends of Drummer Lee Rigby.
"I also want to pay tribute to the people of Woolwich, and Greenwich more widely, who refused to let extremism, and those seeking to exploit their grief soon after, divide their community.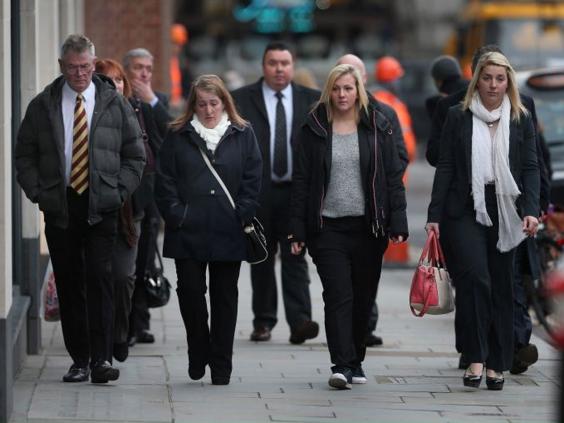 "Drummer Rigby's service will never be forgotten, nor will the British people's steadfastness in the face of abhorrent terrorist crimes."
London Mayor Boris Johnson said: "Today Londoners remember Fusilier Lee Rigby, a man who was serving his country in a job he loved and who had everything in life ahead of him, and yet was brutally killed in broad daylight on a London street.
"We think of his family, their continuing sense of loss and injustice. No family deserves the shock and pain they have faced.
"We also remember the extraordinary response of the city on that day: the members of the public who went to comfort the dying man, like Amanda Donnelly and her daughter Gemini. We salute again the fearlessness of Ingrid Loyau-Kennau who stood up to armed killers and told them what she thought of them.
"It is some satisfaction that those killers have now been brought to justice but it is even more important to note that they failed in their intent.
"They wanted to divide this city. They wanted to sow hate and recrimination among Londoners. Instead, our city has come together as never before - and shown the world what we are: a place of generosity and openness where no terrorist will ever win."
PA