It took weeks of legal sparring to bring Lord Janner to court – but his first appearance lasted just 59 seconds.
The peer's personal attendance at Westminster Magistrates, to answer 22 charges of historic child abuse, came after a protracted fight by his lawyers to keep him out of court. As he entered the courtroom, the 87-year-old, who is diagnosed with severe dementia, appeared to chuckle and said: "Oooh, this is wonderful."
Dressed in a bottle green cardigan, blue polo-shirt and navy trousers, and using a walking aid, he confirmed his name to Deputy District Judge Emma Arbuthnot. Asked if he was Lord Janner, he replied: "Yes."
The peer, who appeared frail but calm and physically well, was then told he could leave. The former Labour MP for Leicester – who was escorted by his elder daughter Marion and a carer – spent less than a minute in court in total. Lord Janner, whose wife died of cancer, has two daughters and a son.
His daughter sat beside him when he replied to the judge's question and then escorted him out of the building, saying: "We're going to go home and have an ice cream."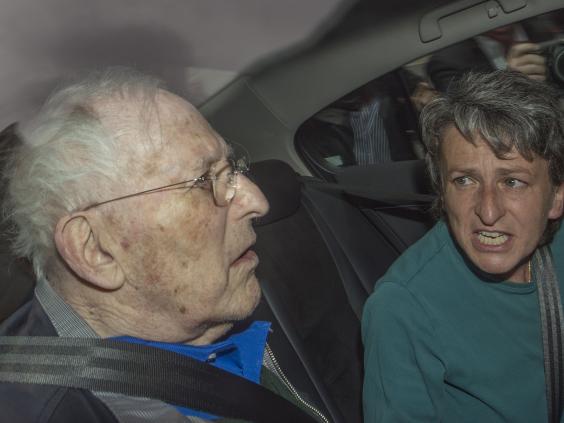 Lord Janner arrived and left court in a silver Toyota through a secure rear entrance. As he arrived he wore a National Trust baseball cap. He was not required to sit in the dock and arrived and left by a door used by court participants who are judged to be vulnerable. His route avoided sections of the building used by the public.
He was released on unconditional bail, with the next hearing to be held at Southwark Crown Court next month. After his departure his home address and details of the 22 charges of indecent assault and buggery against boys under the age of 16 were read out in court. The assaults are alleged to have taken place at times between 1963 and 1988.
Lord Janner was not required to enter a plea to any of the charges. His family maintain he is "entirely innocent". A Crown Court judge will decide later if he is fit to enter pleas and stand trial, although it is medically uncontested that he is suffering from severe dementia.
The court may conduct a "trial of the facts", where a jury would hear evidence from alleged victims and decide if Lord Janner committed the physical acts of abuse, although there would be no finding of guilt or innocence, or the possibility of a conviction.
The legal case comes after the Crown Prosecution Service (CPS) was required to take action after first insisting he would not be charged because of his illness.
Lord Janner was forced to physically attend after two senior High Court judges ruled that an appearance was essential because of "the obvious and strong public interest in ensuring those summoned to court attend when required".
Earlier Judge Arbuthnot said she would immediately "abort" the hearing if it became too much for him.
Paul Ozin, for Lord Janner, previously argued that his client should be allowed to appear via video link from his north London home.
Louise Oakley, for the CPS, said a video link was not an option as he was not in custody and had not been charged. The law required him to appear in person at a Magistrates' Court before the case could be sent to the Crown Court.
His legal team had insisted he was too ill to attend.
As the defence tried to propose alternative ways for Lord Janner to appear, the judge expressed impatience with what she described as "delaying tactics", warning that Lord Janner faced arrest.
"Even if I have to have him arrested I am going to resolve this matter today. I'm warning you that as time progresses I'm going to turn to the prosecution and say, 'Let's get a warrant to have him arrested. Let's not waste time'," she said.
She added that Lord Janner's appearance "must be done in a humane way. I feel very strongly of that".
Reuse content