A prominent London mayor fought a campaign of "intimidation, corruption and fraud" to win power, with voters told it would be "un-Islamic" not to support him and backers bribed with free food, a court has heard.
Lutfur Rahman, mayor of Tower Hamlets, is at the centre of the bitter legal battle over alleged electoral fraud which – if he is found guilty – could see him removed from his position and banned from public office for five years.
Almost 100 witnesses will be called in the case, which began at the High Court in London, yesterday.
It has been brought by a group of local residents, Andrew Erlam, Debbie Simone, Azmal Hussein and Angela Moffat, who accuse Mr Lutfur of electoral fraud during last May's election. The group, led by Mr Erlam, who stood as a councillor last year, want the result – which saw independent Mr Rahman elected for a second term – declared void and re-run.
Barrister Francis Hoar, representing the four, told the court: "The allegations against Lutfur Rahman are that he was guilty of corrupt and illegal practices, directly or through his agents."
He claimed that Mr Rahman "has been prepared to take whatever steps, whatever means and recruit whatever support to take power, power for himself, power for his friends and power over his own community."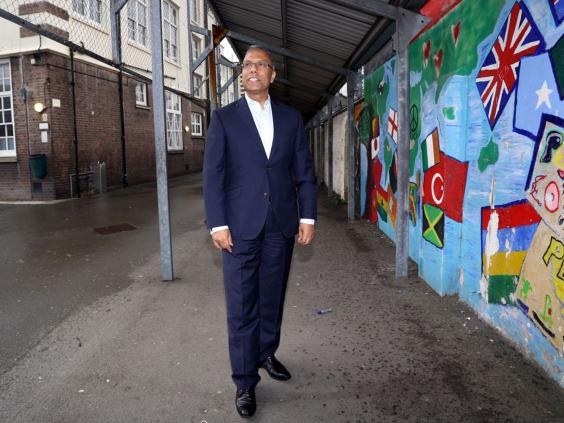 Witnesses saw a voter crying outside a polling station last year after allegedly being told by a supporter of Mr Rahman that not voting for him was "un-Islamic" andmeant you were "not a good Muslim," the court heard.
The Tower Hamlets mayor "has a long history of abusing his power, inciting his supporters to intimidate his opponents , corruptly funding organisations to promote him politically, and electoral fraud – personally as well as through others," Mr Hoar claimed.
"Unlike Sophocles, Lutfur Rahman would not 'rather fail with honour than succeed by fraud'."
In pictures: Embarrassing political exits
In pictures: Embarrassing political exits
1/9 Mark Harper

Immigration minister Mark Harper resigned after emerged his cleaner was in the country illegally. Mr Harper quit after he discovered his cleaner, whom he employed at his London flat for seven years, did not have indefinite leave to remain in the UK.

2/9 Mark Menzies

Former Conservative MP Mark Menzies resigned as a ministerial aide following allegations made by a Brazilian rent boy in March. The MP for Fylde in Lancashire resigned his position as the parliamentary private secretary (PPS) amid allegations which appeared in a tabloid newspaper, which he strenuously denied.

3/9 Liam Fox

Former Defence Secretary Liam Fox resigned in 2011 over his working relationship with his friend Adam Werritty, which saw the Tory MP ordered to repay £3,000 of expenses for allowing Mr Werritty to live rent-free at his taxpayer-funded second home for a year. Mr Fox faced further embarrassment when it was revealed successfully claimed 3p of taxpayers' cash for a car journey of fewer than 100 metres.

4/9 Denis MacShane

Labour MP for Rotherham Denis MacShane resigned over what a parliamentary enquiry described as "the gravest case of misconduct" ever to be investigated at the time. The ex-Europe Minister was jailed for six months after making false expense claims of nearly £13,000. The former MP previously pleaded guilty to false accounting by filing 19 fake receipts for "research and translation" services. MacShane, 65, used the money to fund a series of trips to Europe, including one to judge a literary competition in Paris.

5/9 Patrick Mercer

Patrick Mercer resigned the Tory whip in May last year after he was filmed by the BBC's 'Panorama' apparently agreeing to lobby on behalf of Fiji for a pro-Fijian cross-party committee.

Rex Features

6/9 Michael Martin

Former Labour party MP Michael Martin became the first Commons Speaker to be forced out of office for more than 300 years following criticism of his handling of the MP's expenses scandal of 2009.

7/9 Jacqui Smith

Former Home Secretary Jacqui Smith stood down in the cabinet reshuffle amid a flurry of controversy after the MPs expenses scandal revealed her husband Richard Timney, who also ran her constituency office, had watched two pay-per-view adult movies which had then, unknown to her, been subject to a claim for reimbursement. The 'porn scandal' not only saw the former Labour MP Ms Smith, who was the first female Home Secretary, eventually resign but also saw her lose her back bench position in May 2010.

8/9 Sir Peter Viggers

Sir Peter Viggers also found himself caught up in the MPs expenses scandal when The Daily Telegraph reported that the Conservative Party Member had attempted to claim for a pond feature identified as a floating duck island, although this was notoriously rejected. The Gosport MP said he would repay £10,000 in claims for garden maintenance and repairs and agreed to stand down at the next election.

PA

9/9 Prime Minister David Cameron

David Cameron gave his shock resignation in … wait, no he didn't. Wales Online were forced to apologise after a story that the government was rocked by news the PM had quit was used in a "training exercise" but went live on the internet by accident before it was quickly pulled.

Getty
He added: "Mr Rahman was well aware that his supporters were registering themselves and others as 'ghost' voters."
But Duncan Penny QC, representing Mr Rahman, told the court: "There is little if any evidence of personal wrongdoing by Lutfur Rahman." He described the allegations as "invention", "exaggeration" and "in some cases downright deliberately false."
Allegations against returning officer John Williams, described by Election Commissioner Richard Mawrey, the judge in the case, as a "sideshow to the main war," were withdrawn.
But Mr Rahman's political future remains at stake. In a statement, a spokesperson for the mayor said: "The petitioners' case is weak and unconvincing, characterised more by amateur dramatics than credible evidence. Police and the Electoral Commission have already investigated election complaints and upheld none of them." They described the people bring the case as "hardened party politicians" and added: "The Mayor looks forward to clearing his name of these manipulative, distorted and vicious accusations."  The hearing continues today.
The case comes just weeks after Eric Pickles, the Communities Secretary, commented there could be "no place for rotten boroughs in 21st-century Britain" and appointed a team of commissioners to oversee the running of Tower Hamlets council for the next three years.
Reuse content