Traditional Mafia groups are increasingly outsourcing their specialist operations to highly skilled freelance cybercriminals who promote their services on hidden websites, says a new report.
The market in online criminal services has boomed with bespoke money laundering schemes and hacking on a payment-by-results basis.
With ratings tools, self-policing and online payment, the criminal forums copy elements of legitimate online marketplaces but with a strict criminal members-only policy, says the report by European policing organisation Europol.
The industry has developed from a few small groups hacking for "fun and prestige" to a "thriving criminal industry that costs global economies an estimated US$300bn-plus [£184bn] per year", it said.
Police are encouraged to focus their efforts on "top tier cybercriminals" and in dismantling the marketplaces they use to sell their expertise.
A senior player on one notorious site was jailed for 18 years in the US last year after he left the relative safe haven of his native Ukraine to travel to Cyprus. Roman Vega was the administrator of CarderPlanet that was set up along the lines of La Cosa Nostra, with a Godfather and a number of Dons – including Vega – one rank down.
Under Vega's control, CarderPlanet became one of the busiest online marketplaces for the sale of stolen financial information, hacking and laundering services, with more than 6,000 members.
He set up a quality control system for sales of credit card information to ensure that the fraudsters weren't ripped off by their fellow fraudsters.
"We're seeing a move away from the traditional model of organised Mafia-like structures that are very hierarchical," said Rob Wainwright, the director of Europol. "They make use of this industry of criminals with a particular service or product to feed to organised crime groups. It's the same as the legitimate commercial world: outsourcing is what happens."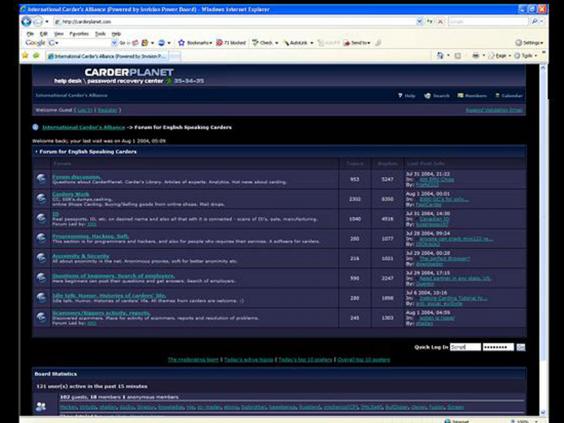 The high returns and relative low-risk of cybercrime has lured traditional criminal groups and spawned a service industry to feed it. The best cyber operators come together to plot money-making campaigns.
Officials said high-threat cybercrime forums operated with strict membership and vetting procedures enforced by an administrator to root out suspected police plants.
Top cybercriminals can operate from countries out of the reach of law enforcement agencies in eastern Europe and Africa, and police are urged to knock out those supplying "key support services". Europol said: "There are often only limited numbers of skilled and experienced individuals providing the more technical services, who may not be easily replaced should they be removed."
The criminal use of the so-called "Darknet" – an encrypted sublayer of the internet – has been highlighted with criminal marketplaces such as Silk Road, which specialised in illegal drug sales, and was brought down by the FBI in 2013.
There were at least 39 such sites known to police in August 2014 trading in drugs, guns and child abuse images.
In court: Mafia boss 'claustrophobic'
By Kunal Dutta
A Sicilian Mafia boss who has evaded Italian justice for two decades while hiding in west London has developed claustrophobia and is frequently trembling, a court heard on Monday
Domenico Rancadore lived under the name Marc Skinner in Uxbridge, west London, before he was first arrested in August last year.
A decision to extradite him was overturned in April over concerns that Italian prison conditions would breach his human rights but a new warrant was issued in April by Italian authorities who said they had addressed the issues.
They are eager to extradite the 65-year-old to Italy to serve a seven-year sentence for  association with the mafia.
However, his wife, Anne Skinner told Westminster Magistrates' Court yesterday that his health has deteriorated. "He trembles a lot and he suffers now from claustrophobia," she said. "He cannot be inside a lot and has to go out in the garden because he needs open air."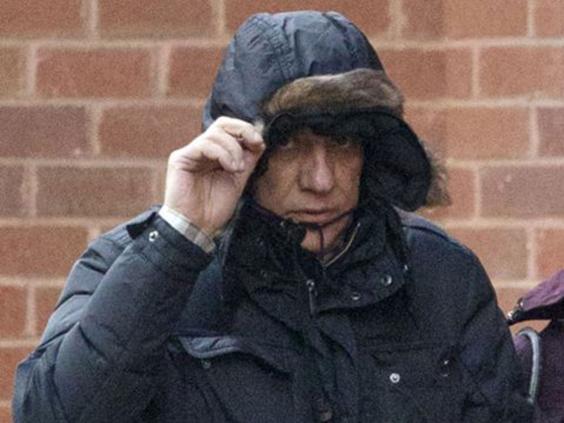 She added that Rancadore had become "very confused" and "sits quietly with his hands on his head looking into space".
At his first trial in Italy in 1998, held in his absence, witnesses gave evidence of Mr Rancadore's involvement in extortion and murder. He was described as the head of the Trabia Mafia family.
Reuse content