A man has been arrested over a series of "offensive" Facebook posts about refugees arriving on a Scottish island.
Police Scotland said the suspect, from the Inverclyde area, was arrested following reports of a "series of alleged offensive posts" about Syrian families living on the Isle of Bute.
"A 40-year-old man has been arrested in connection with alleged offences under the Communications Act," a spokesperson added. "A report will be submitted to the Procurator Fiscal."
She said legal restrictions prevented her from confirming what was written in the posts.
Inspector Ewan Wilson, from Dunoon police office, told the Guardian that the arrest demonstrated that such abuse will not be tolerated as Scotland continues to welcome hundreds of refugees.
"I hope that the arrest of this individual sends a clear message that Police Scotland will not tolerate any form of activity which could incite hatred and provoke offensive comments on social media," he said.
Around a dozen Syrian families moved to the Isle of Bute late last year as part of the Government's scheme to resettle asylum seekers from camps in the Middle East.
Local people have reported heart-warming tales of generosity and support but some criticised the use of Bute, which has few jobs and a shrinking population, as a destination.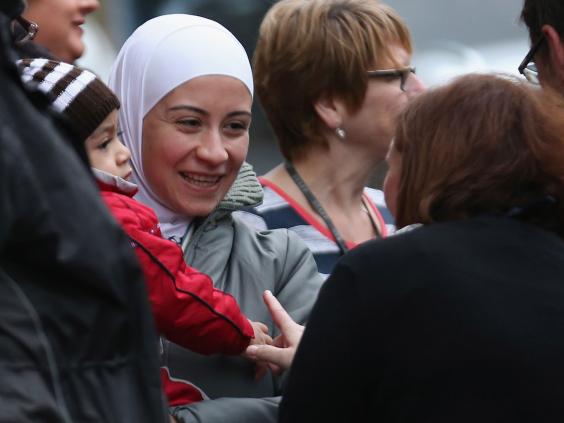 The Scottish government had pledged to accept 40 per cent of the 1,000 or so Syrians brought to the UK by the end of last year. 
Many of those arriving in Bute were housed in its main town of Rothesay, which used to be the summer destination for Glasgow's working-class holidaymakers. 
The first families arrived in November, shortly after the terrorist attacks carried out by Isis in Paris.
Mhairi Black, a Scottish National Party (SNP) MP, and Humza Yousaf, Scotland's international development minister, were among those raising concern about a spike in Islamophobic, racist and xenophobic abuse online.
Refugee crisis - in pictures
Refugee crisis - in pictures
1/27

A child looks through the fence at the Moria detention camp for migrants and refugees at the island of Lesbos on May 24, 2016.

AFP/Getty Images

2/27

Ahmad Zarour, 32, from Syria, reacts after his rescue by MOAS (Migrant Offshore Aid Station) while attempting to reach the Greek island of Agathonisi, Dodecanese, southeastern Agean Sea

3/27

Syrian migrants holding life vests gather onto a pebble beach in the Yesil liman district of Canakkale, northwestern Turkey, after being stopped by Turkish police in their attempt to reach the Greek island of Lesbos on 29 January 2016.

Getty Images

4/27

Refugees flash the 'V for victory' sign during a demonstration as they block the Greek-Macedonian border

5/27

Migrants have been braving sub zero temperatures as they cross the border from Macedonia into Serbia.

6/27

A sinking boat is seen behind a Turkish gendarme off the coast of Canakkale's Bademli district on January 30, 2016. At least 33 migrants drowned on January 30 when their boat sank in the Aegean Sea while trying to cross from Turkey to Greece.

Getty Images

7/27

A general view of a shelter for migrants inside a hangar of the former Tempelhof airport in Berlin, Germany

8/27

Refugees protest behind a fence against restrictions limiting passage at the Greek-Macedonian border, near Gevgelija. Since last week, Macedonia has restricted passage to northern Europe to only Syrians, Iraqis and Afghans who are considered war refugees. All other nationalities are deemed economic migrants and told to turn back. Macedonia has finished building a fence on its frontier with Greece becoming the latest country in Europe to build a border barrier aimed at checking the flow of refugees

9/27

A father and his child wait after being caught by Turkish gendarme on 27 January 2016 at Canakkale's Kucukkuyu district

10/27

Migrants make hand signals as they arrive into the southern Spanish port of Malaga on 27 January, 2016 after an inflatable boat carrying 55 Africans, seven of them women and six chidren, was rescued by the Spanish coast guard off the Spanish coast.

11/27

A refugee holds two children as dozens arrive on an overcrowded boat on the Greek island of Lesbos

12/27

A child, covered by emergency blankets, reacts as she arrives, with other refugees and migrants, on the Greek island of Lesbos, At least five migrants including three children, died after four boats sank between Turkey and Greece, as rescue workers searched the sea for dozens more, the Greek coastguard said

13/27

Migrants wait under outside the Moria registration camp on the Lesbos. Over 400,000 people have landed on Greek islands from neighbouring Turkey since the beginning of the year

14/27

The bodies of Christian refugees are buried separately from Muslim refugees at the Agios Panteleimonas cemetery in Mytilene, Lesbos

15/27

Macedonian police officers control a crowd of refugees as they prepare to enter a camp after crossing the Greek border into Macedonia near Gevgelija

Getty Images

16/27

A refugee tries to force the entry to a camp as Macedonian police officers control a crowd after crossing the Greek border into Macedonia near Gevgelija

Getty Images

17/27

Refugees are seen aboard a Turkish fishing boat as they arrive on the Greek island of Lesbos after crossing a part of the Aegean Sea from the Turkish coast to Lesbos

Reuters

18/27

An elderly woman sings a lullaby to baby on a beach after arriving with other refugees on the Greek island of Lesbos after crossing the Aegean sea from Turkey

Getty Images

19/27

A man collapses as refugees make land from an overloaded rubber dinghy after crossing the Aegean see from Turkey, at the island of Lesbos

EPA

20/27

A girl reacts as refugees arrive by boat on the Greek island of Lesbos after crossing the Aegean sea from Turkey

Getty Images

21/27

Refugees make a show of hands as they queue after crossing the Greek border into Macedonia near Gevgelija

Getty Images

22/27

People help a wheelchair user board a train with others, heading towards Serbia, at the transit camp for refugees near the southern Macedonian town of Gevgelija

AP

23/27

Refugees board a train, after crossing the Greek-Macedonian border, near Gevgelija. Macedonia is a key transit country in the Balkans migration route into the EU, with thousands of asylum seekers - many of them from Syria, Afghanistan, Iraq and Somalia - entering the country every day

Getty Images

24/27

An aerial picture shows the "New Jungle" refugee camp where some 3,500 people live while they attempt to enter Britain, near the port of Calais, northern France

Getty Images

25/27

A Syrian girl reacts as she helped by a volunteer upon her arrival from Turkey on the Greek island of Lesbos, after having crossed the Aegean Sea

EPA

26/27

Refugees arrive by boat on the Greek island of Lesbos after crossing the Aegean sea from Turkey

Getty Images

27/27

Beds ready for use for migrants and refugees are prepared at a processing center on January 27, 2016 in Passau, Germany. The flow of migrants arriving in Passau has dropped to between 500 and 1,000 per day, down significantly from last November, when in the same region up to 6,000 migrants were arriving daily.
But Mr Yousaf has since praised the "outstanding response" of Scotland's local authorities, volunteers and residents to the new arrivals, saying he had been "bowled over" by the welcome extended to refugees.
"I am deeply proud of the Scottish people who have extended the warmest possible hand of friendship to our newest neighbours," he said.
"I've heard heartwarming tales – people walking up to refugees in the street and giving them hugs of welcome, offers of friendship, support and practical help, from arranging special community film screenings for refugees to giving them welcome gifts of food hampers, warm clothes and hot water bottles.
"There is much more work to be done over the next few weeks and months to support the refugees as they work to pick up the threads of their lives afresh in Scotland.
"But I am confident that our country, and in particular our people, are more than equal to this challenge."