A man has been found guilty of attacking a security guard during a student protest at the University of Warwick that was shut down by police last year.
Footage of officers waving a Taser in the air, pushing protesters and appearing to spray them with CS gas on 3 December last year caused outrage and prompted condemnation from Amnesty International.
West Midlands Police replied to criticism at the time by saying they disbanded the 20-strong sit-in calling for tuition fees to be scrapped after being called by the university to reports of a security guard being attacked.
Warning: This video contains very strong language
On Thursday, a 25-year-old man was found guilty of common assault and causing fear and provoking violence at Coventry Magistrates' Court.
Alistair Robinson, of Pershore Road, Birmingham, was sentenced to a 12 month community order, made to undertake 120 hours of unpaid work and ordered to pay £800 in costs and £150 compensation to the victim.
A spokesperson for West Midlands Police said the 33-year-old guard "had been punched in the stomach and grappled with as he and a colleague attempted to lock the doors of the building to keep the large group of protesters out".
He said that as officers attempted to arrest Robinson, who was not studying at Warwick, student Luke Dukinfield, of Radford Road in Leamington intervened.
Dukinfield, 20, was found guilty of causing fear and provoking violence. He was handed a 12 month community order, made to undertake 80 hours of unpaid work and ordered to pay £800 in costs and £60 victim surcharge.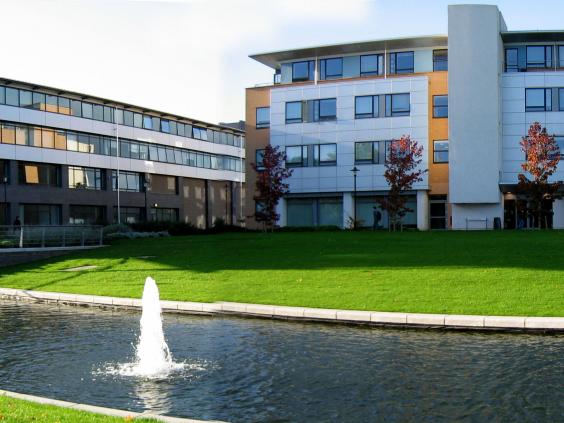 Another 25-year-old man arrested at the same time and charged with causing fear and provoking violence was released without further action after no evidence was presented against him.
Officers had been called to the University of Warwick's Senate House building shortly before 4.40pm after reports of the assault.
Demonstrations were taking place across the country on the day as part of a national day of action for free education called by the National Campaign Against Fees and Cuts.
A video of the Warwick for Free Education protest showed police shoving students and telling them to "back off" as screaming and shouting could be heard in the background.
A Taser was drawn and made a crackling noise as a warning but not fired, police said.
During the disorder a taser was drawn and an audible and visible warning was issued to prevent further incidents. The taser was not fired

— West Midlands Police (@WMPolice) December 3, 2014
Amnesty International UK's arms control director Oliver Sprague said at the time that accounts raised "serious concerns".
"A Taser is only supposed to be used by police as a 'distance-control' weapon when confronting dangerous individuals - it should never be used as a crowd-control device," he added.
"We're not against CS gas or Tasers if used by well-trained police officers trying to prevent a death or a serious injury, but we're worried that West Midlands Police are becoming increasingly trigger-happy with Tasers."
The Coventry Telegraph reported that an inquiry into the "appropriateness" of the handling of the protest was launched in December.
A spokesperson for West Midlands Police said: "The actions of two officers who attended the campus following reports of an assault on staff continue to be investigated by the Independent Police Complaints Commission."
Reuse content