A man arrested in connection with an alleged bomb threat on a Qatar Airways plane that had to be escorted into Manchester Airport by the RAF yesterday has been sectioned under the Mental Health Act.
The 47-year-old, who has not been named, was detained by armed police when flight number QR23 from Doha landed on Tuesday afternoon.
A spokesman for Greater Manchester Police said: "Following his arrest he was assessed by medical staff and again by a mental health team.
"He was subsequently sectioned to allow for a fuller assessment and appropriate treatment."
The Airbus A330-300, which had 269 passengers and 13 crew on board, was escorted by a Typhoon jet from RAF Coningsby in Lincolnshire after the pilot told air traffic control he had received information about a "possible device" on board.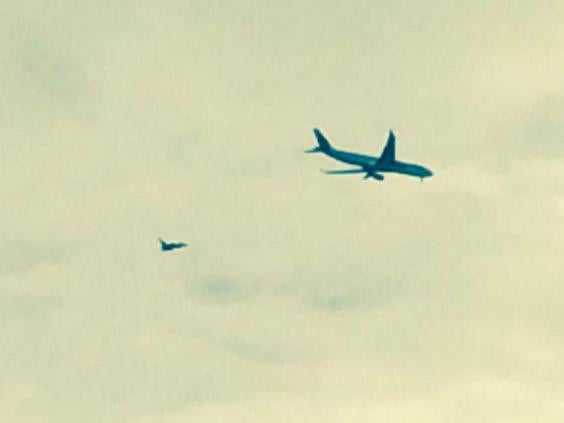 The threat was allegedly made in a letter handed to a member of the crew.
Armed police surrounded the passenger jet when it landed and a search found no bomb or suspicious device was found on board.
Flights in and out of Manchester Airport were disrupted by the incident as the runway was shut for 25 minutes, forcing nine incoming flights to be diverted.
Footage from on board the plane and on the ground showed the Typhoon flying level with the passenger jet on its left side as it descended.
A passenger, Josh Hartley, tweeted pictures and a video of the RAF plane flying alongside the aircraft, writing: "Okay no [sic] I am worried."
He appeared to only learn about the possible device on the plane from tweets sent by media outlets.
"We were not told anything," he told the BBC as he waited on the plane.
"We got nothing from [the cabin crew] whatsoever. We had no contact and no information apart from what we saw on Twitter."
Asked how passengers had reacted to seeing the fighter jet alongside the plane he said: "It think it was pretty calm all the way through but I think some people were shaken up."
An RAF spokesman said the incident was handled by civilian authorities after the safe landing of the plane.
He added: "We can confirm that Typhoon aircraft were launched from RAF Coningsby in their quick reaction alert role this afternoon to investigate a civilian aircraft whose pilot had requested assistance."