A woman who murdered her parents with the help of her husband and then buried them in their back garden where they lay undiscovered for 15 years is facing a life sentence in prison.
Susan Edwards, 56, and her husband Christopher, 57, were found guilty of murdering Patricia and William Wycherley at Nottingham Crown Court.
The defendants, who were arrested last October, admitted obstructing the coroner in the execution of his duty and the theft of a Halifax credit balance.
Mrs Edwards also admitted her mother's manslaughter but both denied murder.
The bodies of the Wycherleys were unearthed from the back garden of the debt-ridden couple's home in Mansfield, Nottinghamshire, last October.
Prosecutors claimed they had murdered her "reclusive" parents for their money between 1 May and 5 May 1998.
The Wycherleys fate remained a secret until Mr Edwards's stepmother contacted the police to say her son had told her he had helped to bury them.
Only then were the bodies recovered by officers, who found them buried on top of each other in the back garden of their former home, now inhabited by a tenant following the sale of the house by the Edwards to a new owner in August 2005.
During the trial, Mrs Edwards claimed she was provoked into shooting her mother while staying with her parents over a bank holiday after Mrs Wycherley shot her father.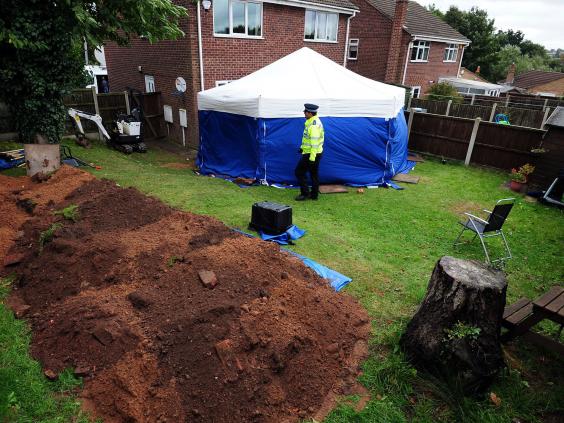 She told the court she heard her mother shooting her father dead in the upstairs bedroom over his unreasonable behaviour at their property in Blenheim Close.
Mrs Edwards said she then used the pistol to kill her mother, after allegedly being told by Mrs Wycherley that she had known of her being abused as a child but had done nothing to prevent it.
Police found no complaints of child abuse ever being filed. Detective Chief Inspector Rob Griffin described the couple as "cold" towards their crimes, recounting how Mr Edwards had detailed moving the Wycherleys' bodies to their garden graves.
"It was as if he was describing moving a piece of furniture rather than the dead bodies of his in-laws," the detective said.
"They appear to be still utterly in love. But I don't think either has showed a shred of remorse."
The couple fled to Lille in France in 2012 after a letter arrived for Mr Wycherley stating he needed to contact the Department for Work and Pensions to review his benefits, as he was approaching his 100th birthday.
Detectives then received a polite email in October 2013, after Nottinghamshire Police had dug up the Wycherley's bodies, stating "we are going to surrender". The email added: "Please could you notify the UK Border Force at Lille Europe so that they may expect us". 
Mr Griffin admitted he thought that email "a prank" but replied saying officers would meet the couple.
"The next thing is they just turned up at the station," said Mr Griffin.
"We had no jurisdiction in France and it did rely on him (Mr Edwards) buying a ticket and voluntarily getting on the train."
The senior detective said he believed Mr Edwards made that phone call to his stepmother deliberately.
"I don't believe he made that phone call by mistake," he said. "I think it was a case of 'we've got to prepare ourselves for it'."
Additional reporting by Press Association
Reuse content