A mother broke down and confessed to killing her "missing" three-year-old son after being confronted with evidence that she had made a 50-mile round trip to dump his body.
Rosdeep Adekoya lost her temper and killed her son, Mikaeel Kular, inflicting more than 40 separate injuries, before hiding his body in woodland inside a suitcase. She then tried to cover up her crime by reporting him missing, sparking a huge search by police and the community in January this year.
But a police examination of her computer revealed she had used search terms including "I find it hard to love my son", "Why am I so aggressive with my son" and "Get rid of bruises".
They confronted the 34-year-old with evidence from her mobile phone provider that showed that she had driven from her Edinburgh home to Fife the day after her son died.
She broke down and took officers to where she had dumped her son's body, wrapped in a duvet cover inside a suitcase, behind her sister's home in Kirkcaldy. "It was an accident and I panicked," she told police.
Adekoya was charged with murder but pleaded guilty at the High Court in Edinburgh yesterday to the lesser charge of culpable homicide. She will be sentenced next month.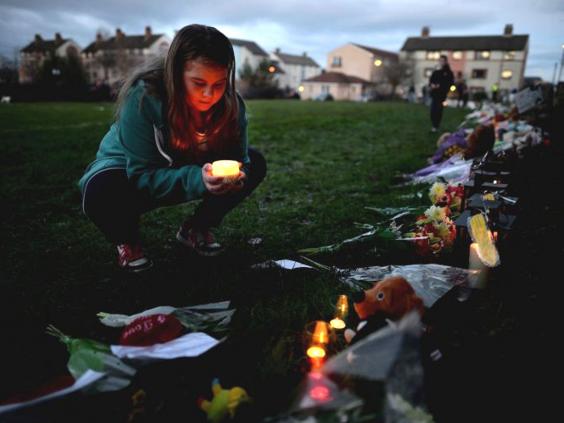 In pictures: Residents mourn death of Mikaeel Kular as they leave tributes near his home in Edinburgh
In pictures: Residents mourn death of Mikaeel Kular as they leave tributes near his home in Edinburgh
1/15 Edinburgh

A young girl looks at flowers and candles laid by members of the public near to the house in Ferry Gait Crescent where 3 year-old Mikaeel Kular was reported missing in Kirkcaldy

2/15 Edinburgh

And around 500 people turned out for a memorial service at Muirhouse St Andrew's Church, less than a mile from the home Mikaeel shared with his twin sister and three other siblings

3/15 Edinburgh

Mikaeel Kular's body was found around 25 miles away in Kirkcaldy, Fife

4/15 Edinburgh

Members of the public lay flowers and candles near to the house in Ferry Gait Crescent

5/15 Edinburgh

Children arrive with soft toys to leave outside a bungalow in Dunvegan Acenue where the body of Mikaeel Kular was discovered in Kirkcaldy

6/15 Edinburgh

Tributes are left at Ferry Gait Crescent

7/15 Edinburgh

A tribute with a photo of Mikaeel Kular left at Ferry Gait Crescent

8/15 Edinburgh

A major police investigation was launched after Mikaeel was reported missing from his Ferry Gait Crescent home in the Scottish capital

9/15 Edinburgh

The mother of 3 year-old Mikaeel Kular will appear in court in connection with his death

10/15 Edinburgh

Candle and floral tributes on Ferry Gait Crescent in Edinburgh near the home of Mikaeel Kular, after a child's body was discovered by police searching for the missing boy

11/15 Edinburgh

The grim discovery comes after days of desperate searches by hundreds of volunteers. Here a tribute was left outside the bungalow in Kirkcaldy

12/15 Edinburgh

A house in Kirkcaldy, Fife, believed to belong to Mikaeel's aunt, the sister of his mother, was sealed off by police during the night

13/15 Edinburgh

A small wooded area close to the bungalow in Kirkcaldy has also been cordoned off and was being guarded by police officers

14/15 Edinburgh

Assistant Chief Constable Malcolm Graham said the body of a young child was recovered in Fife just before midnight. Forensics were later on site

15/15 Edinburgh

Forensic teams check a property during the search for missing three-year-old boy Mikaeel Kular
The court heard that she attacked her son after he was repeatedly sick following a family outing to a Nando's restaurant in January.
Adekoya – who suffered from long-standing mental health problems – dragged him to the shower and beat him on the back as he lay over the edge of the bath, causing fatal injuries.
He died two days later after his condition worsened and he was kept home from nursery. The court heard that his life could have been saved had she taken him to a doctor but she did not do so because of the bruising. Advocate depute Alex Prentice said: "The pain would have increased significantly while Mikaeel became dangerously ill … finally dying as a result of the injuries inflicted upon him by the accused."
Video: Mikaeel Kular's mother charged in January  
Adekoya found his body the next morning, putting him in a suitcase before taking his twin sister to nursery. She later drove to Fife to dump the body and reported him missing the following day.
Brian McConnachie QC, counsel for the defence, told the court that Adekoya was not a monster. "It appears from every source … that this has been a brief period when this young woman has lost her temper and behaved in a way which is totally out of character for her," he said. "She would have to live with the consequences for the rest of her life."
Adekoya had planned to put Mikaeel and his twin sister up for adoption following the break-up of her relationship with their father, but later changed her mind.
Reuse content