Trinity Mirror is facing a potential phone-hacking bill running into hundreds of millions of pounds after a court awarded record privacy damages to eight test-case victims – with hundreds more claimants waiting in the wings.
The newspaper publisher was told to pay a total of nearly £1.25m to a group of "representative" claimants, including the actress Sadie Frost and former footballer Paul Gascoigne, following a four-week civil trial. The claims related to phone-hacking by the Daily Mirror, Sunday Mirror and Sunday People between 1999 and 2010,
The unprecedented size of the payouts – about £150,000 per claimant – is likely to mean that more hacking victims will come forward. Lawyers from leading firms told The Independent that the "flood" of new victims was likely to be "in the hundreds". When legal costs are included, the final bill for Mirror Group Newspapers (MGN) could be as high £300m, potentially larger than that faced by Rupert Murdoch's News International for hacking at the now-defunct News Of The World.
The current market capitalisation, or overall worth, of Trinity Mirror is £470m. Unlike Mr Murdoch's UK company, Trinity Mirror does not have multinational assets to help it soften such a huge financial burden. Trinity Mirror's shares fell 4 per cent in trading yesterday.
Immediately after the court ruling was made public, Trinity Mirror said it was adding a further £16m to a £12m fund it had previously set aside to deal with hacking. At its annual general meeting last month, it told shareholders it would only set aside sums to deal with "known" cases. The new £28m fund will, however, struggle to deal even with the known second tranche of 75 cases. David Sherborne, counsel for the victims, said he expected further "huge numbers" to come forward.
Evan Harris, of the press regulation campaign group Hacked Off, said: "We predict that there will be hundreds of claims, in addition to the existing 75. Mirror Group has underestimated what it needs to set aside by a factor of 10."
Trinity Mirror said in a statement: "The board is confident that the exposures arising from these historic events are manageable and do not undermine the delivery of the group's strategy for growth."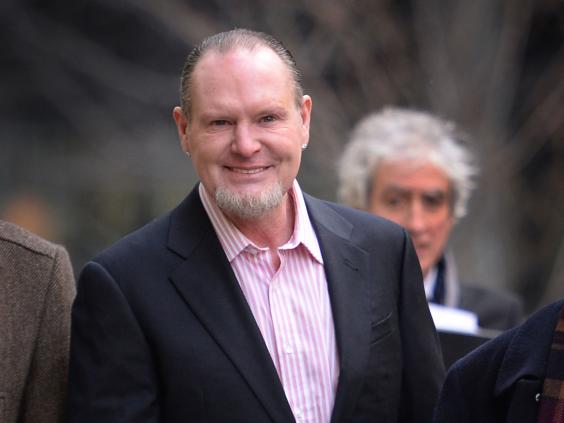 The company has yet to say whether it will appeal against the judge's ruling, which effectively rewrites the legal rule book on privacy compensation. Lawyers for victims said previous settlements had not taken into account the number of articles published as a result of illegal hacking, and that celebrities who were repeatedly hacked could now expect substantially larger damages.
Sadie Frost was awarded £260,000 and Paul Gascoigne will receive £188,250. The television soap actors Shane Richie, Shobna Gulati and Lucy Benjamin also received big payouts. Ms Benjamin, referred to in court papers by her real name Lucy Taggart, played Lisa Fowler in EastEnders. She received £157,250.
The judge, Mr Justice Mann, awarded £117,500 to Ms Gulati, who plays Coronation Street's Sunita Alahan, and £85,000 to the BBC's creative director, Alan Yentob. Although no articles about Mr Yentob were ever published by MGN titles, he was a daily hacking target by Daily Mirror journalists for years.
The television producer Robert Ashworth, the former husband of Coronation Street actress Tracy Shaw, received £201,250. Lauren Alcorn, a flight attendant who had a relationship with ex-footballer Rio Ferdinand, was awarded £72,500. The judge said the victims all suffered a "serious infringement of privacy" and the scale of hacking was "very substantial".
At the start of the trial in March, Trinity Mirror admitted that more than 100 articles about the eight claimants were the result of phone hacking and that, without these intercepts, the articles would never have appeared.
Ms Frost's lawyer, Mark Thompson, said that she would have preferred not to have had to come to court to "relive painful experiences". He said it was important for the actress "to find out as much as possible about what had gone on" but even with the evidence provided in the trial, "she accepts reluctantly that she will never know the full extent of the unlawful activities by MGN".
The previous record payout in a privacy-related civil action involved Max Mosley in 2008. The former Formula 1 director was awarded £60,000 after he sued the News Of The World.
Fighting back: Celebrity victims
Alan Yentob
Former BBC director of programmes, and since 2004 its creative director.
Awarded £85,000.
Information discussed on Mr Yentob's phone included commercially sensitive and political material. But connection with Strictly Come Dancing, or Kylie Minogue of key interest MGN.  Targeted twice a day for seven years. Described himself and his friends as having been "violated on a truly massive scale".
Lauren Alcorn
Virgin Airways flight attendant who had on-off relationship with footballer Rio Ferdinand.
Awarded £72,500.
Court told that she suffered from "paranoia about her family and friends" as a result of unknown hacking activity.
Robert Ashworth
Freelance television producer whose former wife was Tracey Shaw, an actress in Coronation Street.
Awarded £201,205.
MGN admitted that a large numbers of detailed articles on Ashworth and his former wife, were obtained by hacking. Court told he will never know if his marriage could have been saved if hacking had not occurred.
Lucy Taggart
Real name of Lucy Benjamin, the actress known for her role as Lisa Fowler in BBC's EastEnders. Was in a relationship with on-screen partner Steve McFadden.
Awarded £157,000
MGN landline data shows  115 calls to Ms Taggart's phone. Publisher accepts that 17 articles about her involved "wrongful information gathering".
Shobna Gulati
Played Sunita Alahan in Coronation Street.
Awarded £117,000
Hacking led to articles about her new boyfriend, her "secret" Hindu marriage, and reports about a holiday on a luxury yacht.
Shane Roche
Real name of Shane Richie, entertainer and EastEnders star
Awarded £155,000
Backdrop of Mr Roche's life – his financial difficulties, his marriage, his first child with his new wife – all of interest to MGN titles. He was especially  upset that intimate voicemails – one relating to his wife's sister's death – had been listened to.
Paul Gascoigne
Former England international footballer
Awarded £188,250
Since retiring from football, his private life remained of interest to the media. Marital problems, failed commercial ventures and his therapy were documented in articles. His therapist told him he was being "paranoid" about concerns his phone messages were being listened to.
Sadie Frost
Actress, businesswoman and ex-wife of actor Jude Law.
Awarded £260,000
Court said there was "persistent and frequent invasions from phone hacking". There were 31 articles on her private life : MGN accept all but four were hacking-related.
Reuse content