A woman believed to be the mother of missing Mikaeel Kular has been charged in connection with his death after the three-year-old's body was discovered in Fife.
Police have not named the woman, although it has been widely reported that Rosdeep Kular, the mother of the missing Edinburgh boy, was being questioned by officers after a child's body was discovered in Fife, about 20 miles from his home.
The development was announced late on Saturday night by Police Scotland Assistant Chief Constable Malcolm Graham, who said: " During the course of today, the investigation into the disappearance of Mikaeel Kular has continued at pace.
"Following formal identification, I can now confirm that a 33-year-old woman has been arrested and charged in connection with Mikaeel's death.
"The woman is expected to appear at Edinburgh Sheriff Court on Monday."
A major police investigation was launched to trace Mikaeel after he was reported missing from his home in Edinburgh's Ferry Gait Crescent on Thursday.
More than 200 members of the public joined police and other agencies in their searches for the youngster in the Drylaw area of the capital on Friday.
Officers searching for the three-year-old found remains - which police have now confirmed to be those of Mikaeel - in Kirkcaldy, Fife, shortly before midnight that day.
Mr Graham expressed his thanks to all those who aided police in recent days.
In pictures: The search for Edinburgh boy Mikaeel Kular
In pictures: The search for Edinburgh boy Mikaeel Kular
1/14 Edinburgh

A house in Kirkcaldy, Fife, believed to belong to Mikaeel's aunt, the sister of his mother, was sealed off by police during the night

2/14 Edinburgh

A small wooded area close to the bungalow in Kirkcaldy has also been cordoned off and was being guarded by police officers

3/14 Edinburgh

Assistant Chief Constable Malcolm Graham said the body of a young child was recovered in Fife just before midnight. Forensics were later on site

4/14 Edinburgh

The grim discovery comes after days of desperate searches by hundreds of volunteers. Here a tribute was left outside the bungalow in Kirkcaldy

5/14 Edinburgh

Superintendent Liz McCainsh holds a photo of missing 3-year-old boy Mikaeel Kular as part of the extensive search

6/14 Edinburgh

Forensic teams check a property during the search for missing three-year-old boy Mikaeel Kular

7/14 Edinburgh

Police officers search the Ferry Gait Crescent neighborhood of Mikaeel Kular near his home

8/14 Edinburgh

Police conduct a search on Ferry Gait Crescent where Mikaeel Kular has gone missing from his home

9/14 Edinburgh

A police officer stands guard near the home of missing boy Mikaeel Kular

10/14 Edinburgh

Members of a Mountain Rescue team prepare to search local gardens for missing three-year-old boy Mikaeel Kular

11/14 Edinburgh

A member of a Mountain Rescue team searches local gardens for missing three-year-old boy Mikaeel Kular

12/14 Edinburgh

Members of the coastgaurd search the coastline near Cramond for missing 3 year-old boy Mikaeel Kular in Edinburgh

13/14 Edinburgh

Members of the coastgaurd search the coastline near Cramond for missing three-year-old boy Mikaeel Kular

14/14 Edinburgh

Coastguard officers search the shoreline near Crammond, after three-year-old Mikaeel Kular went missing from his home in Ferry Gait Crescent
Around 500 calls were made by the public to a dedicated phone line set up in the wake of Mikaeel's disappearance, he revealed.
 He said: "I would like to again recognise the overwhelming public assistance that Police Scotland have received during the course of this very complex investigation. This includes his family and friends, with whom our thoughts remain.
"Over 200 civilian volunteers joined the search for Mikaeel within the Pennywell, Muirhouse and Silverknowes areas of Edinburgh during adverse weather conditions and cold temperatures.
"In addition, our dedicated number received in excess of 500 calls, with people wishing to provide information to help establish Mikaeel's whereabouts.
"I would like to extend my sincerest thanks to you all for your vital support.
"My thanks also go to the various external search agencies who provided essential resources, equipment and personnel during this enquiry. Police Scotland is immensely grateful for your contribution.
"Inquiries continue, led by the Major Investigation Team of Police Scotland, supported by a range of local and national specialist assets from across the country. I ask that anybody who has any information that they feel would assist the investigation contacts the police."
Yesterday afternoon Mikaeel's body was removed from a wooded area behind a property in Dunvegan Avenue, Kirkcaldy.
Pandeep Kular, 37, Mikaeel's aunt, sobbed as she told the Sunday People: "We're devastated. I'm with the kids."
She said she had not spoken with her sister, saying: "I'm not aware of anything. I'm just with my family in the house. That's all I can say. We've just lost him."
Dr Bangarpet Krishnaswamy, who is married to Mikaeel's grandmother, gave an emotional tribute to those who helped search for the little boy, the Sunday Mirror said.
He said: "I would like to thank all the public and the police for the search, which sadly turned out to be a futile."
Throughout the day, communities in north Edinburgh and Fife gathered to support each other and show how they had been touched by the recent events.
Floral tributes, soft toys and candles have been placed at a small park in the Drylaw area, round the corner from the flat where Mikaeel lived on Ferry Gait Crescent.
Residents of Dunvegan Avenue, around 25 miles away, spoke of their shock at seeing police activity on their street.
Michael Woods, 53, who lives nearby at Floors Place, said he had been following the developing police investigation but was surprised to find officers at the end of his street.
"First it was in Edinburgh, then they said Fife, then Kirkcaldy and now it's here almost on my doorstep. It's unsettling," he said.
"When I heard it was here I just about jumped off my chair."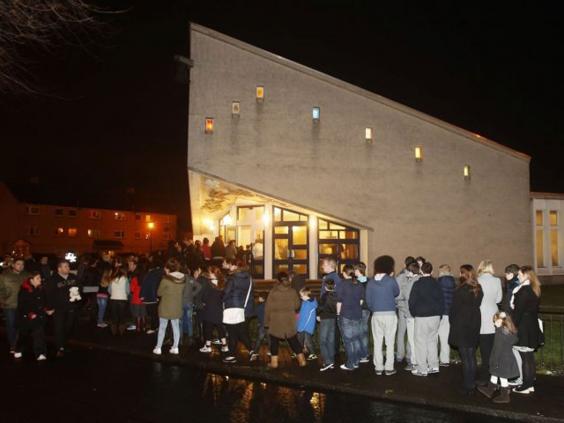 In Edinburgh, around 500 people turned out last night for a memorial service at Muirhouse St Andrew's Church, less than a mile from the home Mikaeel shared with his mother, twin sister and three other siblings.
There was a large queue to get into the church well in advance of the service. The crowds ultimately filled the 300-capacity building and an extra overflow room.
Men, women and children of all ages attended the memorial gathering. Some very young children clutched soft toys while a handful of people held lanterns.
At the end of the gathering, all those who had attended exited carrying the remains of candles they had been holding during the service.
Some people hugged each other and a Chinese lantern floated in the sky above the chapel.
Attending the service was Akeel Umar. He said: "I think everyone in the community is very sad. Today is an opportunity for everyone to come together on an issue that touches everyone."
Nasim Azad added: "We are a community, we care. The fact that we're here today is because we care. It's as simple as that."
Also attending the service was Edinburgh Western MSP Colin Keir.
He said recent events had shattered the whole area, but also galvanised a sense of community spirit.
Additional reporting from PA