A teenager was stabbed last night at an illegal rave held in Finsbury Park ahead of this weekend's Notting Hill Carnival.
Hundreds of people attended the "pre-Carnival block party", which had been advertised via social media, the London Evening Standard reported.
A fight broke out between two large groups of teenagers at about 12.45am, resulting in a 19-year-old being stabbed in the leg.
A police officer also suffered facial injuries after a stand-off with revellers in which missiles were hurled.
The stab victim, found in nearby Moray Road, was taken to hospital along with the injured officer, the newspaper reported.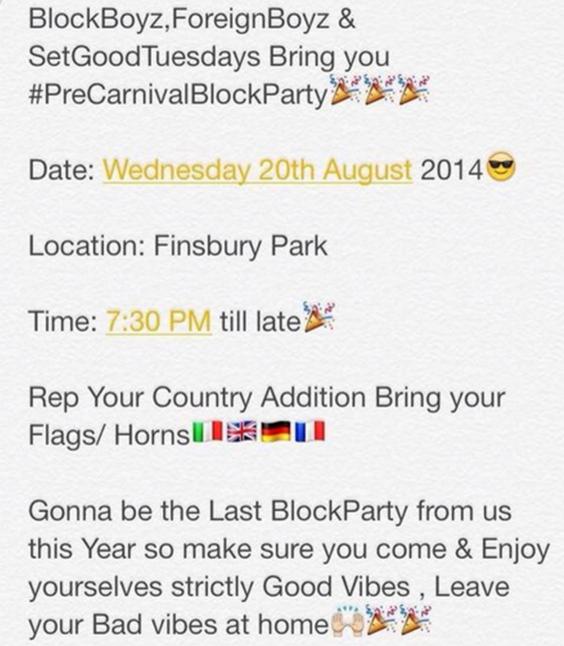 Finsbury Park station was closed at 1am to prevent a crush as police sought to break up the rave. Four riot vans with Territorial Support Group officers were sent in, as well as a police helicopter.
Video: Report from near Finsbury Park
A Met spokesman said: "Police were called at 12.05am on Thursday, 21 August, following reports of a large gathering of people in Finsbury Park
"Officers, including the Air Support Unit and Territorial Support Group, attended.
"While in the area, officers responded to a fight nearby and a number of items were thrown towards them.
"One officer sustained facial injuries and has been taken to hospital for treatment."
They confirmed reports of a stabbing emerged 40 minutes later when the victim was taken to hospital with minor injuries after being slashed in the thigh.
The carnival, Europe's biggest street festival, takes please this Sunday and Monday.