The families of the Omagh bomb massacre have reacted with fury after the criminal prosecution against the suspected mastermind of the Real IRA attack which killed 29 people was abandoned.
Bricklayer Seamus Daly, 45, once described by a High Court judge as a "foot soldier" for the dissident Republican terrorist group, walked free from Maghaberry prison after all charges against him were dropped due to flaws in evidence from a key witness. He had been in the Northern Ireland high security jail awaiting trial for two years.
It is now highly unlikely anyone will ever be held criminally responsible for the atrocity – the worst single terrorist attack during The Troubles.
Michael Gallagher, whose son Aiden was killed in the car bombing on 15 August 1998 and who has campaigned tirelessly for almost 20 years to try and achieve some sense of justice, expressed outrage that families were kept in the dark amid reports of an imminent collapse of the prosecution's case.
"Here we are again after 18 years, extremely disappointed," he said. "We have been failed once again by the police service, by the prosecution service, by the government and by the criminal justice system. And this is probably, or was probably, the last chance for justice. Unfortunately now that's not going to be the case."
Daly's defence had protested throughout the lengthy legal proceedings that he had no case to answer. A crucial moment which ultimately led to the collapse at Ballymena court in Omagh came last month at a pre-trial hearing when the evidence against him was tested and prosecution star witness Denis O'Connor contradicted himself under cross-examination.
The builder, from Kilkenny in the Irish Republic, claimed he received a call from Daly around 20 minutes after the bomb detonated. However, Mr Gallagher said it was obvious after listening to him in court that the case was going nowhere.
Daly's lawyer, Peter Corrigan, said the case against his client was paper-thin and based upon a witness who was himself arrested as part of the bombing probe. He claimed Mr O'Connor gave an account to Irish police in 1999 and had given three or four other versions meaning words could not be relied upon.
As well as the 29 murder counts, Daly had faced charges of causing the Omagh explosion and possession of a bomb with intent to endanger life or property. He was further charged with conspiring to cause an explosion and having explosives with intent in connection with a separate dissident republican bomb plot in Lisburn in April of the same year.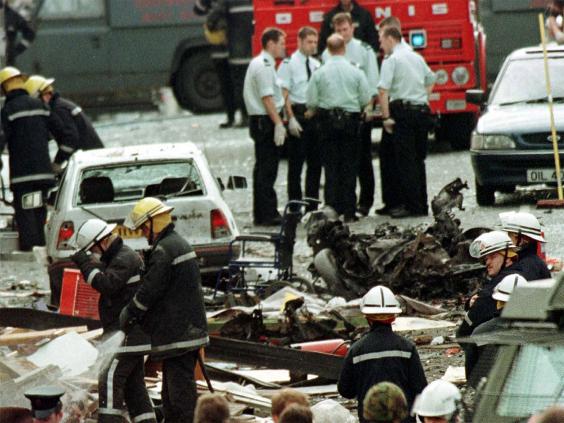 Mr Gallagher said he "regrettably" agreed that the Public Prosecution Service (PPS) was left with no other option than to drop all the charges.
"This was a difficult case and hinged on the testimony of one individual and that one individual did not seem to be up to meeting the test needed to put someone behind bars," he said.
Mr Gallagher said he was trying to contain his anger and channel it positively into seeking the truth.
"We need some answers, we need to know what went so drastically wrong 18 years on - conviction after conviction has failed in Omagh and yet there is so much knowledge about Omagh.
"If there is any decency in society, in the people that manage our state, they need to work together to get the truth to the families of what happened."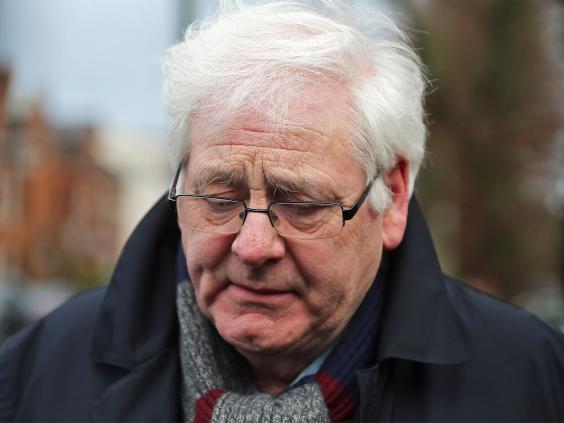 He said most families had given up on achieving justice.
"It will be difficult for all of them but also very difficult for all those other victims out there who are expecting answers."
Daly, originally from Cullaville, County Monaghan, always denied involvement in the attack whose victims came from both sides of the Irish border, England and Spain. The youngest victim, Maura Monaghan was just 18 months old, while her mother Avril, 30, was pregnant with twins when she died in the blast.
The then Prime Minister Tony Blair called the atrocity "an appalling act of savagery and evil" and the strong international condemnation which followed turned many RIRA sympathisers against then in favour of the peace process.
Former Northern Ireland Secretary of State Peter Hain told the BBC the whole case raises criticism of what he called a "piecemeal approach" in dealing with Northern Ireland's recent past.
"Sadly it, too often, neither brings justice nor truth for the victims or all concerned," he said. "Northern Ireland is not really confronting and dealing with its past properly."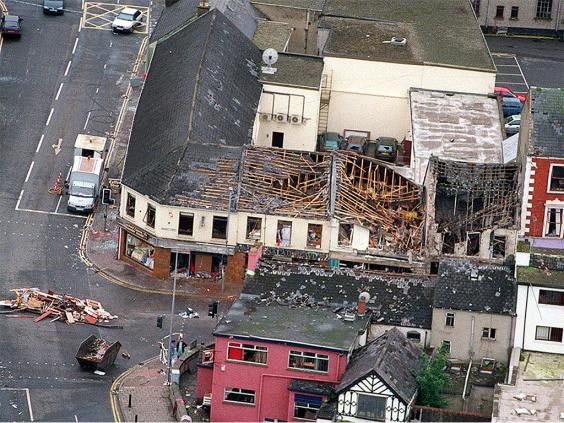 A spokeswoman for the Public Prosecution Service said: "On behalf of the PPS, I extend our sympathy to the families affected by the Omagh bomb. We understand how difficult this decision will be for them.
"We hope they are assured that this decision was not taken lightly but is required in accordance with our duty as prosecutors to keep a decision under review and to discontinue criminal proceedings when the Test for Prosecution is no longer met."
Seamus Daly, and the three other men found responsible for bombing in civil court
In June 2009 the landmark civil case taken by victims' relatives eight years' previously concluded with Michael McKevitt, who was then already serving a 20-year sentence for directing terrorism for the Real IRA, to be responsible for the attack.
Liam Campbell, Colm Murphy and Daly were also found to have been responsible for the bombing. A fifth man, Seamus McKenna, who died in July 2013, was cleared of involvement.
The four were ordered by Belfast High Court Judge Mr Justice Morgan to pay £1.6m in damages to the Omagh families. The case had made legal history when the judge crossed the border to hear evidence from gardaí at a court in Dublin.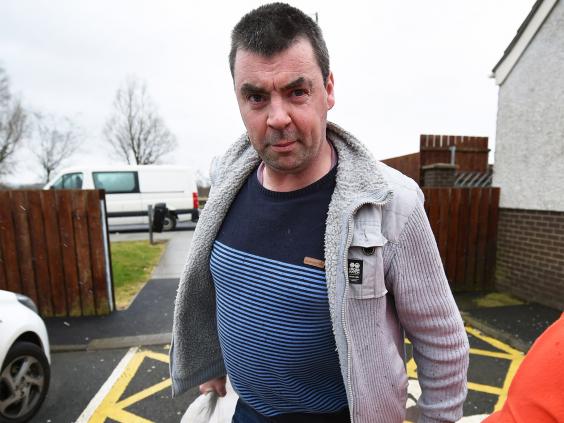 At the time the relatives said the ruling had brought them "a measure of justice" yet seven years on they are still pursuing the money.
Murphy and Daly faced a civil retrial after successfully appealing against the original finding, but in March 2013 the second trial delivered the same outcome as the first.
The evidence linking him to the Omagh bombing was described as "overwhelming" by judge Mr Justice John Gillen, one of Northern Ireland's most senior judicial figures. Daly had been connected to mobile phones used during the bombing.
The judge said: "Given the strength and quality of the evidence, I have determined that both defendants were involved in assisting the preparation, planting and detonation of the bomb in circumstances where those involved in assisting those acts would be joint tortfeasors (individuals who committed a wrongful act injuring another person)."
Omagh bombing: A timeline
15 August, 1998: A 500lb bomb rips through Market Street, Omagh, killing 21 people instantly and injuring more than 300. Eight more die of their injuries later in hospital.
7 September, 2000: The inquest into the Omagh bombing begins.
18 October, 2000: Gardaí arrest three men in connection with the bombing. They are released without charge two days later.
23 January, 2002: Colm Murphy is found guilty by the Dublin Special Criminal Court of conspiracy to cause the Omagh bombing. Jailed for 14 years, he is the only person yet convicted in connection with the explosion.
26 July, 2002: The families of the Omagh bomb victims begin a landmark civil action against two men suspected of being responsible, Seamus Daly and Seamus McKenna.
23 April, 2004: Preliminary hearing at the high court in Belfast.
21 January, 2005: Murphy has his conviction overturned but will face a retrial.
26 May, 2005: Sean Hoey is charged with multiple offences including 29 counts of murder. Goes on trial in September.
20 December, 2007: Hoey found not guilty.
7 April, 2008: Nineteen relatives of victims start a civil action against Michael McKevitt, Daly, Murphy, Liam Campbell and McKenna. All five men deny they had any part in the bombing.
8 June, 2009: McKevitt, Daly, Murphy and Campbell are found liable for the bombing and ordered to pay £1.6 million in damages to 12 relatives. McKenna is cleared of any involvement.
13 January, 2010: Retrial of Colm Murphy begins at the Special Criminal Court in Dublin on a charge connected with the Real IRA bomb in Omagh. Acquitted a month later.
20 March, 2013: Murphy and Daly are again found liable for the bombing having appealed.
8 April, 2014: Daly arrested and later remanded in custody.
1 March, 2016: Prosecutors drop all charges against Daly after the evidence provided by a civilian witness was called into question.
Reuse content