A man accused of ordering the murder of a woman in Hampshire had faced accusations from her of sexually assaulting someone, a court has heard.
Pennie Davis, a mother-of-five, was tending to her horses when she was stabbed to death. She was found by her husband Pete Davies, who she had married just four months before.
Justin Robertson, 36, of no fixed address, denies her murder and conspiracy to murder. Benjamin Carr, 22, of Edward Road, Southampton, and Samantha Maclean, 28, of Beech Crescent, Hythe, are charged with conspiracy to murder, which they deny.
Carr, who is the son of a former partner of Mrs Davis, is accused of paying Robertson £1,500 to carry out the killing, Winchester Crown Court has heard.
Timothy Carr told the court that his son claimed to have found Mrs Davis in bed with another man, who he said was her estranged husband .
Timothy Carr said that he confronted Mrs Davis, who said she had been raped and the allegation was passed to Littlehampton police station. No-one was prosecuted.
James Scobie QC, representing Benjamin Carr, said to Timothy Carr: "She asked your son to confirm [to police] that she was effectively having sex with another man against her will and he refused because, as far as he was concerned, it was clear to him it was consenting."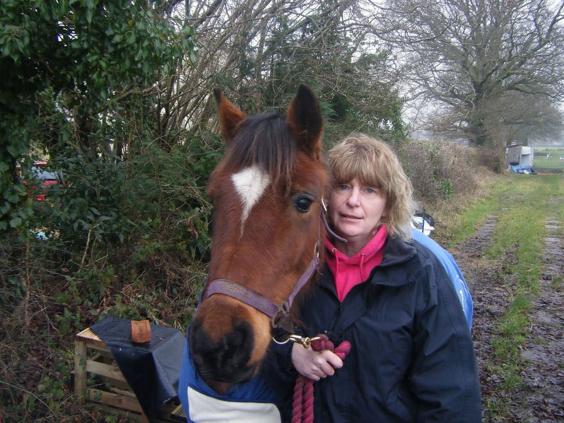 She said Benjamin Carr and Ms Davies  "never really got on at all" after this.
Ms Davies later accused Benjamin Carr of two sexual assaults when he was 14, which he denied, and on 20 August last year sent Facebook messages to Timothy Carr's fiancee and now wife Alison in which she threatened to again tell police about the allegations.
He wanted her "silenced" because of this threat, the prosecution told the court.
Mr Carr said that his son was still "angered and hurt" by the allegations, adding: "There was always a threat, she was always one for making threats."
In a statement read out to the court on Wednesday, Mr Davis recalled finding his wife's body in a field where she had gone to tend to their horses. He said he thought she was sunbathing and shouted "get up you lazy sod", before seeing her injuries and realising she was dead.
"She was pale and her eyes were open, her blue eyes were just staring out to the side," his statement read. "I shouted out 'No, not this way, no, not this way'. "
He said workers at the farm came to his assistance before he collapsed.
"I just lost it and collapsed, they put me on a seat and I screamed and screamed and screamed."
The court heard he married Ms Davies in May 2014 and the two "were very much in love".
The trial continues.
Reuse content