Allegations that Tesco staff burst into a room where a mentally ill man accused of shoplifting was being held and assaulted him have prompted a police investigation.
Footage of the incident, taken on the store's CCTV, emerged on Wednesday evening after being leaked by a worker at the supermarket in Savile Street, Sheffield.
It shows 'Simon', a 35-year-old man who is not named because of his mental health problems, sitting in a room with a cigarette when a man comes in and throws a cup of water over him. The cigarette is apparently relit. The man returns and points a fire extinguisher at him. 
Left alone in the room, Simon throws a table and chair at the door – something which results in two men rushing in and shoving him into the wall, before wrestling him to the ground.
One of the men has his hand clamped over the back of Simon's neck, and pins him down with his knee in the small of his back. The footage goes on to show the two men standing over the 35-year-old, who is lying spread-eagled on the floor.
Simon has subsequently spoken of his ordeal during the 40 minutes he was kept in a 'search room' at the store after being caught stealing shampoo and conditioners last month. The shoplifter, who admitted the offence, was given a conditional discharge when he appeared before Sheffield Magistrates on 8 June.
"When the man came in and smashed my face into the wall, I was petrified and thought he was going to kill me. Then when the two of them dragged me onto the floor, I thought they would pummel me, beat me up," he said. "As one of them gripped the back of my neck, I was screaming in my head," he added, in an interview with ITV Calendar.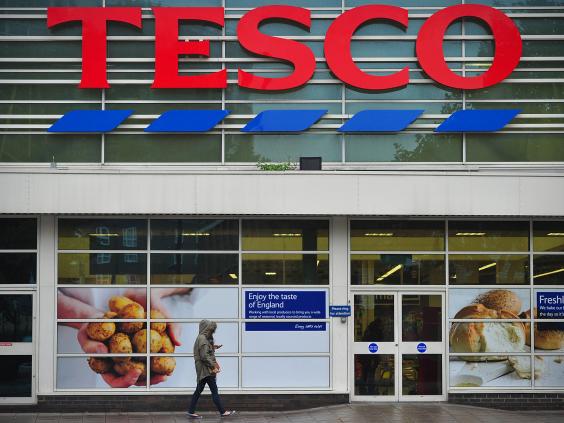 Simon has suffered from psychiatric problems for more than a decade, according to his mother, Sue, who cannot bring herself to watch the footage of her son being restrained. "He is a gentle soul and would never harm anyone or provoke a fight. He has no aggression in him," she said. "I am appalled that these men can do what they did to a vulnerable person," and added: "They should be ashamed of themselves."
And the Tesco whistleblower who leaked the footage and reported the incident to South Yorkshire Police, commented: "It is my civic and moral duty to come forward and reveal what happened. 'Simon' was never aggressive and the actions by my two colleagues was outrageous." They added: "I know I am putting my job at risk but you have to do the right thing."
A spokesperson for South Yorkshire Police told The Independent: "Officers are investigating a report of an alleged assault against a 35 year old man at the Tesco supermarket on Savile Street in Sheffield on Saturday 23rd May. Various enquiries have been conducted and officers are due to meet with the complainant later today." No arrests have been made, they added.
In a statement, a Tesco spokesperson said: "These are extremely serious allegations. We are conducting our own investigation and will of course fully support the police with theirs." They refused to comment on whether any staff had been suspended over the incident.
Reuse content